AAAA Family Forum / By Judy Konitzer: I normally get to attend Family Forum events at this meeting in Washington, DC, but this year I attended them from my home because it was "virtual."It was held on October 13-16 and you can view presentations "On Demand" at AUSA.org, then link to Meetings and Events.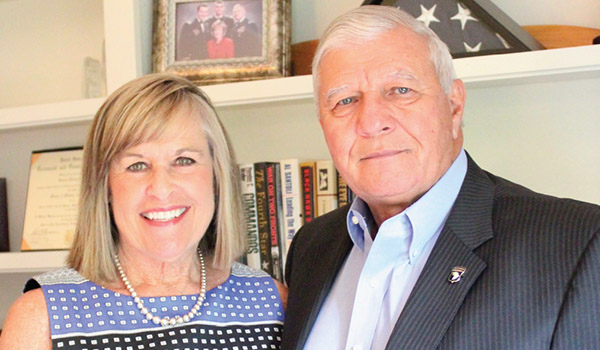 The GEN Creighton W. Abrams Medal for exceptional service to the U.S. Army was awarded to GEN (Ret.) Richard and Vicki Cody at the 2020 AUSA Annual Meeting held "virtually" on October13-16 in Washington DC. / PHOTO BY KIMBERLY CODY
AUSA presented National Awards honoring individuals for their selfless service and unparalleled accomplishments to the Army and its Soldiers during the current year.
GEN (Ret.) Richard and Vicki Cody were among these recipients, and we congratulate and thank them for their continued commitment.
AUSA also bestowed its highest award, the George Catlett Marshall Medal to individuals who epitomize distinguished public service, and symbolically presented it to The Army Family (spouses, parents, siblings, children and loved ones). GEN (Ret.) Carter Ham, AUSA President, said, "Our intent is to recognize and celebrate the great diversity and strength our families provide, and to document the fact that the Army's strength depends on the solid, unshakeable, enduring foundation that Army families provide." Army Chief of Staff GEN James McConville joined the celebration saying to families, "Because of you, we are Army Strong." And SMA Michael Grinston said he, "…and many Soldiers would not be serving if not for the support of their families."
At the Army Senior Leader Town Hall meeting, Secretary of the Army Ryan McCarthy joined with collective remarks and answers to questions that confirm they heard you and it is a "compelling stress on this institution to give you the quality of life you deserve." Five initiatives involving housing, health care, spousal employment, PCS moves, and childcare and youth services are being addressed at all levels with increasing scrutiny, accountability, and action plans.
Housing has been a major concern and in trying to rebuild trust, $2.8 billion is allocated to revitalizing, tearing down, or building new homes over the next 5 years, and up to $9 billion for barracks improvements over the next 10 years. Meeting with investors and banks and getting feedback from Soldiers and families is helping to determine how to best spend the money.
Health Care – there has been an increase in successful virtual appointments at facilities due to Covid-19, but leaders need to continue to make sure Soldiers are getting the care they need, and if not, get it up to the appropriate level.
Spouse Employment initiatives are under development that would make it easier for commanders to hire spouses for federal jobs, increase the ability of spouses to continue to work during moves to new assignments, and allow military spouses to exercise preferences 30-45 days prior to going to an overseas location. The Army Quality of Life website www.army.mil is a resource for families that includes a section dedicated to Army spouse employment. Users can click the icons to find more than 50 links to resources and information, such as support for home based businesses, licensure reimbursement (currently up to $1,000), telework education and scholarships, and points of contact for civilian personnel advisory centers. The site also has general info about the federal employment process, the Military Spouse Non-Competitive Appointing Authority and at usajobs.gov military spouses get priority consideration when they apply for a DoD vacancy. Current in demand jobs include Business Management, Human Resources, and Public Relations.
PCS Moves – Senior leadership is continuing to study how to provide more stability for Soldiers and families with longer tours while still being able to meet the needs of the Soldier with the Army's mission. They have also tried to improve the actual moving experience by encouraging you to take back control of your move by using the official move.mil. Noteworthy is filing claims have also been increased from 75 to 180 days.
Child Care – There are priority levels at Child Development Centers with single and dual military having preference and they must be offered a space within 45 days. The need to increase providers also opens opportunities for spousal employment with subsidies offered for starting up home child-care costs, i.e. paid training, insurance, toys, and extra incentive for infants/toddlers and special needs. Military child care.com provides more info.
In addition, the educational challenges associated with frequent moves, transitions from a military career to civilian life, and other issues encountered during COVID-19 are addressed with helpful and interactive links and tools thru Militarychild.org
Judy Konitzer is the family forum editor for ARMY AVIATION; questions and suggestions can be directed to her at This email address is being protected from spambots. You need JavaScript enabled to view it..">This email address is being protected from spambots. You need JavaScript enabled to view it..