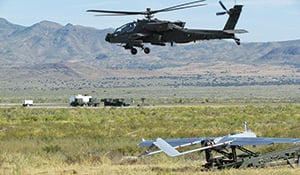 By MG Michael D. Lundy
Over the past 25 years, the role and demand for unmanned aircraft systems increased dramatically. We have come a long way from a few, modestly capable Pioneer UAS deployed at the theater level during Desert Storm, to the rapid fielding of hundreds upon hundreds of unmanned systems ranging from the simple to sophisticated into nearly every echelon of our Army today.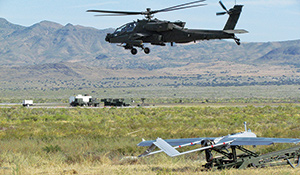 An Apache helicopter takes off at Dugway's Michael Army Airfield as the Shadow unmanned aircraft is readied for its flight onto the battlefield. – Credit: U.S. ARMY PHOTO BY KARI HAWKINSGiven this dramatic increase in quantity and complexity coupled with fielding "in contact," we have much work to do to clean up integration, maintenance, training and standardization, as we move from training in support of "predictable" deployment cycles to achieving a level of sustainable readiness to meet emerging and no-notice global requirements.
With the increased capabilities and sophistication of today's UAS, the requirements for our crews are evolving from executing basic intelligence, surveillance, and reconnaissance (ISR) missions in support of higher echelon collection plans, to fully integrating UAS as a reconnaissance, surveillance, and target acquisition (RSTA) maneuver asset in the Air-Ground Team. We are only scratching the surface in realizing the potential of manned-unmanned teaming (MUM-T), and it will require a focused effort on the part of the Aviation Enterprise and our commanders in the field to ensure we are trained and ready for future fights. Just as manned Aviation is a maneuver asset that must be fully integrated with the ground scheme of maneuver, so too must our UAS formations.
To fully realize the potential of our UAS capabilities, we must bring our unmanned training and standardization on par with manned Aviation. Increased institutional and unit training of MUM-T is an integral part of how we train. Demanding the same level of agility, discipline and leadership in our manned and unmanned formations is essential to maintaining overmatch against our adversaries.
As a foundation, we are changing the focus of the UAS Operator Course for our Shadow and Gray Eagle crews. Instead of developing basic system operators, we are now focused on developing unmanned aeroscouts who understand how to maneuver and conduct reconnaissance as a part of the Air-Ground Team. This training shift is well underway. In addition to the basic system qualification, we are adding training in the synchronization and employment of joint fires, Hellfire gunnery operations, indirect fire target acquisition and delivery and aeroscout RSTA tactics, techniques and procedures (TTPs) as a maneuver element during Air-Ground Operations.
To fully enable this training and cultural shift requires updated doctrine and the right training support capabilities. The recently released TC 3-04.45 (Combat Aviation Gunnery) now includes UAS gunnery operations, and we are nearing completion on the MUM-T Commander's Handbook for release this fall. This handbook will serve as a bridging supplement to the release of our updated Aviation Doctrine in 2015. For training support, we are working closely with the training enterprise to field the right targets, fund range modifications, field instrumentation and fully develop the weapons and laser safety procedures to enable comprehensive unmanned gunnery and air-ground operations training at home station and the combat training centers. In addition to live training support, we are making a significant investment in virtual capabilities. Linkages between our UAS Universal Mission Simulator, Apache Longbow Crew Trainer and the Aviation Combined Arms Tactical Trainer (AVCATT) are undergoing test and evaluation with fielding planned over the next 24 months. This investment will result in persistent home station and institutional training to drive greater rigor, realism and fidelity as we prepare for the complexities of the future operational environment.
However, institutional training, training support capabilities and doctrine alone will not solve the challenges that lie ahead. The onus is on Aviation commanders and leaders in the field to embrace the power of unmanned options and integrate UAS crews into the Air-Ground Team. No one knows Aviation standardization, training, maintenance and safety better than the officers, warrant officers, and non-commissioned officers in our Branch. We must reach out to the Shadow units in the brigade combat teams (BCTs) to assist them in their programs, while fully embracing the Shadow and Gray Eagle teams that are forming in the combat aviation brigades as a part of the Aviation Restructure Initiative.
Over the past decade, ground commanders at all levels provided consistent feedback about UAS capabilities: they want more of it, and they have high expectations when they get it. They expect UAS, like all elements of Army Aviation, to deliver in demanding, complex air-ground operations against a determined enemy. As we move forward with UAS elements, whether organic to the aviation brigade or the BCT, owning these challenges and opportunities across the Branch remains critical to realizing the full potential that our unmanned formations bring to the fight and the Air-Ground Team.
Above the Best!
MG Michael D. Lundy is the Army Aviation branch chief and commander of the U.S. Army Aviation Center of Excellence and Fort Rucker, AL.