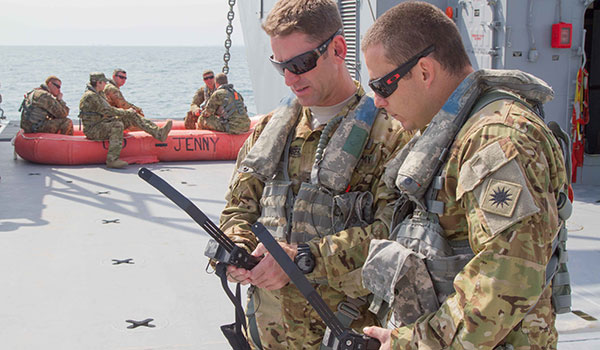 Chief Warrant Officer of the Branch / By CW5 Allen R. Godfrey: The American People have entrusted the Army with the moral and ethical application of force. The nation expects and more importantly demands we WIN. I do not like a fair fight. We must always have the advantage. Our enemies will continue to be unpredictable and changing. The global demand for Army Aviation will only increase due to the ever-changing complex world. We must be agile and adaptive because our enemies will be.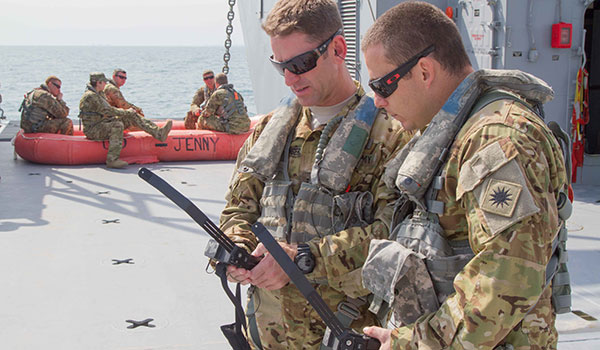 CW3 Donnie Goeppinger (center), a pilot with Company B, 1st Squadron, 104th Cavalry Regiment, 40th Combat Aviation Brigade, and SGT Anthony Orduno (right), a Black Hawk crew chief in the same unit, use emergency radios to contact the Joint Personnel Recovery Center at the beginning of a combined search and rescue exercise in the Persian Gulf, March 9, 2016.) / U.S. ARMY PHOTO BY SGT David N. Beckstrom, 19th Public Affairs Det., USCENTOM
What is the purpose of Army Aviation? Maintaining shared understanding and trust with commanders and Soldiers on the ground. We are a profession and we are professionals. We have trust with the nation, trust with our crew, and especially the Soldiers we support.
What is our most important weapon in the Army? Our most important weapons in Army Aviation are not the aircraft we fly; rather they are the Soldiers, noncommissioned officers, warrant officers, and officers. The helicopters are the tools we use to accomplish portions of our combat missions.
We expect our warrant officers to make tactical decisions that may have strategic implications. Warrant officers are the technical experts, leaders, trainers, and advisors. Our Aviation warrant officers are our pilots-in-command, air mission commanders, flight leads, platoon leaders, trainers, and maintainers. They keep us safe and tactically focused on the combat mission. Warrant officers are expert combat leaders.
Moving Forward
Aviation branch is continuing to move forward. We started our first UH-72 Lakota class this year. Dual engine and digital cockpit, this aircraft will prepare our aviators to transition to their combat aircraft. We are receiving positive feedback and checkride results from the students; and, just as importantly, from our instructors as to the training capability of the aircraft.
The Aviation Warrant Advanced Course ensures tracked, senior CW2s and CW3s are focused on warfighting and training. Army Aviation's primary operators understand how to win in a complex world. Their training and education prepares them to effectively apply doctrine, understand the operational environment and threats, manage training, manage operational risk, maintain and sustain combat power, employ weapons, apply tactics and lead in combat.
Pilot-in-command (PIC) programs are continually evolving to meet the demands of decisive action environments. Ensure these programs are scenario based in realistic training environments. Having all company or troop aviators as PICs allows the commander flexibility to create crews based on mission complexity. We are asking initial entry rotary wing (IERW) students to treat every flight as if they are the PIC. This establishes the culture early in their career of the expectations for our expert combat leaders.
I always ask that warrant officers do three things.
Identify problems – recognize, seek out, and find areas for improvement or correction.
Provide solutions to the problem – as expert combat leaders, advise, develop, lead, execute
Cannot be the problem – if not actively accomplishing the first two, then this is the result.
Always remember to thank and appreciate our families and loved ones. We ask our families to make sacrifices both voluntary and involuntary. They worry about our safety and look forward to our return. Their support contributes to the defense of our country. They are true patriots who do not always receive the recognition they deserve.
Farewell
It has been my honor and pleasure to serve our Army, and our branch; most importantly, it is an honor serving with and for Soldiers, NCOs, officers, and especially our warrant officers. I am proud to serve the Aviation Branch. I thank LTG Mangum for trusting me to represent the Aviation Branch during this crucial time of change. I also thank MG Lundy for his dedicated focus on improving the combat effectiveness of our warrant officers. They are the "trigger pullers" who are making tactical decisions with strategic effects.
This month we welcome CW5 Joe Roland as the next Chief Warrant Officer of the Branch. Joe brings years of experience from the tactical to the strategic level. He is a combat proven veteran with multiple deployments. He will take our branch forward to win in the complexities of the current and future fights.
Remember to start our day asking, "What are we doing for the Warfighter?" At the end of the day, the answer is, "We provided no fail support to the Warfighter on the ground and in the air." "Above the Best"
CW5 Allen R. "Randy" Godfrey is the chief warrant officer of the Aviation Branch with the U.S. Army Aviation Center of Excellence, Fort Rucker, AL.
Editor's Note: We at ARMY AVIATION sincerely thank CW5 Randy Godfrey for his support while serving as the Chief Warrant Officer of the Aviation Branch and wish him and his wife, Deborah, all the best in his next assignment.