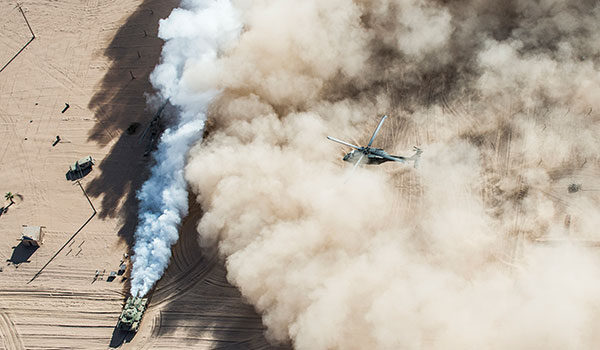 CSM Guest Editorial / By CSM James P. Snyder: The Army relies on its aviation fleet to provide situational awareness and tactical flexibility for ground commanders.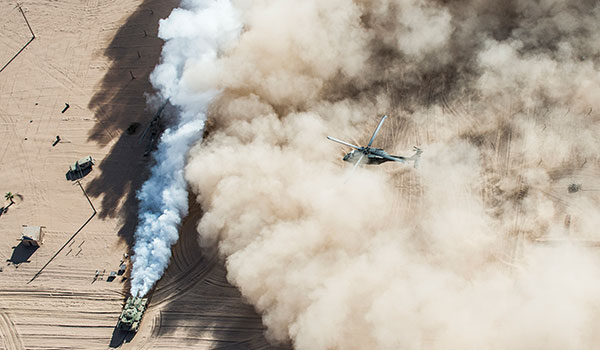 Experimental test pilots from the Aviation and Missile Research, Development and Engineering Center Aviation Development Directorate (AMRDEC ADD) conduct flight control, cueing and sensor testing in brownout conditions during testing at Yuma Proving Grounds in September 2016. / U.S. ARMY PHOTO
Army aviators rely on world-class equipment to fly into combat, which increasingly means not only the aircraft itself, but systems such as radar, communications, sensors, munitions and even cyber defense.
The Army team behind the development of many of these technologies is the U.S. Army Research, Development and Engineering Command (RDECOM), headquartered in Aberdeen Proving Ground, MD. RDECOM is the focal point for the Army's basic research and technology development projects, which it accomplishes with more than 14,000 employees at more than 100 locations around the world. RDECOM, which is a major subordinate command of the U.S. Army Materiel Command, operates with this mission – provide innovative research, development and engineering to produce capabilities that provide decisive overmatch to the Army against the complexities of the current and future operating environments in support of the joint warfighter and the nation.
While providing capabilities in every area of a Soldier's life is a tall order, RDECOM is comprised of six research, development and engineering centers and the Army Research Laboratory that work together to synchronize and integrate technologies into Army systems. These systems cover a broad spectrum – from everyday items such as rucksacks and head gear to equipment such as tanks, integrated weapons systems and aircraft. The command's research extends to areas that won't yield new equipment for 20 or 30 years, including areas such as quantum effects, human performance enhancement and synthetic biology.
Aviation Systems
Advancing and sustaining aviation systems is the Aviation and Missile Research, Development and Engineering Center's mission. AMRDEC is working on several key projects including the next generation vertical lift aviation fleet, which will replace the Army's current aviation fleet over the next 25 to 40 years. AMRDEC is leading the Department of Defense science and technology part of the project and is working with industry partners to design and build a joint multi role technology demonstrator, tentatively scheduled for 2018. Plans for the new future vertical lift (FVL) include the ability to fly farther and faster, carry heavier payloads, be easier and less expensive to sustain, team with unmanned systems and perform certain optionally piloted missions.
One of the most hazardous situations for aircraft pilots is degraded visual environments. DVEs include darkness, snow, rain, blowing sand, dust, fog, smoke and clouds which hamper aviation operations and create situations where pilots lose control of the aircraft. During the past decade, there have been numerous aviation mishaps as a result of DVEs.
RDECOM researchers are working on solutions, such as new sensors and radar that will enable Army aircraft crews to navigate in DVEs and provide a decisive edge in battle. Future sensors will be configurable and adaptable, enabling Soldiers to operate in congested and contested environments. These new sensors will not only be beneficial in Army aircraft, but in basically every aspect of a Soldier's life – from military gear to vehicles to smartphones.
Researchers at the Communications and Electronics Research, Development and Engineering Center's (CERDEC) Night Vision and Electronic Sensors Directorate (NVESD) are developing an integrated sensor architecture that will allow Soldiers to access information even if they don't have a sensor. A network or shared architecture will give Soldiers access to important information they would not normally have.
Our scientists and engineers are working to solve problems Soldiers face today, as well as in the future. A majority of the research and testing for emerging technologies is conducted in labs. One of the challenges is moving the technology from the lab to the field. To meet this mission, RDECOM works closely with industry and academia, as well as key Army organizations including Training and Doctrine Command, the Aviation Community of Excellence, Program Executive Offices, the acquisition community and Soldiers. Together, these groups identify science and technology requirements, manage research and testing and then pass the information to industry to develop. Working with industry aligns with the Army's Better Buying Power initiative, but most importantly it puts the most-advanced technology in Soldiers' hands. This is the cornerstone of RDECOM.
CSM James P. Snyder is the command sergeant major of the U.S. Army Research, Engineering and Development Command located at Aberdeen Proving Ground, MD.
CSM Gregory M. Chambers is the command sergeant major of the Aviation Branch and the U.S. Army Aviation Center of Excellence, Fort Rucker, AL.