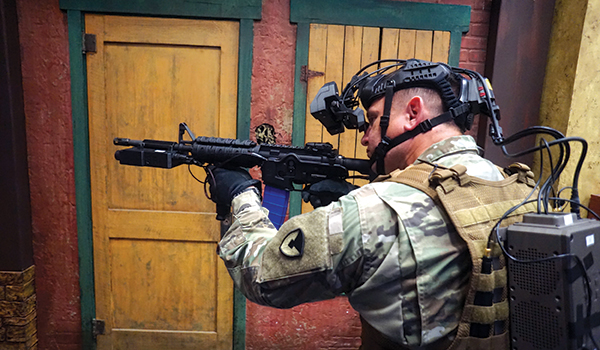 Simulation / By CSM James P. Snyder: With 3D maps that show troop and vehicle movements in real time and self-guided bullets that can hit a target more than a mile away, Soldiers now have some of the world's most advanced technologies. Integrated into aircraft carriers or carried in their rucksacks, these high-tech capabilities increase operational efficiency and safety and give Soldiers a decisive edge in battle.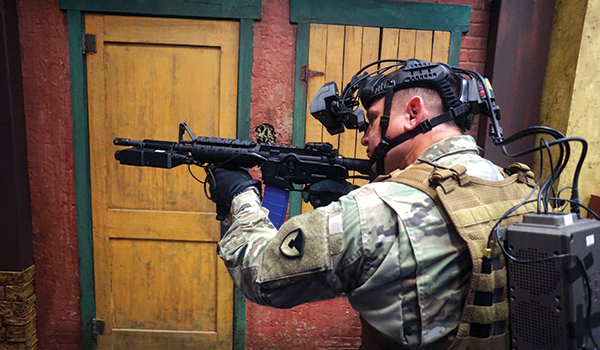 Army Research Lab-Orlando's augmented virtual reality immerses Soldiers into the "real-world," allowing them to fully interact with both live and virtual entities to test decision-making skills. / PHOTO BY SHELLEY BROWN, UNIVERSITY OF CENTRAL FLORIDA-INSTITUTE FOR SIMULATION AND TRAINING
The Army team behind many of these technologies is the U.S. Army Research, Development and Engineering Command (RDECOM), headquartered in Aberdeen Proving Ground, Maryland. RDECOM is comprised of six research, development and engineering centers (RDECs) and the Army Research Laboratory that work together to synchronize and integrate technologies into Army systems.
Along with cutting-edge technology, RDECOM, a major subordinate command of the U.S. Army Materiel Command, also develops interactive simulation and training for Soldiers.
Augmented Reality
RDECOM's Army Research Lab in Orlando, Florida, is exploring many areas of research including augmented reality (AR) and virtual reality (VR) for Soldiers. While VR is a synthetic environment where everything is created, AR blends the human environment (reality) with artificial elements (augmented). Instead of a completely new landscape, AR gives 'real life' an added twist by using overlays projected onto the device.
Similar to the Pokemon game where players use cell phone cameras to search for Pokemon characters, AR will train Soldiers by blending objects, such as people and vehicles with effects, such as explosions, in a "real" environment. AR gives a sense of realism to training by allowing Soldiers to experience special effects without real danger.
As an alternative to live training, AR will be used by Soldiers at all levels – from individuals to squads and platoons and more. For the dismounted Soldier, the AR system is integrated into the kit that is worn during training. Information such as navigation waypoints, potential enemy locations and friendly unit locations are typically displayed through monocular head/helmet mounted displays, providing a clear view of the battlespace.
The benefits of AR are that it can be used almost anywhere and not only at official training sites, it decreases logistics support requirements and it decreases cost. According to the Army, it costs $3,500 to operate an attack helicopter for one hour, while a simulated helicopter attack costs $500.
AR is also used to maintain and repair aircraft. For example, markers, such as barcodes or QR codes, can be placed on an item which contain information on how to repair or replace the equipment either through text instructions, pictures or interactive videos, depending on the level of sophistication of the application.
AR enables troops to communicate orders clearly and concisely, using visual devices rather than a lengthy explanation via a radio. For example, a commander can instruct his troops to move to a location which has been 'dropped' onto their screen, and it can be examined in real time. Information can also be relayed quickly back and forth without confusion. Like their commanders, Soldiers with access to AR are able to report back with clarity, ensuring both sides know what they are talking about.
While the Army has tested AR in training exercises, including Call For Fire and fire team military operations in urban terrains, there is no program of record or fielded AR system currently being used for training.
Observer-Coach-Trainers
Staying connected to the Army's tactical communications network is critical for commanders in the field to maintain situational awareness so that they can make informed decisions. The Communications and Electronics Research, Development and Engineering Center's (CERDEC) Command Power and Integration Directorate's (CP&ID) Tactical Computing Environment (TCE) is developing technology solutions to enable Mission Command (MC) software applications to be more mobile, giving commanders and their staffs access to any military network anywhere, anytime and on any device.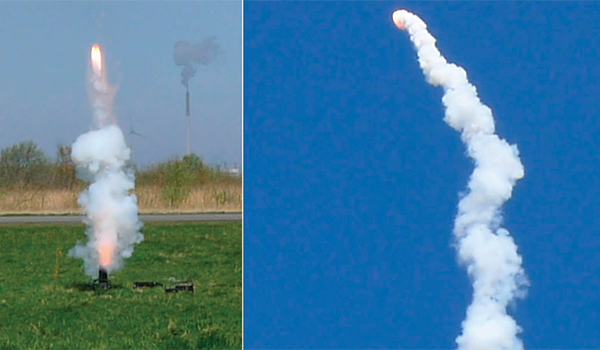 Left: the WESS firing the M176 cartridge; (right) the M176 pellet in flight, making the visual smoke contrail simulating a missile flight./ U.S. ARMY RDECOM PHOTO
While currently-fielded MC systems are concentrated in the command post, the commander loses significant capability when he leaves the command post. As a result, CERDEC is developing technologies so that commanders and their staffs can use laptops, tablets and smart phones on any military network. With this resource, commanders can stay connected to mission command data and maintain situational awareness.
CP&ID's TCE is currently working with Program Executive Office for Simulation, Training and Instrumentation (PEO STRI) to test the MC mobility by using Observer-Coach-Trainers (OCTs) at the National Training Center (NTC) where U.S. troops from all services are trained before they deploy overseas. The OCT's primary role is to train and mentor the rotational unit that is being trained and provide feedback on how the equipment performs. With a tablet-based capability, the OCTs work with Soldiers as they are trained and gather feedback for a path forward.
Along with other S&T partners, CP&ID is exploring the voice command arena, which will allow Soldiers to use voice, gestures or other methods to interact with computing systems. Similar to the commercial Google Home and Amazon Alexa applications, the voice command component of TCE has been used by CERDEC's Night Vision and Electronic Sensors Directorate on the Heads-Up Navigation and Tracking Science and Technology Objective, which provides speech-based control of the Soldier's helmet-mounted heads-up display. CERDEC is expanding this capability to include a speech-to-text capability that will enable Soldiers to narrate a text chat message and send it to a command post.
While virtually everyone has a smartphone or tablet and a mobile communications network that ensures data availability, military communication networks are far more challenging. However, by leveraging commercial technologies, such as voice technology, the Army not only saves money, but also gives Soldiers the most advanced technology available.
Man-Portable Aircraft Survivability Trainer
In response to the threat of anti-aircraft missiles shooting down military aircraft and their crews, RDECOM's Pyrotechnics Division at U.S. Army Armament Research, Development and Engineering Center has developed a system to protect aircraft and crew members.
The Man-Portable Aircraft Survivability Trainer (MAST) training system, which resembles a shoulder-fired surface-to-air, man portable air defense (MANPAD) weapon, electronically stimulates the aircraft's missile warning system resulting in the activation of countermeasure flares and other aircraft survivability systems. With the MAST system, an M176 pyrotechnic simulated MANPAD missile is launched vertically into the air approximately 550 feet, sending a smoke contrail through the air. The continuous, concentrated smoke missile contrail cloud serves as a visual stimulation for both the helicopter crew, as well as ground forces.
While the U.S. military previously developed and deployed aircraft survivability equipment, including electronic jammers, lasers and counter-measure flares, the MAST training system gives aviators a more realistic visual training environment and improves their ability to detect and avoid threat missiles – this is especially important for aircrews that have never encountered a live missile attack.
An added MAST system feature is it records video of each training event, which is used for after-action reviews and supplemental aircraft crew and pilot training. The system also notifies trainees how many injuries or deaths occur, would have occurred, or if the missile is evaded. The MAST system, currently being fielded, is used for training at the NTC.
Black Hawk Aircrew Trainer
RDECOM's U.S. Army Aviation and Missile Research, Development and Engineering Center (AMRDEC) has extensive experience developing flight simulation and simulators as does the Program Executive Office Aviation. Together, these teams have developed simulators for several different rotary-wing platforms.
In response to tasking from the Utility Helicopter Project Office, AMRDEC most recently developed the UH-60M Black Hawk Aircrew Trainer (BAT), which is used to train pilots and help them maintain familiarity with their aircraft. Leveraging capabilities, resources and expertise across the enterprise, a prototype BAT was designed and assembled in a little more than four years.
There were many issues during the project, including sequestration, multiple government shut-downs and materiel procurement issues, but the team completed design, assembly, integration and accreditation of the BAT prototype, which was used for training at Fort Bliss, Texas, nearly five months ahead of schedule.
Some of the innovation that lowered costs and pushed the project ahead of schedule included the use of fuselages from decommissioned Black Hawk aircraft to make cockpits for the BATs. The team also used software interfaces, flight models and applications that already existed within the AMRDEC enterprise, ensuring government ownership of the BAT design.
BAT prototypes are currently used to train pilots at Fort Hood, Texas; Fort Carson, Colorado; and the Iowa National Guard.
Conclusion
RDECOM continuously looks for ways to solve problems Soldiers face today, as well what the Army will face in the future. Along with cutting-edge technology, RDECOM provides innovative training solutions for Soldiers to keep them prepared and ready for their next mission.
CSM James P. Snyder is the command sergeant major of the U.S. Army Research, Development, and Engineering Command headquartered at Aberdeen Proving Ground, MD.