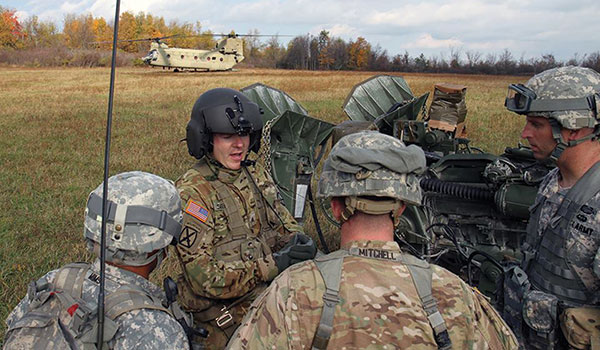 Branch Command Sergeant Major / By CSM Eric C. Thom: Whenever I travel to our outstanding combat aviation brigades (CABs) I look forward to conducting a sensing session with our NCOs. Inevitably someone (sometimes it's me) asks the question, "What can you do to get promoted?"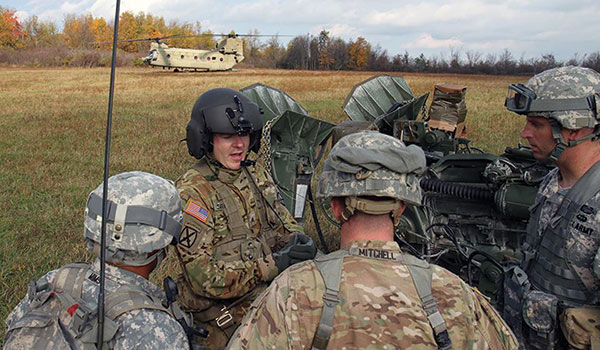 SGT Swiegart, Co. B, 3rd Bn., 10th Avn. Regt., 10th Cbt. Avn. Bde. instructs Soldiers from 2nd Bn., 15 Field Artillery Regt., 2nd Bde. Cbt. Tm. on proper sling load procedures prior to their gun run. / U.S. ARMY PHOTO
And I tell them they have to find a way to set themselves apart from their peers. The fact is most of the people you are competing against for your next rank will have records that are very similar to yours. The time in service and grade are similar, the professional military education (PME) requirements are similar, etc. So how can you set yourself apart?
Of course there are several ways. Two of the most talked about are civilian education and broadening assignments. Civilian education is important, and I highly recommend if you are not taking advantage of Tuition Assistance covering 100% of your first $4,500 a year you should. But civilian education is widely known and, let's face it, not why you're reading this article. So let's get to it.
I also recommend broadening your experience. Before I go any further, I want you to realize that broadening assignments should not be sought over leadership assignments but in addition to them. A broadening assignment without the leadership experience is not what we are looking for. What we are looking for is a demonstrated proficiency in the current grade with a focus on your core competencies and leadership in addition to a broadening assignment.
Most of you are familiar with some broadening assignments, such as drill sergeants, Advanced Individual Training platoon sergeants, recruiters, and our Human Resources Command branch managers and NCO Academy & Initial Military Training instructors. But how many of you are tracking our enlisted Project Warrior? Probably not as many, I would assume. So here is the skinny on the latest broadening assignment for some of our best and brightest.
When I took the position last year we really didn't have a mechanism for selecting which NCOs came out of the field and started writing our doctrine. SFC Thom for example could have been doing a great job as a platoon sergeant in a line company and found himself on orders for Ft. Rucker, AL in the Directorate of Training and Doctrine (DOTD). This is the lead agency responsible for Army Aviation Training, Doctrine and tactics development in support of Aviation operations, gunnery, Aviation materiel and support equipment, unmanned aircraft systems, IMT, PME and functional training courses. If that had happened to me I would have messed Army Aviation up for years to come.
Project Warrior is a program that will take select NCOs recommended by their commanders and command sergeants major and place them in observer/controllers (O/C) positions in our combat training centers (CTCs) for a period of 18 to 24 months. Then we will permanent change of station (PCS) them to the Aviation Center of Excellence at Ft. Rucker where we place them in DOTD to write our doctrine. We can't do this with all the positions. However, wouldn't it be advantageous to have someone coming out of the National Training Center (NTC) or the Joint Readiness Training Center (JRTC) who has reviewed and evaluated multiple organizations on how they execute our doctrine? Someone that has seen what works well and what doesn't? To me it is a no brainer – I will take the NCO from the CTC in a heartbeat.
How It Will Work
Here is the rough framework for how it will work (this is going to change with the times so remember the concept and not the exact verbiage). Enlisted Personnel Management (EPMD) HRC will work in conjunction with the Operating Force to identify NCOs (SSG-SFC) who fall within the career progression timeline for suitability to participate in Project Warrior. Nominations are due 1 June for January assignments and 1 December for June assignments. EPMD reviews nominations, provides comments and receives final confirmation from the Aviation Branch Chief and Branch CSM. Then they will assign approved nominations to a CTC and place them in the Project Warrior Program and award a Project Development Skill Identifier (PDSI).
Once the NCO has successfully served at the CTC and has been validated by his rater and senior rater there for a period of 18-24 months, he or she will be assigned to United States Army Aviation Center of Excellence in DOTD where they will utilize their experience to make recommendations/changes to our doctrine. There will be specific criteria for each MOS in order to qualify and that information can be obtained from EPMD HRC.
You may ask when this is going to start, and the answer is it already has. HRC has been working this for almost a year and already has NCOs in positions, with others to follow. We are also looking at expanding some slots to other positions in the future, but right now remember there are only a few positons available so not everyone will have this opportunity. If you are recommended by your organization, you are already on the right track.
This is not a new program to the Army, just new to us in Aviation. I would be remiss if I didn't mention the hard work that the NCOs in our EPMD at HRC and OPFD here at Ft Rucker did in order to make this happen.
As always, it is an honor to serve as your Branch CSM. Above the Best!
CSM Thom
This email address is being protected from spambots. You need JavaScript enabled to view it.
CSM Eric C. Thom is the command sergeant major of the Aviation Branch and the U.S. Army Aviation Center of Excellence, Fort Rucker, AL. U.S. Avn.