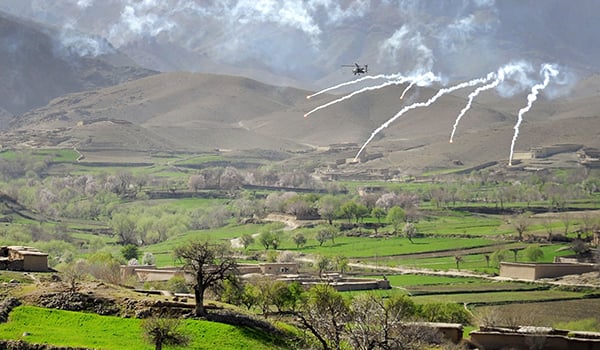 Aviation Survivaiblity / By COL Jong H. Lee: As I begin my 4th year as the Project Manager for Aircraft Survivability Equipment, I am sincerely thankful for the incredible opportunity to protect our Nation's most valuable assets – the lives of American Soldiers. And along with that reflection, I also marvel at the technical skills, dedication, professionalism, and passion that the ASE enterprise displays to accomplish that mission.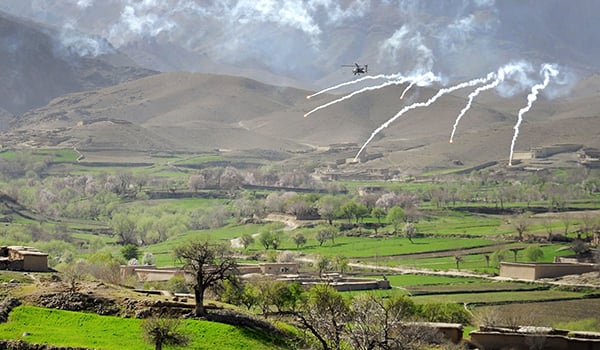 An AH-64D Apache releases flares over a valley during support of coalition special operations forces and Afghan soldiers during a firefight near Nawa Garay village in the Kajran district of Afghanistan's Daykundi province, April 3, 2012. / U.S. NAVY PHOTO BY PETTY OFFICER 2ND CLASS JACOB DILLON
The threats our aircraft face are lethal, varied, and ever-evolving. Thus, the pace of our work continues to accelerate as we seek improvements in the ASE suite, while maintaining state-of-the-art protection. To provide the advanced capabilities needed, PM ASE has several initiatives to move us toward our goal that we will highlight in the following product update sections. In our efforts to provide new capabilities, we will always be synchronized with our user community and strive to reduce size, weight, power, and cost (SWaP-C) while improving performance. We will continue to partner with our allies; the Science and Technology, joint service, and intelligence communities; industry and user representatives; and other acquisition organizations to deliver world-class ASE while maximizing the survivability of Army aircraft.
ASE Infrared Countermeasures (IRCM) Update
The Advanced Threat Infrared Countermeasures (ATIRCM) system continues to provide CH-47 aircrews protection against Man-Portable Air-Defense Systems (MANPADS) in combat and around the world. Over the past year, PM ASE has been fielding ATIRCM systems to combat aviation brigades (CABs) outside of Operation Enduring Freedom, Operation Freedom's Sentinel, and Operation Inherent Resolve to increase the survivability of the CH-47 fleet. PM ASE has continued to test the ATIRCM system against emerging threats and will continue to ensure that it remains relevant on the battlefield.
The Common Infrared Countermeasure (CIRCM) system is the light-weight follow-on system for ATIRCM that will provide aircrew protection for all rotary-wing, tilt-rotor, and small fixed-wing aircraft across the Department of Defense. Currently in the Engineering and Manufacturing Development (EMD) phase, CIRCM will be fielded to a majority of the Army's aircraft to include replacing the ATIRCM system on the CH-47 fleet.
ASE Missile Warning (MW) Update
In response to a Joint Urgent Operational Need (JUON), the full spectrum of acquisition activities are underway to deliver a Quick Reaction Capability (QRC) to a limited number of rotary-wing aircraft. The materiel solution is being fielded in phases to meet urgent timelines, reduce SWaP, and leverage advanced technology as it becomes available. The solution enhances both MW and IRCM capability and was fielded to the first set of deploying aircraft three months ahead of schedule.
Over the last year, PM ASE continued fielding the AAR-57 Common Missile Warning System (CMWS) with the 3rd Generation Electronic Control Unit (Gen3 ECU). Throughout this year and into 2018, production and fielding of the new Gen3 ECU brings an increase in processing power and memory, improved threat algorithms, and hostile fire detection capability for small arms and rocket-propelled grenades (RPGs). Multiple software updates and improvements run in parallel through the next few years to provide protection against emerging threat systems and to support foreign military sales (FMS). CMWS integration for the Army Aviation fleet continues with efforts underway to add the system to select rotary and fixed-wing aircraft. Expansion of CMWS production and sustainment are major focus areas over the next two years to create a more robust organic depot repair capability for assured support.
The Limited Interim Missile Warning System (LIMWS), a QRC program, is the result of a Directed Requirement (DR). The DR validates the need to develop, procure, and field a missile detection system that provides an enhanced missile warning system to detect emerging and evolving enemy MANPADS threats. LIMWS detects infrared homing missiles and unguided Hostile Fire. LIMWS protects aircraft by deploying flares and/or by cueing laser-based countermeasure systems. LIMWS will bridge the capability gap between the current legacy Program of Record (CMWS) and the next missile warning system, anticipated to be the Advanced Threat Detection System (ATDS) Program of Record.
ASE Threat Warning (TW) Update
This year the Army adopted the Navy's APR-39D(V)2 Radar Warning Receiver (RWR) as a replacement for the APR-39C(V)1. This will provide a generational leap in RWR capability not seen in over 20 years. The AN/APR-39D(V)2 is a digital upgrade to the AN/APR-39 family of analog RWRs and provides advanced RWR capability for today's RF threat environment.
Also in the Threat Warning portfolio of systems is the AN/AVR-2B Laser Detecting Set (LDS). The LDS is a passive laser warning system that receives, processes, prioritizes and displays threat information resulting from aircraft illumination by laser energy from laser designators, laser rangefinders and laser beam-rider missile guidance systems. LDS serves to increase aircrew situational awareness when being actively targeted by weapon systems utilizing emitted laser energy as a function of their targeting or target engagement process.
Conclusion
The product updates described above cover the near and mid-term planning horizons. Our future initiatives continue to be centered on support to current and future aircraft with advanced capabilities developed that may include geo-location of threat systems on digital maps; air-to-air and air-to-ground networking of threat information; and multi-spectral countermeasures that protect our aircraft and crews from multi-spectral threats.
In summary, our long-term plan involves an evolutionary approach of first maximizing current technology through improved interfaces for the short-term, while planning mid-term science and technology investments to provide critical protection capabilities, with the long-term focus of preparing to meet the highly integrated and advanced capabilities required for future aircraft.
The PM ASE team continues to work hard every day to protect our Soldiers. Support to theater operations and our users in the field remain our highest priority. I look forward to meeting many of you at the upcoming AAAA 2017 Aircraft Survivability Equipment Symposium in Huntsville on 13-14 November 2017.
COL Jong H. Lee is the project manager for Aircraft Survivability Equipment located in Huntsville, AL, under the Program Executive Office Intelligence, Electronic Warfare & Sensors.