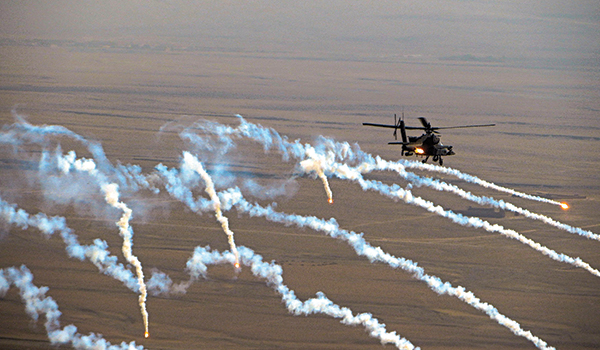 Aviation Survivability / By COL Jong H. Lee: At PM ASE, we are honored and passionate to support and protect Army aircraft. Partnering with our allies, the Science and Technology, joint service, and intelligence communities, industry and user representatives, and acquisition organizations, our focus remains on maximizing the survivability of Army aircraft against continually evolving threats.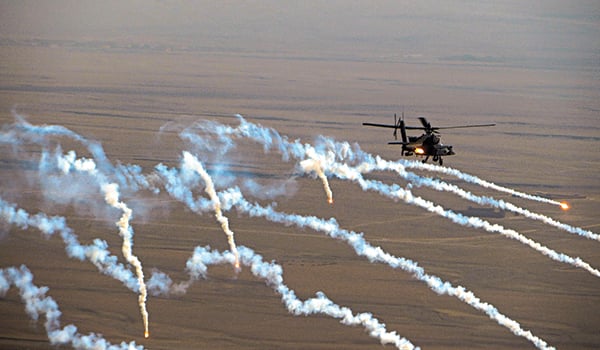 An AH-64 Apache helicopter from 1st Attack Reconnaissance Battalion, 10th Combat Aviation Brigade, Task Force Knighthawk, fires flares while conducting a security and reconnaissance mission. / U.S. ARMY PHOTOS BY CW2 MICHAEL BERTHA
CH47F and flares.
As we seek near-term improvements in the current ASE suite, our goal remains providing support to the aviation platforms while maintaining state-of-the-art protection. To provide the advanced capabilities needed, PMO ASE has several near and mid-term initiatives to move us toward our goal that we will highlight in the following product update sections. In our efforts to provide new capabilities, we will always strive to reduce size, weight, and power (SWaP) while improving performance. Any of the steps we take at PMO ASE will be synchronized with our user community.
ASE Infrared Countermeasures (IRCM) Update
The Advanced Threat Infrared Countermeasures (ATIRCM) system continues to provide CH-47 aircrews protection against Man-Portable Air-Defense Systems (MANPADS) in combat and around the world. Over the past year, PMO ASE started fielding ATIRCM systems to combat aviation brigades (CABs) outside of Operation Enduring Freedom, Operation Freedom's Sentinel, and Operation Inherent Resolve to increase survivability of the CH-47 fleet. In the upcoming year, PMO ASE will continue to test the ATIRCM system against emerging threats and improve the software in order to ensure that it remains relevant on the battlefield.
The Common Infrared Countermeasure (CIRCM) system is the light-weight follow-on system for ATIRCM that will provide aircrew protection for multiple rotary-wing, tilt-rotor, and small fixed-wing aircraft across the Department of Defense. Currently in the post-Milestone B phase, CIRCM will reach First Unit Equipped (FUE) in FY20 with Initial Operating Capability (IOC) in FY21. Eventually, CIRCM will be fielded to a majority of the Army's aircraft to include replacing the ATIRCM system on the CH- 47 fleet.
ASE Missile Warning (MW)
In response to a Joint Urgent Operational Need, the full spectrum of acquisition activities are underway to deliver a quick reaction capability to a limited number of rotary-wing aircraft. The materiel solution is being fielded in phases to meet urgent timelines, reduce SWaP, and leverage advanced technology as it becomes available. The solution enhances both MW and IRCM capability.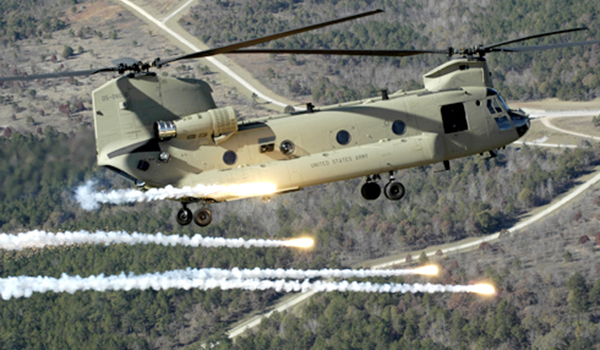 Over the last year, PMO ASE continued fielding the AAR-57 Common Missile Warning System (CMWS) with the 3rd Generation Electronic Control Unit (Gen3 ECU). Throughout this year and into 2017, production and fielding of the new Gen3 ECU brings an increase in processing power and memory, improved threat algorithms, and hostile fire detection capability for small arms and rocket-propelled grenades (RPGs). Multiple software updates and improvements run in parallel through the next few years to provide protection against emerging threat systems and support foreign military sales (FMS). CMWS integration for the Army Aviation fleet continues with efforts underway to add the system to select rotary and fixed-wing aircraft. Expansion of CMWS production and sustainment are major focus areas over the next two years to create a more robust organic depot repair capability for assured support.
ASE Radar Warning (RW)
Another important effort is our adoption of the Navy's APR-39D(V)2 Radar Warning Receiver (RWR). The system represents a significant capability increase over the Army's legacy APR-39A(V)1/4 system and will initially complement, and eventually replace, the APR-39C(V)1, which began fielding in October 2014 as a sustainment upgrade to bridge the gap. The acquisition strategy to adopt the Navy's APR-39D(V)2 was approved by the Army Acquisition Executive in October 2013, and represents a much faster and less expensive path to updating the Army's RWR capability. PMO ASE is working closely with PMA-272 at Naval Air Systems Command (NAVAIR) to merge testing requirements and foster a true multi-service effort. The first APR-39D(V)2 A-Kit was successfully integrated onto an AH-64E in third quarter FY15, and flight testing began in April 2016. The APR-39D(V)2 contains a digital receiver that provides significant processing improvements and allows for the installation and use of more robust software. These receiver improvements, coupled with new dual-polarized antennas, will represent a generational upgrade to the analog APR-39A.
Conclusion
The product updates described above cover the near and mid-term planning horizons. Our future efforts are centered on support to Future Vertical Lift (FVL) platforms with advanced capabilities developed that may include geo-location of threat systems on digital maps; air-to-air and air-to-ground networking of threat information; and multi-spectral countermeasures that protect our aircraft and crews from multi-spectral threats. In order to provide these advanced capabilities to the FVL platforms, PMO ASE needs to use our mid-term initiatives to develop those capabilities. One of those initiatives is the Advanced Threat Detection System (ATDS), the follow-on Program of Record for CMWS, which will drive advancements in missile warning, laser, and ballistic detection capabilities.
In summary, our long-term plan involves an evolutionary approach of first maximizing current technology through improved interfaces for the short-term, while planning mid-term science and technology investments to provide critical protection capabilities, with the long-term focus of preparing to meet the highly integrated and advanced capabilities required for the FVL platform.
As always, I encourage all of you, as stakeholders in the Aviation Community, to share your issues and concerns with the current ASE suite and help maximize the survivability of Army aircraft. The PMO ASE team continues to work hard every day to protect our Soldiers. I am confident in saying that continued support to theater operations and our users in the field remain our shared priorities. I look forward to meeting many of you at the upcoming AAAA 2016 Aircraft Survivability Equipment Symposium in Huntsville on 14-15 November.
COL Jong H. Lee is the project manager for Aircraft Survivability Equipment located in Huntsville, AL, under the Program Executive Office Intelligence, Electronic Warfare & Sensors.