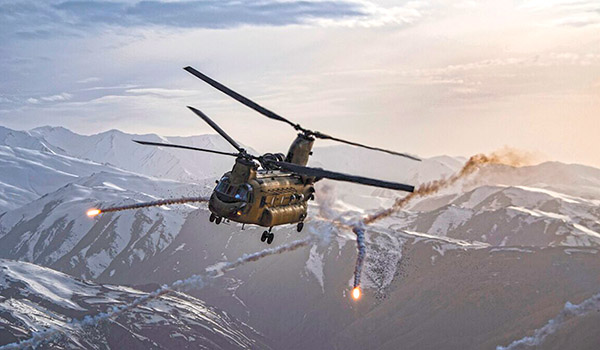 Industry Support & Challenges / By Ken Peterman: The U.S. Army is currently building an Aviation Mission Common Server (AMCS) to enhance storage, data processing and transport capabilities across every aircraft in order to ensure the current fleet is ready to fight and win in multi-domain operations. Viasat commends the Army for implementing AMCS and other initiatives to enhance communications technology across airborne platforms and speed up the introduction of new capabilities. In order to maintain a tactical edge and deter near-peer adversaries, it will be critical for the U.S. military to deliver enhanced communications and cloud-enabled technologies across all domains.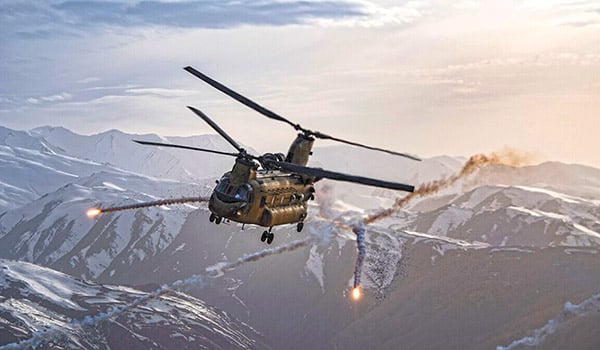 A U.S. Army Task Force Brawler CH-47F Chinook releases flares while conducting a training exercise./ U.S. AIR FORCE PHOTO BY TSGT. GREGORY BROOK
As a technology leader in the private sector, Viasat believes it's increasingly becoming our responsibility to deliver the same level of connectivity and cloud-empowerment to our men and women in uniform as they have grown to depend upon in the civilian world. In fact, according to a recent survey, 68% of active duty military and Department of Defense (DoD) respondents say they expect the same level of connectivity and access to trusted and timely information on the battlefield as they get in the civilian world.
To empower our military forces with cloud-enabled technologies, much like what AMCS will provide to aircraft, the U.S. Army must have access to the latest advancements in satellite communications (SATCOM) and terrestrial networks. Of note, 81% of respondents to the same survey agree it's critical for U.S. military forces to have access to a modernized end-to-end satellite and terrestrial networks to make cloud-enabled technologies and the Internet of Battlefield Things a reality across the battlespace.
As Major General Thomas Todd recently pointed out, "there are several cross-cutting initiatives for the current fleet to make aircraft more agile, interoperable, survivable and integrated in multi-domain operations, and the network will play an integral role." The U.S. Army has an enormous, yet untapped opportunity to leverage today's private sector capabilities that will help ensure current modernization efforts for airborne platforms are successful.
Delivering Connectivity
By deploying secure, resilient, hybrid, multi-networking SATCOM and Line-of-Sight architectures offered by private sector leaders like Viasat and others, the U.S. Army can deliver the connectivity needed to significantly enhance in-flight mission effectiveness and power artificial intelligence, machine learning and cloud-enabled technology applications needed for initiatives like AMCS. But this is only one of advantages private sector technology can offer U.S. Army airborne platforms.
Expanding tactical networking capabilities will also be key to helping ensure rotary and fixed wing platforms maintain the advantage needed to succeed across today's data-driven battlespace. With near-peer adversaries demonstrating substantial capabilities to conduct electronic warfare, it will be critical for the U.S. Army to adjust acquisition processes in order to rapidly acquire and deploy effective new technologies that can be continuously updated and enhanced—helping ensure the U.S. maintains its dominance across the multi-domain battlespace.
Viasat's agile development model, proactive approach and expansive line of non-developmental item (NDI) offerings have realized great success enhancing capabilities for several rotary and fixed wing platforms ahead of traditional programs of record. A great example of the success of our NDI offerings include Viasat's KOR-24A Small Tactical Terminal (STT). The STT was developed ahead of official requirements and is currently the world's only multi-channel radio capable of performing Link 16 communications in a small form factor. The STT includes interoperable functionality to improve communications between U.S. and international coalition partners' military agencies requiring critical information from multiple networks and is continually updated to support evolving mission needs. The STT will continue to see new capabilities infused into the platform, including the roll-out of a software-only upgrade to address cryptographic modernization in early 2020 and the ability to receive multiple messages simultaneously to follow.
Tactical Datalink
The U.S. Army chose Viasat's STT as its tactical datalink for the AH-64E Apache Helicopter, among numerous other platforms, including its special operations rotary wing assets. Because the STT has the capability to operate over two-channels, it allows its host platform to switch waveforms and network connections on the fly and merge disparate networks for a complete operational picture. The result is delivery of real-time situational awareness to the cockpit as the mission unfolds.
In addition to the originally fielded capabilities of the STT, it is now capable of Concurrent Multiple Reception (CMR), in which a radio can demodulate and decrypt multiple messages from multiple users simultaneously. This has the effect of reducing message latency and increasing the overall throughput of the network, which can also greatly enhance the Army's tactical networking capabilities.
Viasat implemented CMR capabilities across its expansive line of Next Generation Tactical Data Link products, including the STT, to fulfill urgent mission needs and improve communications ahead of future requirements. Viasat's CMR Link 16 capabilities will also enable the U.S. military to both expand the number of units with direct digital access to key tactical data while also addressing network congestion in order to adapt to emerging mission requirements and maintain a tactical edge. Soon, the product line will be incrementally enhanced with additional features to mitigate RF interference in a contested environment.
By taking a proactive approach, private sector leaders like Viasat are ready to deliver new technology capabilities today to help modernize our forces faster and more cost effectively than ever before. We applaud the U.S. Army's leadership by taking on new initiatives like AMCS and look forward to continuing to work closely with customers to deliver cutting-edge SATCOM and tactical networking capabilities that will enhance mission effectiveness for U.S. Army aircraft and bring cloud-enabled technologies to life across the battlespace.
Ken Peterman is the president for government systems at Viasat, located in Carlsbad, California.