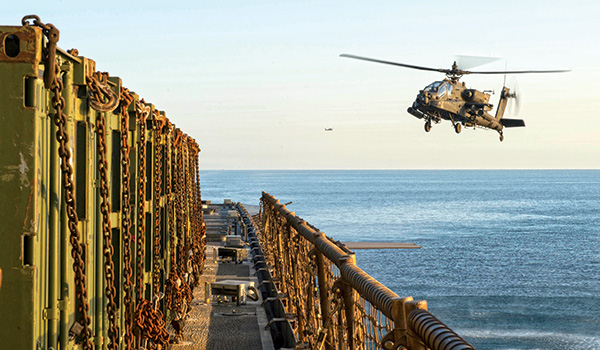 TRADOC Capability / By COL Jeffrey W. White: The emerging operational environment indicates future operations will be significantly different than those of the recent past. Multi-Domain Battle allows US Forces to outmaneuver adversaries physically and cognitively, applying combined arms in and across all domains. 
– Army Capabilities Integration Center (ARCIC) Multi-Domain Battle Pamphlet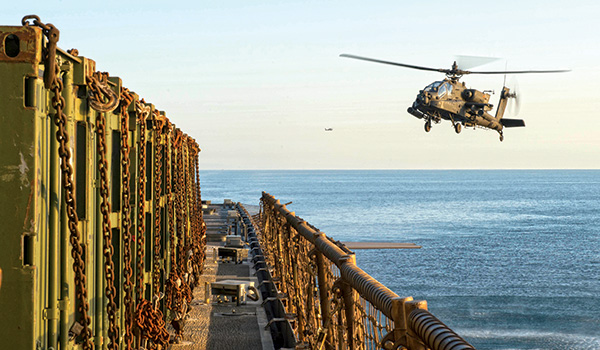 An Army AH-64 Apache helicopter prepares to land on the flight deck of the dock landing ship USS Oak Hill (LSD 51). / U.S. NAVY PHOTO BY MASS COMMUNICATION SPECIALIST 2ND CLASS JUSTIN YARBOROUGH
How can we leverage the hard fought lessons of the past and the extensive battle-tested experience of our professional all-volunteer force while striving to dominate our future enemies? However difficult to answer and ultimately achieve, it is important for us, as Aviation leaders, to purposely and critically think about this complex problem. By doing so, we can develop better and more affordable material solutions (aircraft, weapons, sensors, mission command systems, aircraft survivability equipment) while refining non-material solutions (doctrine, training, leader development, policy) in order to prepare for the next conflict.
To develop viable solutions for this complex problem, it is imperative we collaborate across the Aviation Enterprise and incorporate strategic guidance as we develop concepts and requirements. With this approach we can most effectively focus capability development of material and non-material solutions to dominate not just in just one domain but across multiple domains – land, sea, air, space, and cyberspace. The fundamental premise of the Multi-Domain Battle concept is creating multiple options for supported commanders, multiple dilemmas for the enemy, across multiple domains.
A key part of MG Gayler's [Army Aviation Branch Chief] strategic guidance is outlined in his Army Aviation vision emphasizing the need for a "professional, modernized aviation force focused on our ground forces while generating options for the Combatant Commander in any condition through increased Reach, Protection, and Lethality…." This article will focus on the fundamental tenents of reach, protection, and lethality to describe attack and reconnaissance capabilities for the 21st Century – preparing now for Multi-Domain Battle.
Reach
There are many aspects of reach as it pertains to Army Aviation. Reach is not only a function of speed, but also a function of range, endurance, performance, and deployability. In the short and mid-term, we are increasing the reach of our current Apache fleet by upgrading to the latest variant, the AH-64E. The AH-64E will be a vital component in every attack reconnaissance battalion (ARB) and heavy attack reconnaissance squadron (H-ARS) resident in each combat aviation brigade (CAB). To date, the Army has fielded over 160 AH-64Es, completing the 16th and 101st CABs, continuing now at Fort Hood, TX with the 1st Air Cavalry Brigade (ACB), while concurrently fielding these aircraft at Ft. Rucker, AL to seed the training base. The Army will continue to field AH-64Es through at least FY25 contingent on long-term Future Vertical Lift (FVL) options currently in the works. Simultaneously, the Army continues fielding unmanned aircraft systems (UAS) organic in each CAB – MQ-1C Gray Eagles in each ARB and RQ-7 Shadows in each H-ARS – enabling effective Manned/Unmanned Teaming (MUM-T).
FM 3-04 "Army Aviation" defines MUM-T as the "integrated maneuver of Army Aviation rotary wing and UAS to conduct movement to contact, attack, reconnaissance, and security tasks." MUM-T is a crucial part of the Army initiative to mitigate the armed reconnaissance gap with the divestiture of OH-58Ds. As we continue to integrate AH-64Es, Gray Eagle, and Shadow UAS to fully realize MUM-T, Army Aviation will increase the reach of commanders with "increased depth and breadth of Aviation reconnaissance and maneuver."
Specific to AH-64E, platform and systems enhancements will expand the ability to conduct MUM-T with increased Level of Interoperability (LOI) necessary to achieve supervised control of UAS sensors, weapons, and ultimately the platform itself. This capability growth is an extension of the current ability of AH-64s to transmit and receive full motion video with UAS. The AH-64E also features insertions including rotor and drive system improvements increasing platform speed, range, endurance, and performance. Extensive efforts are underway to provide AH-64E equipped units with the Reduced Size Crashworthy External Fuel System (RCEFS) adding an additional 125 gallons of fuel in each tank increasing range. To increase the ability to deploy by sea or air the Army is developing an improved blade folding kit to decrease the time and effort to off-load AH-64Es during air transport or recover/stow aircraft during shipboard operations. These are but a few of the short and mid-term AH-64E capability insertions increasing the reach of Army Aviation while focusing on supporting our ground forces.
Protection
As part of the Multi-Domain Battle concept, U.S. Forces must improve the ability to counter threat Anti-Access/Area Denial (A2/AD) capabilities, which includes more sophisticated and integrated air defense systems. As a result, Aviation stakeholders are concentrating on detect and defeat aspects of aircraft protection in order to improve on existing/legacy systems such as the Common Missile Warning System (CMWS). To enhance threat detection, the Army will rapidly equip certain AH-64D/E aircraft with Advanced Threat Warning (ATW) equipment in response to a theater specific Joint Urgent Operational Needs Statement (JUONS). These ATW components will interface with modified Department of the Navy Large-Aircraft Infrared Countermeasures (DoN-LAIRCM) to augment CMWS and improve the ability to defeat specific threat systems.
The Army is expanding this initiative as part of the Advanced Threat Detection System (ATDS) to improve protection of manned platforms. In the mid-term, ATDS will replace CMWS providing Army Aviation the ability to detect advanced infrared (IR) and hostile fire threat systems, correlate laser detection data for improved threat declaration, and hand off threat declarations to the appropriate countermeasure system (common IR countermeasures, flares, etc.). Additionally, ATDS will serve as the foundation for future growth against IR, radio frequency (RF), laser, and ballistic threats. The Army is partnering with industry and other science & technology efforts to develop new long-term capabilities to mitigate A2/AD vulnerabilities. This will include the Aviation Airborne Expendable Countermeasure (AAECM), providing robust primary and supplemental countermeasure capabilities against IR, RF, optical, and laser guided threats.
Lethality
The Army continues concerted efforts to improve lethality and escalate Multi-Domain Battle capabilities in the Aviation portfolio. The Army is currently fielding the latest variant of the Hellfire (HF) missile, the "Romeo" Model HF (R-HF), modifying missile hardware and software, increasing accuracy, adding a multi-purpose warhead, and optimizing for employment from AH-64D/E and MQ-1C platforms. In response to a JUONS, the Army is fielding modified Longbow HF missiles to optimize capabilities against non-traditional targets. These modified L7A HFs provide better lethality against both maritime/littoral threats and counter-UAS targets. The next generation missile, the Joint Air-to-Ground Missile (JAGM), is currently in testing and on schedule. JAGM will provide a dual-mode seeker featuring both laser and radar guidance in one missile and improve lethality against advanced threat armored systems that are protected with passive and active countermeasures. JAGM will eventually replace all variants of the HF in the long-term.
The Army is expanding efforts to close an existing lethality gap – the lack of a scalable/tailorable small guided munition option against soft/mid-range targets at a reduced cost. Currently the only other precision guided option available for Army Aviation (other than HF) is the Advanced Precision Kill Weapon System (APKWS) – a laser-guided 2.75" Hydra rocket. Only AH-64D/Es can fire APKWS which does provide a complementary capability against soft-skin/light targets. To support an existing Operational Need Statement (ONS) and provide more lethality options, the Army is pursuing a Lightweight Precision Munition (LPM). Stakeholders are focusing LPM on employment off of UAS, providing near/mid-term options for commanders. We will seek to leverage additional partnerships outside the Aviation Enterprise to increase 30mm lethality, adding to the current inventory of 30mm High-Explosive Dual-Purpose (HEDP) rounds with a 30mm proximity fuse, being developed for C-UAS and maritime targets.
As we invest human, intellectual, and financial capital to properly address current and future threats, ARCIC points out that "Multi-Domain Battle is not unprecedented, rather it is about using capabilities in more innovative ways to overcome new challenges." This concept is full of opportunities for Army Aviation, specifically for reconnaissance and attack capabilities within our Branch, to capitalize inherent advantages of both manned and unmanned systems. Looking ahead, we will continue to prepare for the challenges that we will face, remaining committed to those who we support, creating multiple dilemmas for the enemy.
COL Jeffrey W. White is the U.S. Army Training and Doctrine Command Capability Manager for Reconnaissance and Attack, with the U.S. Army Aviation Center of Excellence at Fort Rucker, AL.