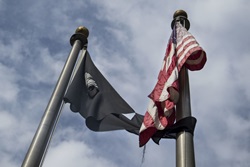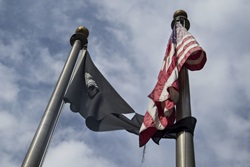 September 14, 2017
Photo by Spc. Lisa Crawford
Joint Force Headquarters – Nebraska National Guard
Approximately 40 Army National Guard Soldiers from Kentucky, Florida and Nebraska, volunteered to restore the Cecil Field POW/MIA Memorial park, Sept. 14, in Jacksonville, Florida, while aiding with Hurricane Irma relief and recovery operations.
While conducting clean-up efforts, Nebraska Army National Guard Spc. Chris Sheen, a religious affairs specialist from Wilcox, and Staff Sgt. Alex Peyton, a master intelligence analyst from Kearney, lowered the tattered and faded remains of damaged American and POW/MIA flags, and respectfully folded them in an impromptu ceremony.
The Soldiers intend to have the flags disposed of in an honorable and appropriate manner, making way for new flags to proudly fly over the memorial.
These photos were originally found here.