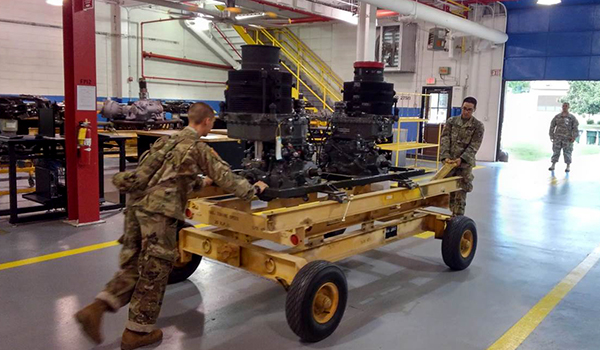 128th Aviation Brigade / By SSG Deniz Wesley: According to the Atlantic Journal-Constitution, the worldwide airline industry will need 34,000 new airplanes by 2031 (twice the current number) and 601,000 new aircraft maintenance technicians in the next 20 years to maintain that fleet.
U.S. Army aviation maintenance training programs are recognized and accredited by the American Council on Education and produce some of the most technically competent Soldier-maintainers in the world. It seems as though the private sector has realized this valuable resource pool of future maintainers and is more than eager to provide former military aviation technicians unique – and exclusive – application experiences and employment opportunities.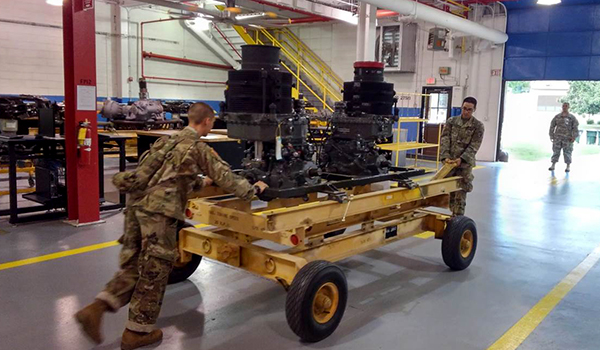 15D (Aircraft Powertrain Repairer) AIT Soldiers are shown here completing a Physical Demands Assessment./ 128TH AVN BDE PHOTO BY SSG BRUCE A. MASTELLER, C/2-210TH AVN. REGT.
One way for Soldiers who are about to separate from active duty to gain valuable exposure in industry is through the Post Career Employment Program (PCEP) found on the AAAA website, quad-a.org. This site serves two member groups – AAAA Individual Members retiring or leaving active service, and Industry Members seeking highly qualified Soldiers to enhance their work force. For individual members, it clearly demonstrates that AAAA is a professional organization that supports all ranks and Army Aviation specialties. For Industry Members it offers opportunities to access highly-skilled and disciplined personnel who can be immediately productive members of their work force.
Another method for separating Soldiers to capitalize on their knowledge and experience is directly through industry with aircraft manufacturers and operators. Boeing, for example, has gone above and beyond to make the military veterans feel welcome in their organization. The company has created several interactive online tools for veterans to properly annotate any previous military experience. For example, there is a Military Skills Translator Tool on the Boeing website which not only "translates" a Military Occupational Specialty (MOS) into civilian career opportunities, but also provides locations where potential positions are available. Boeing also hosts Talent Network – a social networking tool for prospective recruits. Providing your professional skills, qualifications and interests on the Talent Network allows Boeing recruiters to contact you as opportunities become available.
Boeing claims that military veterans represent around 15% of their total workforce and the company and its employees supported more than 800 military and veteran specific events, programs, and organizations in 2016. In addition, the number of veteran hires since 2011 is now over 7,800 and more than $16.9 million have been raised by Boeing and its employees to support military and veterans' organizations and efforts.
In the realm of aircraft operators, another great opportunity for an Army Aviation mechanic veteran is Jet Blue. The company is partnered with the 100,000 Jobs Mission and has pledged to hire 300,000 veterans by 2020, 3 times the stated goal. JetBlue offers 12 month apprenticeships to aspiring mechanics at their Boston (BOS) and New York (JFK) locations. Apprentices are paid almost $20 an hour, receive paid time off and several benefits, including medical, dental and 401(k). Graduates are immediately promoted to the position of Aircraft Technician. Though newly assigned aircraft technicians are initially assigned to the location they graduated from, JetBlue tech ops positions are available at numerous locations throughout the country.
American Airlines is friendly to former Army Aviation maintainers as well. The company is heavily invested in veteran hiring and also has an MOS search tool on its website. All that's required is to enter either the Military Job Code or Title and the tool will populate applicable positions, descriptions, availability, and location.
Southwest Airlines is one of G.I. Jobs' top 100 military-friendly employers and a Most Valuable Employer for Military winner. The airline offers several aircraft maintenance related positions; including A&P Mechanics, Appearance Technicians, and Stock Clerks. Employment locations are available at over a dozen locations throughout the country and Southwest employees enjoy flexible work hours, overtime and shift pick-up pay.
Army Aviation maintainers are some of the Army's most highly trained and sought after assets – in part due to the investment that went into their training, but more importantly, because of the disciplined work habits and reputation for excellence and attention to detail these Soldiers bring to the job.