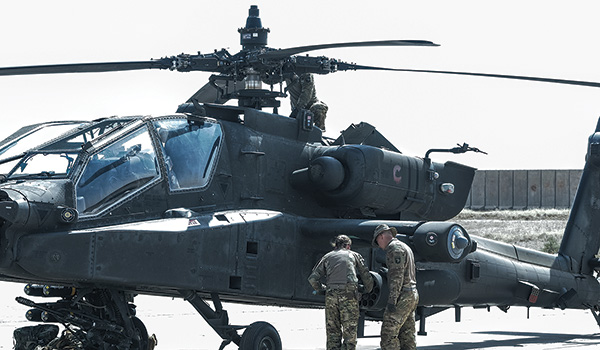 Maintenance / By CW5 Michael D. Cavaco: In today's ever-changing operational environment, we must be ready to deploy, fight, and win on a moment's notice anywhere in the world. But the time to plan is not upon receipt of the warning order, but instead must be woven into all we do, at home station and deployed.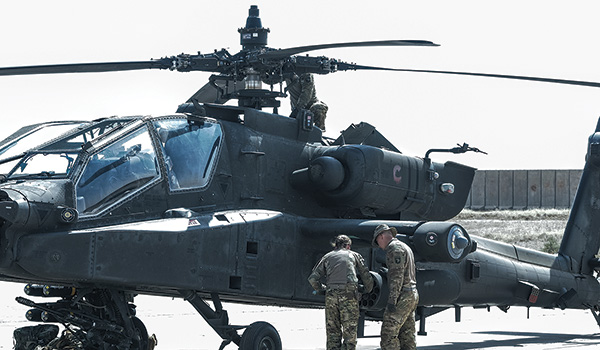 Soldiers from C Troop, 2nd Squadron, 17th U.S. Cavalry Regiment perform inspections and maintenance on an AH-64E Apache helicopter at Qayyarah West Airfield, Iraq, September 2, 2017. The 2-17th Cav. will provide attack, reconnaissance and surveillance capability for Combined Joint Task Force – Operation Inherent Resolve while commanding Task Force Saber. / U.S. ARMY PHOTO BY CPT STEPHEN JAMES
We must condition our formations now to sustain, maintain, and operate under the most demanding conditions. Planning for this expeditionary maintenance is a primary responsibility of the brigade and battalion Aviation maintenance officers. Start with the basic P4T3 formula (Problem, Plan, People, Parts, Tools, Training, and Time) and backwards plan.
Problem – This may be a simple statement, such as "deploy an aviation task force to XX," but becomes much more complicated with a mission that reads "deploy battalion-minus multi-function aviation task forces to four geographically dispersed locations across the AOR via three separate ports of entry." The complexities of the latter just increased by orders of magnitude, and it's just the start. From there, the concept of maintenance support must be developed – what level of maintenance will be accomplished where, and by what unit? Will the hub and spoke concept adequately support the mission requirements, or will multiple, smaller hubs be required? These considerations will drive courses of action (COA), which get fed back to the staff to drive the planning process.
Plan – Once the courses of action are defined, a detailed plan to support each one must be developed. Identify the limiting factors for each COA and include primary, alternate, contingency, and emergency (PACE) methods for addressing these challenges; the role of the theater sustainment command and its subordinate units is critical to the success of the combat aviation brigade (CAB). Ensuring that they are part of the plan reduces the load on the aviation support battalion (ASB) support operations cell and enables quicker combat power generation within the CAB. Once these details are worked out they are used to develop tasks to subordinate units.
People –Take the time to empower and develop your junior leaders at home station; do this in training, but also ensure you hold them accountable. Train prospective technical inspectors and phase team leaders early and often, and cross train soldiers within your formation; at an operational level, focus on sustainment. The SPO-Aviation section is an integral node, but is two Soldiers deep, while the BAMO section is authorized only one, yet the workload once far exceeds their capacity. The proper augmentation must be identified and resourced in order to manage the flow of information, repair parts, tools, etc. to ensure the CAB's success.
Parts – If a part isn't where you need it, it's useless. A technique I've used is to split all battalion tech supply stocks into three separate but identical deployable modules. This creates an independent tech supply package in support of each flight company, to deploy wherever necessary in task force configuration. This facilitates the P4T3 process and reduces down time. Also, units must take the time to ensure that the Authorized Stock List (ASL) contains the right parts, in the right quantities, to support the mission, emphasizing high dollar and oversized items. Flight battalions may need to relocate rapidly and often, and shouldn't be burdened by moving bulky, low-demand items.
Tools – Identify and order tool shortages. This seems like common sense, but is often overlooked until change of command. Take the time to identify the requirements for low-density items, such as mobile cranes, pitot-static test sets, and Peculiar Ground Support Equipment. These items can rapidly impact the mission if they aren't allocated properly, so take the time to analyze each item, cross-levelling or ordering additional assets as necessary.
Training – Too often, maintenance is seen as the cost of doing business, rather than an opportunity to improve. But maintenance IS training and with each iteration our Soldiers get more efficient. To get really good at maintenance, you must build a team of teams, and each team filled with experts at their tasks. Flight companies need to manage the -18 inspections and launch/recover aircraft. The aviation maintenance company/troop needs to be great at intermediate maintenance (100-250 hour intervals) and unscheduled maintenance. The aviation support company needs to provide rock-star phase teams to generate combat power. This is where we should focus in garrison.
Time – Establishing these systems and processes to employ these techniques takes time – realistically, 12 to 18 months. But we have to start somewhere. Plan early to identify hurdles and identify opportunities to reduce the timeline or improve the end result.
Many of you are thinking "I already know this." Unfortunately, that has become the exception rather than the norm. More importantly, this process exists in unit SOPs and the experiences of a few individuals. We need to capture these best practices – codify what works best for each unit and then move to combine the best practices into a master document. Not only will this increase the expeditionary capabilities of Army Aviation, but also prevent us from re-inventing the process decades down the road.
Tradition of Excellence! Army Strong!
CW5 Michael D. Cavaco is the Aviation Branch Maintenance Officer, U.S. Army Aviation and Missile Life Cycle Management Command at Redstone Arsenal, AL.