By Charles V. Maraldo Jr.: The Communications-Electronics Research, Development and Engineering Center's (CERDEC) Flight Activity has the mission to support a broad spectrum of aviation related projects in support of the advancement of command, control, computers and communications and intelligence, surveillance and reconnaissance (C4ISR) technologies. The need to get technology in flight and into its intended environment early in the development cycle is evident. Whether a new type of antenna, a heliborne Electronic Warfare system, or a sensor technology destined for use on a fixed-wing aircraft, the CERDEC Flight Activity must be able to support it all.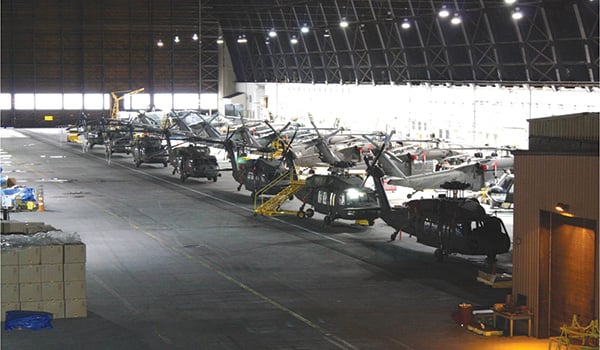 Research and Development for Army Aircraft Communications and Electronics
The CERDEC Flight Activity is a division of CERDEC's Intelligence Information Warfare Directorate (I2WD). The government staff includes approximately 30 CERDEC employees from I2WD. Also on site are employees from CERDEC's Space and Terrestrial Communications Directorate, Command Power and Integration Directorate, and Software Engineering Directorate, and the Communications-Electronics Command (CECOM).
In the Beginning
In March 1918, six Curtiss JN-4D Jennies arrived at Camp Alfred Vail, later renamed Fort Monmouth, in New Jersey. By May 1918, these aircraft were supporting development and test-bed activities related to airborne communications and navigation. As soon as the Army started using aircraft for reconnaissance and scout duties, the problems of air-ground communications and radio navigation needed to be addressed. Just like today, new technology for airborne applications had to be flown on the proposed aircraft in order to gain confidence in its proper performance and to ensure it operated as intended in an airborne environment.
The Army stood-up its first airborne test-bed for communications and electronics integration and flight test capability in 1918 at Ft. Monmouth to conduct this type of research and development. Although there have been several breaks when the Army assigned airborne communications and navigation development elsewhere in the country, those six sturdy biplanes represent the historical lineage associated with the current CERDEC Flight Activity (CFA).
Through the first half of the 20th century, the mission of the flight detachments assigned to Ft. Monmouth varied. However by the early 1950s, the need for a consolidated organization centrally located near Ft. Monmouth was obvious, and the Army established the Signal Corps Aviation Center at a commercial airfield in New Jersey. In 1963, the Signal Corps Aviation Center moved into Hangar 5, constructed in 1943, at what was then the U.S. Navy Air Engineering Station in Lakehurst, NJ. Despite name changes, the center of aviation support for C4ISR technology advancement has remained headquartered in the huge wooden hangar to this day; however, within a couple years that will change.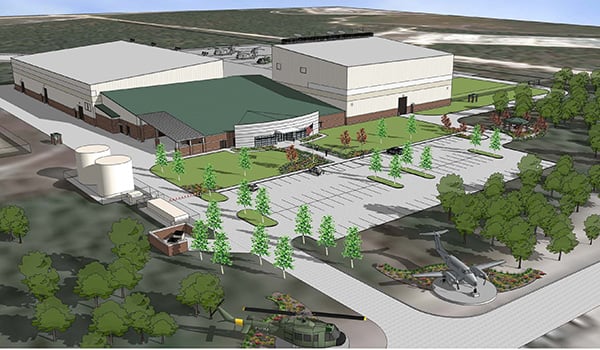 New CERDEC Hangar – perspective view looking Northeast at Joint Base McGuire-Dix-Lakehurst, NJ.
Built of wood during WWII to house U.S. Navy blimp squadrons for coastal maritime patrols and one of the largest single-arch structures in the world, Hangar 5 has been deteriorating and the Army determined a need for a new CERDEC Flight Activity headquarters to ensure its core mission could continue unabated. To that end, the U.S. Army Corps of Engineers recently awarded a $42 million contract for the construction of a 107,000 square foot aviation facility that includes approximately 63,000 square feet of modern, heated hangar floor space in two large bays, and more than 43,000 square feet of lab, office, shop and maintenance space.
The ground breaking for the new facility was held within a half mile from the current hangar at Joint Base McGuire-Dix-Lakehurst (JBMDL) April 11, 2014 and will be ready for occupants in 2016. The bulk of CFA staff will move into this state-of-the-art facility, which will be dedicated to the advancement of aviation related C4ISR programs. Having a government run, highly-skilled workforce that can support integration and experimentation across multiple programs, allows the cross fertilization of ideas and lessons learned across multiple projects.
The CFA has built upon extensive government investments made to it during the last 50 years. The hangar will allow for the continued work conducting integration for all types of electronic systems destined for use on aviation platforms and allow for the maintenance and operations of the aircraft assigned to the CFA to be done safely and efficiently. This breadth of mission capability all in one location allows for the maximum efficiency of resource usage, which is crucial in the current fiscal environment.
Accomplishing the Mission
The CERDEC Flight Activity operates a fleet of aircraft maintained in strict accordance with Army Standards. The fleet includes three UH-60 Blackhawks including a UH-60M, several UH-1 aircraft, a UV-18 Twin Otter fixed wing aircraft and two C-12 type aircraft. The CFA has ready access to all of the resources required to accomplish a broad mission set due to its location. Whether it is overflight of targets on the ground, stand-off flights executed in restricted airspace over the Atlantic Ocean, or low level rotor-wing aircraft missions over the vast New Jersey Pine Barrens, these scenarios can be accomplished from the single location at the country's only Tri-Service Joint Megabase.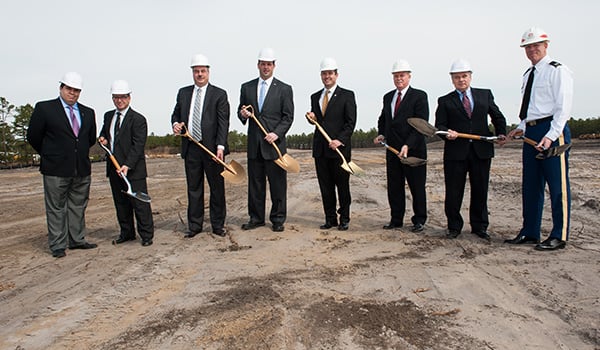 From left to right – Robert Locklear, staff member to NJ Senator Bob Menendez; CERDEC I2WD Flight Activity Director Charles Maraldo; CERDEC Associate Director Robert Zanzalari; NJ Third District Congressman Jon Runyan; RDECOM Director Dale Ormond; CERDEC I2WD Director Henry Muller; NJ Fourth District Congressman Chris Smith; and Army Corps of Engineers, New York District Commander COL Paul Owen break ground at the CERDEC Flight Activity Hangar groundbreaking ceremony at Joint Base McGuire-Dix-Lakehurst April 11. The hangar is scheduled to be completed in early 2016.
Due to JBMDL's unique location, MG Fred D. Robinson, Jr., then commanding general of the U.S. Army Research, Development, and Engineering Command (RDECOM), signed a memorandum to exempt the CFA from the 2005 Base Realignment and Closure Act, which moved CERDEC's Ft. Monmouth activities to Aberdeen Proving Ground, MD in 2011 after the base closed. In it Robinson stated, "The CFA's requirements cannot be met at Aberdeen Proving Ground (APG). Specifically, the capabilities provided by the Lakehurst NAES [Naval Air Engineering Station] footprint (to include the contiguous area of Lakehurst, Ft. Dix, and McGuire AFB, plus the Pine Barrens Test Area, the Warren Grove Bombing Range, and within the restricted Warning Area over the Atlantic Ocean) cannot be replicated at APG and its environs." In addition to the contiguous 20-mile-wide area of JBMDL, the CFA manages the test-bed activities in support of the Program Manager, Sensor-Aerial Intelligence (PM S-AI) and PM Fixed Wing that supports development of sensor and communications capabilities for the Army fixed wing intelligence, surveillance and reconnaissance fleet.
The CFA works closely with other CERDEC elements and takes advantage of the facilities and resources at APG. The cohesive test environment across location boundaries allows the CFA to integrate systems and perform modifications at the JBMDL facility; base and execute missions in the aforementioned environment and via robust networking capability; and connect to the Systems Integration Lab environments established in APG just as it did when the CERDEC was at Ft. Monmouth. Additionally, the CFA mission will take advantage of Phillips Army Airfield at APG where aircraft can be taken for evaluation, demonstration or display purposes, and not have to replicate the capabilities and investment already made at the CFA at JBMDL.
The CFA also partners with the CERDEC's Night Vision & Electronic Sensors Directorate (NVESD) Flight Activity at Davison Army Airfield in Virginia. CFA and CERDEC NVESD Flight Activity have constantly demonstrated an efficient business model by cooperating and sharing resources such as contracts, Army civilian pilots, aircraft, facilities and airworthiness release boards.
As the CERDEC Flight Activity continues moving its mission forward, it will be poised to provide another several decades of top-notch aviation support and expertise in its new facilities while teaming with the other Army aviation organizations throughout the Army in providing the maximum benefit to the U.S. Army Warfighter.
Charles V. Maraldo Jr. is the director of the U.S. Army Communications-Electronics Research, Development, and Engineering Center Flight Activity located at Joint Base McGuire-Dix-Lakehurst, NJ.