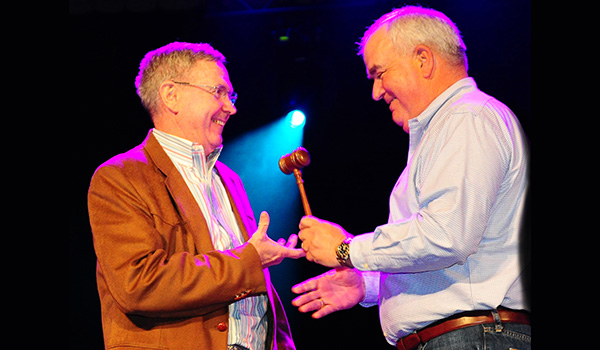 President's Cockpit / By BG E.J. Sinclair, Ret.: I am sure every AAAA President feels this way, but it is truly amazing how quickly a two-year term goes by. It seems like just a few months ago I took the gavel from BG Howard Yellen at the end of the 2015 Soldier Appreciation Concert at the Summit.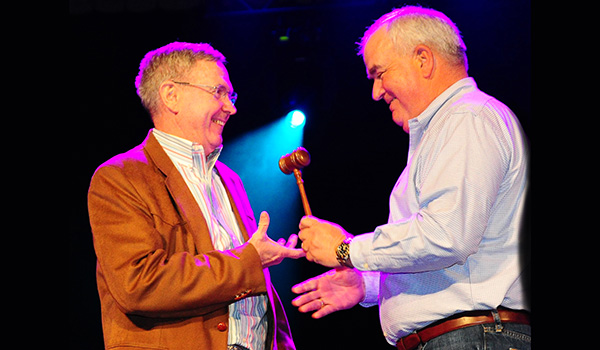 BG (Ret.) E.J. Sinclair accepting the President's Gavel from outgoing president, BG (Ret.) Howard Yellen, at the Soldier Appreciation Dinner during the 2015 AAAA Army Aviation Mission Solutions Summit March 31, in Nashville, TN./ AAPI FILE PHOTO BY RENÉ BIDEZ
Now I am about to hand the reins to BG Steve Mundt, our new AAAA President on April 28.
From the many AAAA Chapter meetings, and symposia, to our Annual Summits, Congressional Caucuses, and Senior Executive Associates meetings, it has been my honor to represent you all, help support and serve your needs, hopes and requirements. I am especially proud of the way the AAAA supports our Army Aviation Soldiers and their Families. We have always tried to make them feel welcome at all our events and particularly through the awards program that recognizes so many great Soldiers each year, on stage and off.
Our membership is strong. The chapters are at an all-time high. The Scholarship Board has done a great job growing the program to over $500,000 and 250 students each year. And I am happy to say I think we have made it through the tough few years of very restrictive conference policies which made it very difficult for the entire Army Aviation Community to gather to create solutions for our Warfighters. The 2017 Summit we are all now attending is our third largest ever after some very challenging years.
I would like to thank all of you for your support over my two years. AAAA is a family and you showed that to me every day. I would also like to thank our leadership team of Steve Mundt as Senior VP, MG Jeff Schloesser as Secretary, MG Tim Crosby as Treasurer, COL Mark Weiss as VP Reserve Components, LTC Jan Drabczuk VP Chapters, and CW5 Dave Cooper VP Membership for all its hard work and results.
I truly appreciate that the AAAA National Office was always there to provide continuity and crank out the daily tasks to keep our organization relevant, responsive, and proactive. Words can never express my thanks to Bill Harris and Janis Arena and all of the women and men in the National office – they are truly who make AAAA run so smoothly.
To my colleagues in industry and our retired communities, thanks for your unflagging support that helps make it possible to do what we do for Army Aviation Soldiers and their Families every day.
As we celebrate 75 years of organic Army Aviation service, I look forward to watching the continued growth of AAAA as our Association, Branch, and Army answer the call of the Nation to meet the current and emerging threats around the world. It looks like a new day of increasing budgets, full spectrum training and operations may soon be upon us. I know you will all respond as the American Soldier has always done from Bunker Hill to the present time.
Susan and I look forward to seeing you at AAAA events going forward. It has been a great two years and I know AAAA is in good hands as my good friend Steve Mundt takes the controls… even if he is a Black Hawk pilot!
"AAAA: Supporting the U.S. Army Aviation Soldier and Family" is our touchstone. Make sure you think of how each of us as AAAA members can do a better job of it every day.
Thanks again.
Above the Best!!
BG E.J. Sinclair, Ret.
32nd President, AAAA
This email address is being protected from spambots. You need JavaScript enabled to view it.