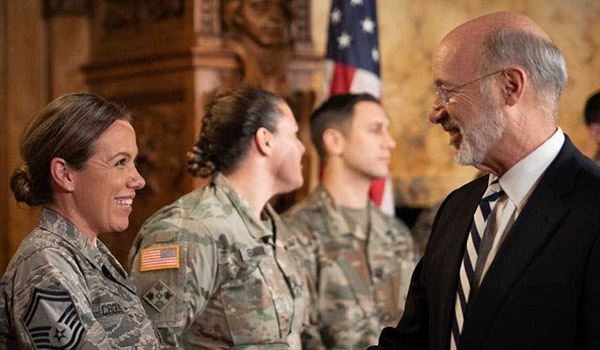 By CW4 Teresa R. Watkins: Pennsylvania is one of the largest National Guard states in the United States of America. Our organization is proud to announce, the first-in-nation Military Family Education Program (MFEP). The PANG is all about family, and we want to acknowledge our families' service and sacrifice. The spouses and children make many sacrifices to support their loved ones in uniform. Many times it is during a lengthy deployment, sometimes it is drill weekend, other times it is a last minute call to support a natural disaster or emergency; regardless of the call of duty, our servicemen and women desperately need the support of their family, so they can focus on protecting the homeland. The MFEP is a small token of appreciation from the PANG to say thank you to our military families for their personal sacrifice.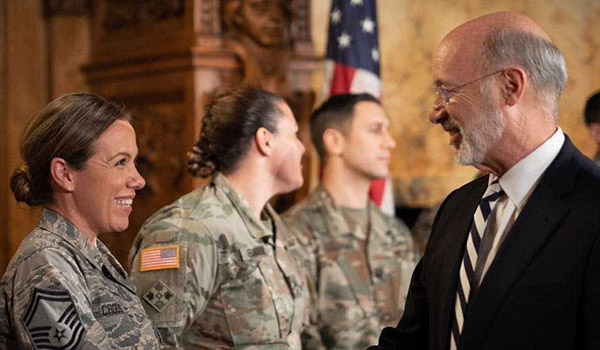 Pennsylvania's Governor, Pennsylvania's Adjutant General and the Pennsylvania General Assembly partnered to recognize and support the families of Pennsylvania National Guard (PANG) service members and to increase retention in the PANG. On 1 July 2019, Pennsylvania's Governor signed into law House Bill 1324, authorizing the MFEP and expanded our current Education Assistance Program (EAP).
What is Military Family Education Program (MFEP)?
The MFEP provides an educational assistance grant for dependents (spouse or children), earned by airmen and soldiers for their commitment and service to the Pennsylvania National Guard. The MFEP grant can be used for a degree granting curriculum or certificate granting curriculum, course of study or training programs required for entrance into a specific career. It must be used at Pennsylvania institutions of higher learning approved by Pennsylvania Higher Education Assistance Agency (PHEAA), for up to five academic years, which equate to ten (10) academic semesters, at twelve (12) credits per semester, for a total of 120 total credits. The service member has the option to assign the entire benefit to one dependent or a portion of the benefit to more than one dependent.
What are the eligibility requirements for MFEP?
MFEP is earned by the PANG member committing to serve for an additional six years after completion of their first service obligation in the PANG. For enlisted airmen and soldiers this is a reenlistment obligation; for officers/warrant officers it is a service obligation. Pennsylvania Guard members may extend their current service obligation to reenlist for MFEP after completion of their initial service obligation. In order to be eligible, a service member must be in good standing/satisfactory participant in the PA Guard. The M-Day, Technician and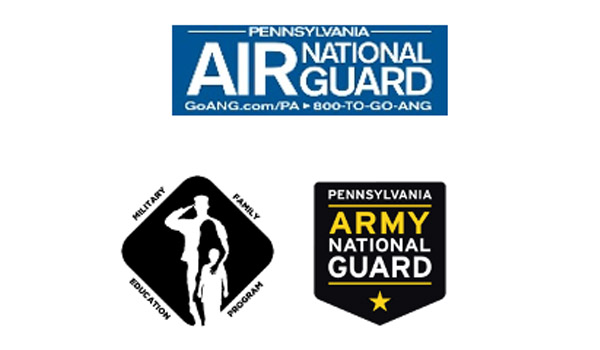 AGR T-32/T-10 officers, warrant officers and enlisted soldiers and airmen are eligible for MFEP. PANG members are eligible to enroll in MFEP effective 1 July 2019. The MFEP grant will be available for use by family members beginning the 2020/2021 Academic Year.
Who are considered eligible dependents?
Dependents who meet the criteria IAW Defense Enrollment Eligibility Reporting System (DEERS).
Can a PA Guard member enroll, extend or reenlist for MFEP without having dependents at this time?
Yes, the PA Guard member may earn the MFEP benefit for their future dependents. If a PA Guard member completes both their initial and subsequent six year service obligation to the PA Guard, and is later separated under honorable conditions, the member will be issued a certificate of eligibility for use within the guidelines of the program.
A PA Guard member can change dependent(s) assigned to receive the MFEP benefit while serving as a PA Guard member, as well as after separation within the guidelines of the program.
How long are dependents eligible to use MFEP?
A spouse can use this assigned MFEP benefit up to six years after the member's separation from PA Guard. Children can use the assigned MFEP benefit before reaching 26 years of age. If both parents are PA Guard members that enrolled in MFEP and they both assigned their benefits to the same dependent, that dependent's MFEP benefit is not capped at five years however, that dependent may receive 10 years of benefits.
This education benefit is available to PANG members and existing service members transferring into the PANG who completed their initial military term in the PANG and commit to an additional six years of PANG service. Through this grant, military spouses and-or their children can see a way forward with their education. With this one-of-a-kind program, we will secure an educational future for families; this is one way to show our appreciation to those who serve and sacrifice while giving them another good reason to re-enlist. A phenomenal benefit for families! Again, let Pennsylvania National Guard pay for your family's college education.
Learn more
For more information or questions about the MFEP or if interested in joining the PANG please see point of contacts below:
Air National Guard Recruiting Team Army National Guard Recruiting Team
Philadelphia Area: 800-997-2264 Phone: 1-800-GO-GUARD
Pittsburgh/Johnstown Area: 877-249-5193 Website: https://paguard.com
Harrisburg/FTIG State College Area: 800-532-0858