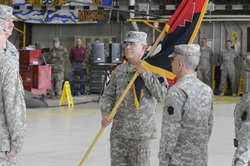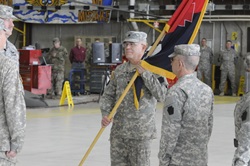 Fort Indiantown Gap, PA, United States
Story by 1st Lt. Travis Mueller
28th Combat Aviation Brigade
FORT INDIANTOWN GAP, Pa. – The Pennsylvania Army National Guard's 28th Combat Aviation Brigade held a change of command ceremony at the Army Aviation Support Facility at Muir Army Airfield here Sunday.
A change of command ceremony is a centuries-old tradition that represents the formal transfer of responsibility from one commanding officer to another.
Family, friends and fellow soldiers joined the 28th CAB in bidding farewell to outgoing commander Col. Dennis Sorensen and welcoming Lt. Col. Howard Lloyd as the new brigade commander. Brig. Gen. Andrew Schafer, commander of the 28th Infantry Division, presided over the ceremony.
Lloyd takes command of the 28th CAB after serving as the brigade's executive officer.
"I'm honored and humbled to be given the opportunity to lead and work alongside each and every one of you as we continue to refine the brigade's readiness," said Lloyd. "I look forward to perfecting our capabilities so we are ready when our nation or the commonwealth calls upon us.
Sorensen moves on after spending 29 years of his military career in the brigade.
"Everybody is a big part of the family here, in the Aviation Brigade," said Sorensen. "I will truly miss it."