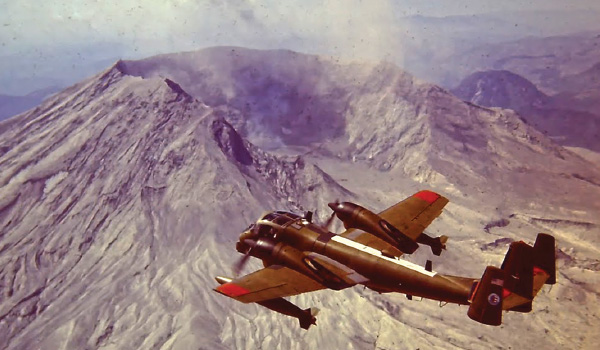 News Spotlight / By MG (Ret) Charles Rosenfel: In October 1972, a lone Mohawk departed Fort Rucker, Alabama en route to the Army Aviation Support Facility (AASF) in Salem, Oregon. This was the beginning of the 1042 Military Intelligence Co. (Aerial Surveillance) of the Oregon Army National Guard. The 1042nd would become one of only six aerial intelligence units focused on detecting the strength, disposition and activity of enemy forces day or night, regardless of weather.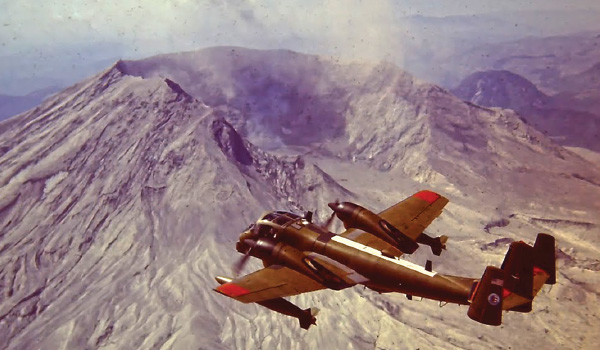 One of two OV-1 Mohawks providing surveillance of the Mt. St. Helens eruption in 1980.
While optimized for battlefield surveillance, the 'weekend warriors' recognized that the capabilities of the OV-1 had numerous applications in public safety, disaster reduction, transportation planning, and environmental monitoring… it's utility was greatly expanded. The Oregon Department of Forestry credited the infrared mapping capability of the 1042nd with greatly improving forest fire fighting, saving thousands of man hours at major fires, potentially saving many residences in 1973 alone. Agriculture and Water Resources used infrared imagery and detected leakage areas in irrigation canals, the Department of Energy mapped heat loss from campuses and government buildings, and DEQ detected sources of industrial pollution in rivers and streams.
This expertise attracted global attention as Mt. St. Helens progressed toward a major eruption on May 18, 1980. Two Mohawks were airborne as the eruption started, followed by over a dozen missions that covered the volcanic activity and its effects that day. Due to this surveillance, St. Helens became the best documented eruption in history…. photos and radar imagery from the Mohawks were shown on national news, and unit members briefed President Carter and the affected State Governors.
When the Army retired the OV-1 Mohawk in October 1992, the 20-year history of the Oregon Mohawks ended, but the legacy of these units lives on. Mohawk 926, one of the original aircraft, was found in 2016, and with the help of many, including the AAAA Oregon Trail Chapter, restored and returned home. It stands as a tribute to the men and women whose innovation and dedication carried forth the tradition of excellence of Oregon Army Aviation.
MG (Ret) Charles Rosenfeld served as the Assistant Adjutant General, Oregon Army National Guard from Oct 1997 – Oct 2000