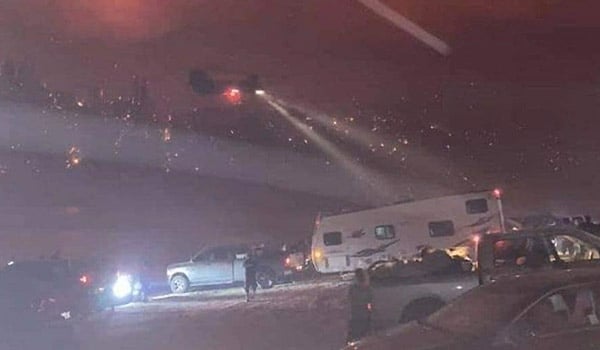 Branch Chief's Corner / By MG David J. Francis: As Army Aviation continues to perform missions at home and worldwide, the depth, resilience, and flexibility across our force is consistently impressive.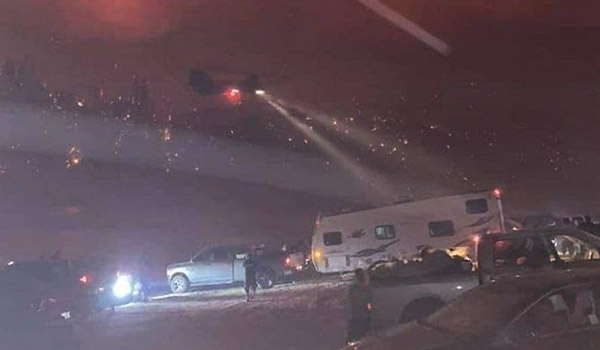 A California Army National Guard CH-47 helicopter on final approach for one of multiple rescue pick-ups during the Creek Fire near Shaver Lake, CA in early September 2020. / CALIFORNIA ARMY NATIONAL GUARD PHOTO
A significant aspect of our enduring successes involves leveraging the integration of all three components (Active, Guard, and Reserve). Crucial to our success is our ability to fuse the necessary resourcing, training, and modernization across our forces, including integrating leaders and organizations at every opportunity. Here at the U.S. Army Aviation Center of Excellence (USAACE), I am fortunate to have BG Stan Budraitis as my Deputy Commanding General. As a senior leader with the Mississippi National Guard, his knowledge, leadership and cross-Component experience are evident daily, demonstrating the value and synergy when our components work together.
Unique Relationships and Flexibility
The Army National Guard and Army Reserve bring unique relationships, authorities, and flexibility to our Army. As a unique set of capabilities, The Guard and Reserve (COMPOs 2 and 3) comprise 51% of the Army Aviation's Fleet, contributing significantly to the complex missions in all corners of the globe and the ever-present threat of natural disasters and unforeseen events taking place within our borders. The National Guard and Reserve routinely respond to snowstorms, wildfires, floods, earthquakes, unrest and always provide full-spectrum recovery and support to all affected by devastating hurricanes. Additionally, these aviation units have mobilized to support operational needs in Iraq, Afghanistan, Kosovo, Kuwait, the Horn of Africa, Germany, Ukraine, and the Sinai Peninsula. In this last year, the Army Guard and Reserve provided 47% of the aircraft and 55% of the personnel supporting U.S. Central Command Army Aviation missions.
On the Home Front
Across all of these missions, as an Aviation force, we are undoubtedly proud of meeting these demands and executing complex missions. The commitment, sacrifice, and courage we see every day in our aviation force was on display for the world to see on September 5, 2020. As a wildfire grew out of control, hundreds of campers were surrounded by the Creek Fire that suddenly engulfed the surrounding forest near Shaver Lake, CA. Through blinding smoke and at night, two aircrews with the California Army National Guard flew into that area to reach stranded campers, rescuing 242 people from the flames. Despite calls for them to turn back, these crews made three daring trips to rescue stranded families from the campground. The crews spent ten hours in the series of daring rescues. For their bravery and willingness to risk their safety, these crews were awarded the Distinguished Flying Cross by the President of the United States. In the words of the President, "your unyielding determination lifts our nation. You're what makes our nation great. And we thank you very much. Incredible job."
Remarkable crews like these aviators demonstrate the depth of our force. Our Guard and Reserve aviation units balance the demands of training and mission requirements while maintaining rewarding civilian careers. With the support of National Guard and Reserve Soldiers throughout our Nation, we share this talent to meet our complex missions at home and abroad.
Leveraging to Transform the Force
We also leverage this talent to develop technologies and transform our forces. As an Army, we are shifting our orientation from predictable, rotational, and episodic readiness and employment to large-scale and short-notice combat operations against a peer threat. As we address how Army Aviation will fight in the Multi-Domain environment, we must develop platforms and technologies to extend Army Aviation's reach, improve survivability, increase our lethality, and enhance sustainability operations. These wholesale modernization efforts require enterprise approach leveraging all three Components.
Demonstrating our enterprise approach, 20 Maryland National Guard Soldiers recently tested the Enhanced Night Vision Goggle-Binocular (ENVG-B) to measure the effects of image intensifier tube imbalance for both target identification and depth perception. The tests were conducted at the Army Research Lab-Human Resources and Engineering Directorate facility in Aberdeen Proving Ground. This one example shows the value in tapping all sources across the enterprise and is the key to the modernization of the Total Force.
From complementing our modernization initiatives, to supporting our citizens and the many overseas missions, we could not accomplish all of this without the senior leaders in the National Guard and Reserve, the state aviation officers, and commanders and leaders to the battalion level and below. You command and control aviation support facilities, manage aviation operations, and critical logistical and safety programs. You are the key to the responsiveness within our borders, the depth we have in overseas contingencies, and the essential link in our effort to execute the Army Modernization Strategy (AMS), transforming Army Aviation into a competitive multi-domain force.
Our integration and enterprise approach of all Components is the envy of other branches in the Army. Army Aviation in the National Guard and Reserve are invaluable. We rely on their unique capabilities and experience to support the Army in waging the Nation's wars, and they endure the mandate to respond to need, on no-notice, in the Homeland.
Above the Best!
MG David J. Francis is the Army Aviation branch chief and commander of the U.S. Army Aviation Center of Excellence and Fort Rucker, AL.