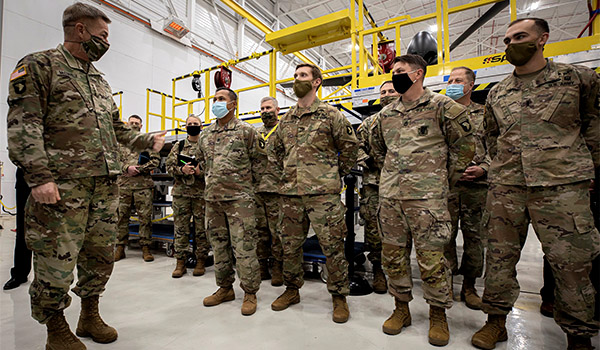 Your Army! / By GEN James C. McConville: The past year, our Nation and our Army faced some of the biggest challenges in recent history. Nearly a year after the COVID pandemic shut down America; we still battle that invisible enemy.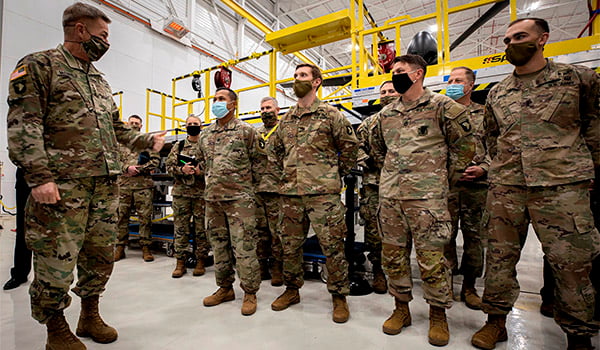 Army Chief of Staff, GEN James C. McConville, addresses a rifle squad from 2-506th Infantry, 3rd Brigade Combat Team Rakkasans, 101st Airborne Division, at Bell's Arlington, TX facility on October 28, 2020. The soldiers provided invaluable feedback on the V-280 Valor cabin configuration that will inform Future Long-Range Assault Aircraft requirements from the user perspective./ U.S. ARMY PHOTO BY MR. LUKE J. ALLEN
Now armed with vaccines and continued safety measures the end is coming into sight. The Nation experienced civil unrest, and we stopped to listen and learn and then to commit ourselves to eradicating extremism and racism in our organization. We've taken on the harmful behaviors of sexual assault and sexual harassment, and we are updating our policies to eradicate them from the Army.
With great challenges also come great opportunities. We made People First the Army's number one priority. This drives resources to our People – our Soldiers of the Active Army, National Guard, and Reserves, our Families, our Civilians, and our Soldiers for Life, Retirees and Veterans. People are our greatest strength and most important weapon system, and when we commit to taking care of our People and ensuring all are treated with dignity and respect, we will have a stronger and more committed Army. Our People are the pathway to improved Readiness and continued momentum in Modernization.
America has long preserved the peace through strength, the strength that comes from a whole of government approach that includes a strong military with strong allies and partners. A key component of the Army's strength comes from Army Aviation. Today, Army Aviation supports missions around the globe and at home as clear and unambiguous demonstration of our strength and of our ability to work with our Allies, Partners, and other agencies. Army aviation, and especially our aviators, continues to be one of our greatest strengths and premier capability for the Army, Joint Force, and Nation.
People First
People as our number one priority means we are investing time and resources to ensure we have the right leadership, policies and programs in place to take care of people. The major efforts include initiatives from the People First Task Force, implementing the 21st Century Talent Management System, and continued improvement of our quality of life programs like housing, health care, child care, spousal employment, Permanent Change of Station moves, and resiliency programs.
People First requires leader engagement. In today's Army, we need leaders at every level of the Army to build cohesive teams that are highly trained, disciplined and fit. Through the Sergeant Major of the Army's "This is My Squad" campaign, everyone is a member of a team, and everyone has a leader that is taking care of them. This effort focuses leaders on connecting with their Soldiers through shared values and trust, incorporating the Soldiers' buddies and family members. With these cohesive teams, we reduce or even eliminate the behaviors that hurt our Soldiers or break trust with the American people like sexual harassment, sexual assault, suicides, racism, and extremism.
Ready Today
Our Army remains ready today to fight and win anywhere in the world. We recognize the toll of nearly 20 years of conflict and the sustained high operational tempo has had on the force, for both the quality of life of our Soldiers and equipment. This is another reason why taking care of People is our first priority, as well as aggressive modernization to ensure we transform across the force to maintain readiness into the future.
In the next year the Army will move to the Regionally Aligned Readiness and Modernization Model (ReARMM) to balance requirements for readiness and modernization. This model seeks to add predictability to unit's operational tempo. With predictability, we gain the space to support the efforts that enable us to be ready today while we build readiness for the future. The modernization efforts, which ReARMM provides predictability for, will transform the Army into the multi-domain capable force ready for competition, crisis, and when necessary, conflict.
Modernizing for the Future
We are undergoing the greatest Army transformation in over 40 years. The Army continues momentum of the Six Modernization Priorities, but transformation is not just about new equipment. We are transforming our concepts and doctrine with the Multi-Domain Operations. We are employing new organizations like the Security Forces Assistance Brigades and Multi-Domain Task Forces. We are exercising and training with new technologies like Virtual Reality and the Synthetic Training Environment. All these efforts are closely connected to our People and the 21st Century Talent Management System.
One of the core capabilities of the Six Modernization Priorities is Future Vertical Lift. With transformational speed and range, the Future Attack Reconnaissance Aircraft (FARA) and Future Long Range Assault Aircraft (FLRAA) systems will provide commanders with additional options for lethality and lift. For example, the Cross Functional Team specifically set the characteristics for the FARA ecosystem to penetrate anti-access area denial environments (A2AD) to provide the Combined Joint Force improved freedom of maneuver.
We are starting to see cutting edge technologies demonstrated during our Project Convergence experiments. We successfully progressed the FARA ecosystem and improved its role in the kill chain (find, fix, and finish). We also successfully demonstrated reach and lethality with six simultaneous Air Launch Effects (ALE) enabled by A3I (architecture, automation, autonomy, and interfaces technology). These accomplishments define our first steps to transforming Army Aviation with many more advancements to come.
Winning Matters
The Army's transformation provides a strong and capable Army with the capabilities and posture to compete and win. In our Army today, it's about People First and Winning Matters. When we send the United States Army somewhere, we don't go to participate, we don't go to try hard; we go to win. There is no second place or honorable mention in combat. We win by developing cohesive teams that are highly trained, disciplined and fit. We win by doing the right things the right way. We win through our people. That's why we put People First, and that's why People are our number one priority.
I want to thank Army Aviation and our industry partners for your continued excellence and commitment to our People, Readiness, and Modernization efforts. With aggressive and continued momentum, our Army and Army Aviation will continue to provide the Joint Force, our Allies and Partners, and our Nation with unmatched military strength.
Please keep our Soldiers that are in harm's way, both abroad and at home, in your thoughts and prayers. As we continue to defeat COVID as a Nation, I ask everyone to continue to emphasize health and safety of our personnel in all we do. I am honored to serve with you all.
People First, Winning Matters, we remain, Army Strong.
GEN James C. McConville is the 40th Chief of Staff of the United States Army.