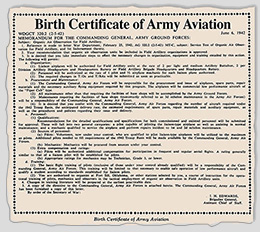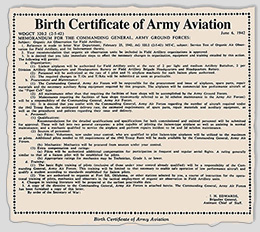 On June 6, 1942 the United States War Department sent a memorandum to the commanding general of Army Ground Forces authorizing organic air observation for the Field Artillery. Thus began the love affair between ground forces and the unique and essential support they receive from Army Aviation.
From this humble beginning through to present day, Army Aviation has been and continues to be an indispensable combat multiplier and maneuver element commanders at all echelons demand to ensure mission success. From observation, to medical evacuation, to resupply, to air assault, to intelligence, surveillance, and reconnaissance, to homeland security, to disaster relief, to humanitarian relief, Army Aviation is an indispensable element of the equation for success.
This didn't happen by chance. It is the result of almost three quarters of a century of dedicated, innovative, steadfast development of capabilities and honing of crew skills to meet increasingly complex challenges on a world-wide scale. The
aviation professionals of the Active, National Guard and U.S. Army Reserve, have proven time and time again that they are more than up to the tasks set before them.
We salute the men and women throughout the Army Aviation Enterprise for their contributions to meeting the needs of our nation in achieving its goals and look with confidence to the future as they continue supporting "Above the Best!"
War Department Memorandum (Birth Certificate). To see full size click here.