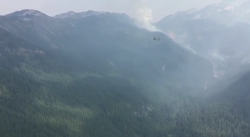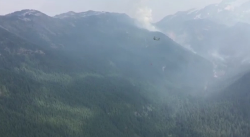 August 5, 2017
Video by Capt. Leslie Reed
Oregon National Guard Public Affairs Office
Check out this video of the Oregon Army National Guard, who were called up on state active duty to support the Oregon Department of Forestry with firefighting efforts at the Whitewater Fire in the Mount Jefferson Wilderness Area, east of Detroit, Oregon. Approximately 25 personnel and two CH-47 Chinook helicopters (equipped with nearly 2,000-gallon capacity water buckets), with 1st Battalion, 168th Aviation Regiment, based in Pendleton, Oregon, are assisting with wildfire suppression efforts. The Oregon National Guard was requested to assist following Governor Kate Brown's declaration of a state of emergency, August 2, 2017.