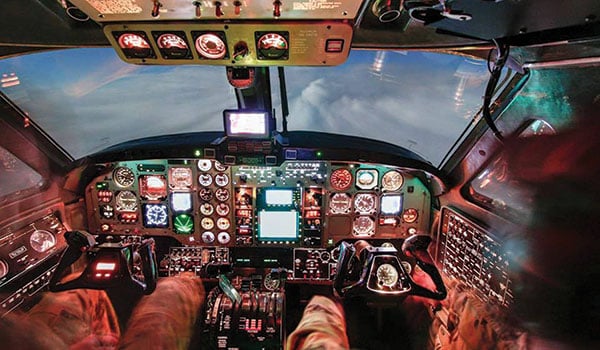 Fixed Wing Aviation / By COL James W. Ring: Activated on October 2, 1995, the Operational Support Airlift Agency (OSAA) and its operational subordinate unit, the Operational Support Airlift Command (OSACOM), merged fixed wing assets and personnel of the Active Component and the Army National Guard to form one of the Army's first multi-component operational commands. As an Army Field Operating Agency and a subordinate operational fixed wing command, OSAA and OSACOM are optimally structured to sustain fixed wing readiness in support of total Army fixed wing requirements.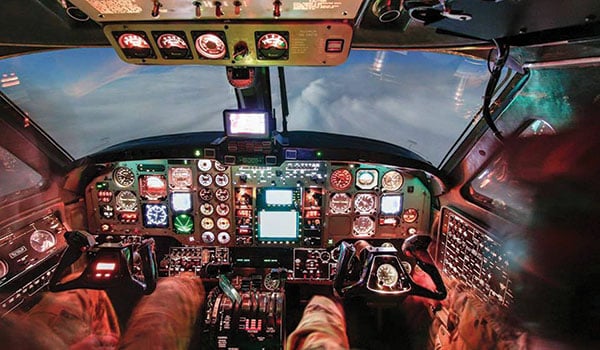 OSACOM aircrew with TF ODIN returning from a mission in Afghanistan./ U.S. ARMY PHOTO
The Operational Support Airlift Agency (OSAA) is a multi-component HQDA field operating agency under the National Guard Bureau and provides the single headquarters for the management and execution of the total Army OSA program. Consisting of an integrated staff designed to share resources and promote unity of effort, OSAA provides the capability to deploy its operational headquarters, Operational Support Airlift Command (OSACOM), to command and control fixed wing assets in response to global, national and state emergencies.
Department of the Army Approved TDA Mission Statement, 1 October 2014
The Operational Support Airlift Command (OSACOM) provides trained fixed wing aviation elements to perform aerial sustainment and operational support airlift in support of contingencies as directed by the National Command Authority. OSACOM provides training for assigned fixed wing aviators while executing OSA missions for DoD as directed, throughout CONUS and through forward stationed units. OSACOM provides a CONUS rotation base for active component Army Aviation warrant officers. Upon deployment, OSACOM provides the operational headquarters, aviators, and aircraft required to support contingencies as directed by the National Command Authority. Department of the Army Approved TDA Mission Statement, 1 October 2014
OSAA's motto, "Wartime Readiness," defines the organization. Remaining in a ready status for deployment, OSACOM sustains 20-30% of its force globally deployed in support of Army and DoD fixed wing requirements. Since 2002, OSACOM fixed wing aircrews executed over 600,000 flight hours in Afghanistan, Iraq, Kuwait, Egypt, Horn of Africa, South America, and other global locations. Currently, OSAA sources five contingency requirements in direct support of Army and joint DoD operations.
Cost Savings
When in dwell, OSACOM sustains "Wartime Readiness" on Active Component and Army National Guard aircrews through the daily conduct of Operational Support Airlift (OSA). In support of U.S. Transportation Command's Joint Operational Support Airlift Center (JOSAC), OSACOM routinely supports over 50% of JOSAC's joint airlift requirements.
While sustaining fixed wing readiness on OSACOM aircrews and operations support personnel, OSACOM provides the Department of Defense millions of dollars in cost avoidance in the timely air movement of DoD passengers and cargo. From 2000 to 2014, OSACOM averaged 50,000 flight hours annually transporting more than 1.3 million passengers and over 93 million pounds of cargo at home and abroad. Estimating $330 for each commercial airline ticket and $1.70 per pound of cargo, OSACOM aircraft and crews provided cost avoidance for DoD in the amount of $587 million, while sustaining fixed wing wartime readiness.
Consistent with Chairman Dempsey's Strategic Direction to the Joint Force, OSAA is a flexible organization that provides scalable and scoped fixed wing aviation support to Army and DoD demand. Over the last thirteen years of persistent conflict, OSAA provided the Army and the joint services depth in fixed wing resources. This included operational support airlift, as well as support to emerging combatant commander requirements, such as Intelligence, Surveillance, and Reconnaissance (ISR). This level of expandability for fixed wing requirements is the direct result of well designed force structure focused on wartime and peacetime requirements.
Structure
Designed for CONUS and OCONUS employment, OSACOM is structured into four Regional Flight Centers and fifty-two expeditionary OSA Flight Detachments. The OSACOM Regional Flight Centers force provide over 10% of the active component Army fixed wing aviators and serve as the CONUS rotation base for active component fixed wing aircrews. These Regional Flight Centers train and season active component fixed wing aviators while supporting the total Army OSA program. The Regional Flight Centers also provide a readily available fixed wing force to support CONUS and OCONUS contingency operations.
The fifty-two OSACOM OSA Flight Detachments, residing in the Army National Guard, force provide over 40% of the total Army fixed wing aviators and are the most flexible fixed wing OSA force for global, national and state employment. Capable of performing operations in a Title 10, Title 32 or State Active Duty status, the OSACOM Flight Detachments remain the most versatile, accessible and affordable OSA force in the Army.
Designed for expeditionary employment, each OSACOM Flight Detachment sustains a 3:1 crew to cockpit ratio with six pilots allocated to each airplane. Enabled with two flight operations NCOs per detachment, these eight personnel, single aircraft detachments, provide flexibility and expandability to the Army fixed wing enterprise. Under the capable mission command of a Chief Warrant Officer Five, these detachments routinely deploy as stand-alone fixed wing units. In this role, OSACOM Flight Detachments conduct decentralized OCONUS aviation operations, often supporting elements at echelons above corps, with no additional aviation higher headquarters.
In addition to single detachment deployments, OSACOM's fifty-two OSA Flight Detachments are scalable and scoped for flexible employment as part of a larger fixed wing formation. An example of this capacity is OSACOM's surge support to Army aerial intelligence, surveillance and reconnaissance (AISR) requirements.
TF ODIN Support
In 2008, former Secretary of Defense Robert M. Gates set as a DoD imperative to replicate the successes of Task Force Observe Detect Identify Neutralize – Iraq (TF ODIN-I) in Afghanistan. To source this imperative, the Army utilized the fixed wing aviator force of OSACOM to surge its AISR capacity. Enabled by the Fixed Wing Army National Guard Aviation Training Site (FWAATS), OSACOM provides an AISR company equivalent of fixed wing aircrews, with mission support personnel, in support of Task Force ODIN – Afghanistan (TF ODIN-A). From 2009 to present, OSACOM sustains over 10% of its force deployed in direct support of Army AISR missions. This equates to over 640 aircrew members deployed in direct support of TF ODIN-A and TF CEASAR. As a TRADOC approved aviation training site, FWAATS also remains a key enabler to the AISR effort qualifying over 350 multi-component fixed wing aviators in Medium Altitude Reconnaissance and Surveillance System (MARSS) aircraft from 2009-present.
As the Army seeks to sustain its capacity to "Win in a Complex World," sustaining a tailorable and scalable fixed wing force will remain a key enabler to the Army Operating Concept. To maximize capacity across the total Army fixed wing enterprise, future force structure models must facilitate the seamless transition of fixed wing aircrews across the Operational Support Airlift and AISR mission sets. Timely fielding of the next fixed wing utility aircraft (FUA) will set the conditions for a more capable OSA fleet while gaining the efficiencies and operational benefits of modernized aircraft. Most importantly, the strength of our formation remains Active Component, National Guard and Reserve integration across the Joint Force.
COL James W. Ring is the commander of the Operational Support Airlift Agency, Davison Army Airfield, Fort Belvoir, VA.