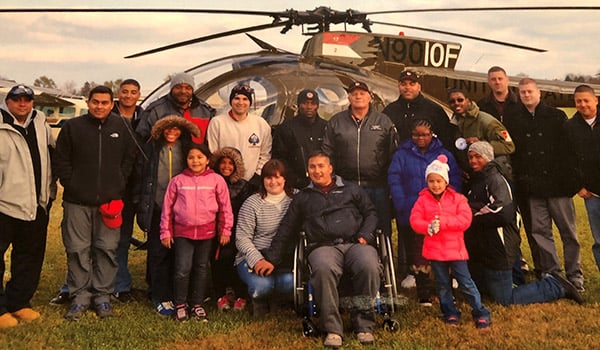 From the Field / By Vicki Cody: Once a month for the past 10 years, at a small airfield in Carlisle, Pennsylvania, a group of former and current Army aviators gathers in a hangar for Operation Flying Heroes (OFH). With Dick "Commander" Cody as the leader, this unlikely group of warriors spend the day giving back to some of this generation's Wounded Warriors (WWs). 
This story really begins back in 1980 when then Captain Dick Cody and CW2 Ned Hubard were crewed together flying "little bird" helicopters out in the Arizona desert, part of the genesis of the 160th Special Operations Aviation Regiment. It was also the start a lifelong friendship.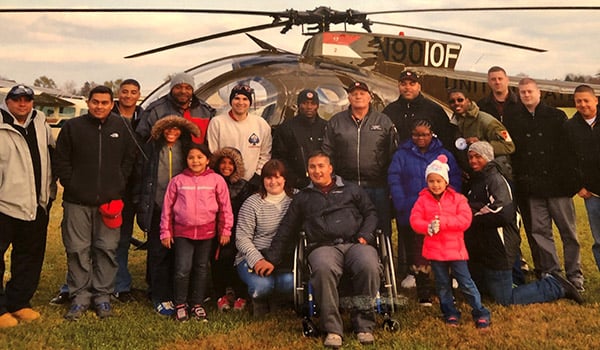 GEN (Ret.) Dick Cody (back row, sixth from right) with Wounded Warriors at Operation Flying Heroes. / OFH COURTESY PHOTOS
Fast forward to 2009 when Dick purchased the OH-6 Loach, tail number N9010F, from AAAA Hall of Famer, Dr. Harry Robertson. He and Ned, also an AAAA Hall of Famer, picked up the aircraft in Arizona and flew it cross country, eventually landing at the Carlisle airport where Dick keeps his Cessna 206.
Shortly after, Dick and I met a group of WWs at an event in DC and Dick invited one of the young men to go flying with him. The next Saturday they went up to Carlisle for a day of flying and a chance to get away from the hospital. A seed of an idea began to form with that first ride and then with some brainstorming and help from close friend Ned Hubard, the idea became a reality.
Our premise is to give WWs, injured in Iraq and Afghanistan, a day away from the monotony of endless appointments, surgeries, and therapy while introducing them to flying. And to thank them for their service and sacrifices. Our son, Clint, came up with the name Operation Flying Heroes and within two months, we were off and running.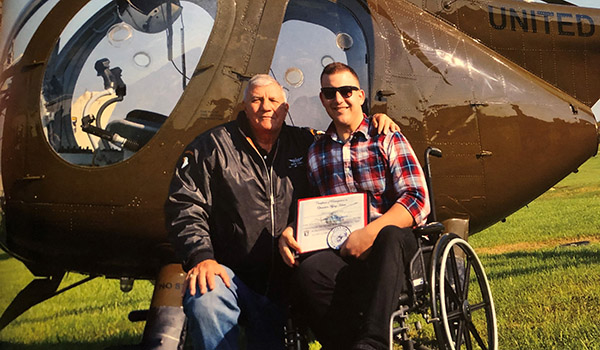 Each participant receives a certificate and has their photo taken with "Commander" Cody at the end of the day.
Between Dick, Ned and their many connections and friends in the Army aviation and Special Operations communities, it didn't take long for word to get out about OFH and the volunteers began checking in with Dick and Ned. The number of Dick's cadre grew along with the number of WWs participating. It seemed like every month another old friend showed up to help us, sometimes flying in from as far away as Jacksonville, FL.
Our cadre, a group that averages about 15 members at any given time, represents every war and conflict from Vietnam to the present day wars in Iraq and Afghanistan, and with over 400 years of service, cumulative. From all walks of Army aviation, from crew chiefs to Hall of Famers, and every rank, it is a great group of talented and compassionate aviators who just want to give back. OFH gives them the chance to do that. Each year the senior Army aviator from the War College joins us and becomes the Air Mission Commander for that year. (This year it happens to be our son, LTC Clint Cody). As the operation expanded Dick needed help with the flying duties and so entered old friend and fellow Army aviator, Jim Viola to the cadre. Jim flies an R-44, giving the WWs another flying experience.
We gather one Saturday a month from June to November. The WWs, from all the services, come by bus from Walter Reed/Bethesda, MD and Fort Belvoir, VA. We average 10 WWs each time and they usually bring family members with them. In the early days we had an occupational therapist; we usually have a doctor and at times, have had a chaplain join us. The group has grown to about 35-40 people at each event. Dick and Jim take them on flights around the Carlisle area while the rest of the cadre supports with safety, getting the participants in and out of the aircraft, and coaching and mentoring. By lunchtime we are comfortable with each other and conversation flows easily.
When we break for lunch, the heart and soul of OFH becomes evident. With the tables and chairs set in a U shape and the WWs seated around Dick, he asks them to share their stories; why they joined the military, where they are from, how they got injured, and any future plans. It is amazing to listen to them and watch as they tell their stories. For some it is the first time talking about a traumatic event, but they feel comfortable enough to do it. Their stories are as varied as they are and sometimes it is sad, sometimes we laugh, but always their spirit shines through. A camaraderie forms between them and us during those personal moments.
When the day is over, we gather by the aircraft for photos while Dick awards each participant with a certificate and a patch. As we say our good-byes, every one of us feels like we have been part of something special that day. It is such an honor to be among the fine men and women who sacrifice so much for our country. And if we have given them something that day, they have surely given us something as well. Their courage in overcoming obstacles inspires each one of us and motivates us to keep doing what we are doing. And for Dick and Ned and their fellow Army aviators, it has given them, in retirement, an opportunity to continue their passion for flying but with a new mission.
Vicki Cody spent 33 years as an Army wife, supporting her husband, former Army Vice Chief of Staff, GEN (Ret.) Dick Cody, in his career. While raising their two sons and moving all over the United States and overseas, she served as a coach and mentor for Army spouses and as an advocate for Army families. She is the author of "Army Wife: A Story of Love and Family in the Heart of the Army."