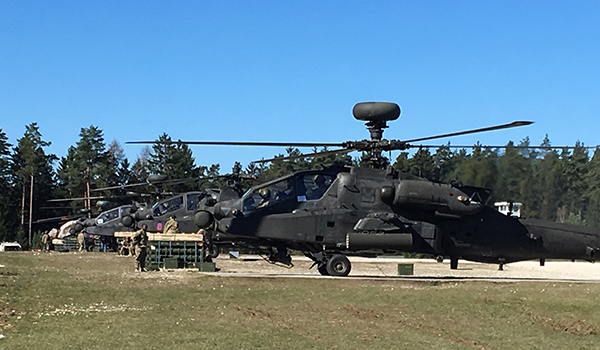 Command Sergeant Major Update / By CSM Gregory M. Chambers: Operation Atlantic Resolve (OAR) – the perfect operating environment (OE) for training in multiple settings across numerous countries and mission sets.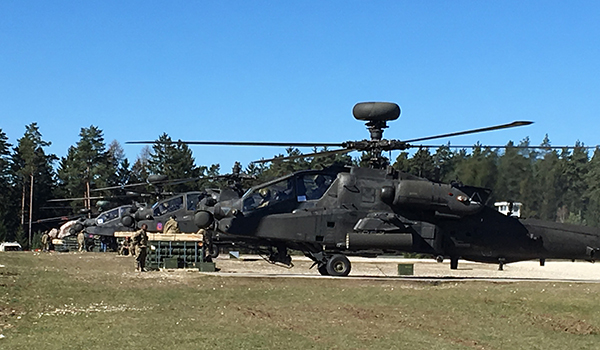 3-1 Attack Recon Battalion, flying out of Grafenwöhr, Germany, taking off for a live fire shoot on March 27th, 2017. / U.S. ARMY PHOTO BY CSM GREGORY CHAMBERS
The OAR mission offers units the venue to conduct decentralized operations, numerous training opportunities from individual to battalion level, to build partner nation capacity, and to work on expeditionary operations. Although the OAR mission offers a great opportunity for aviation units it does come with its challenges, and units should be prepared before they depart their home station.
Recently the USAACE Commanding General, the Command Chief Warrant Officer and I had the awesome opportunity to engage the 10th and 12th Combat Aviation Brigades in Germany, Latvia and Romania as they conducted operations across the breadth and depth of the United States Army Europe command. From the start, the 10th CAB had the opportunity to deploy its force via both strategic air and surface vessel. This deliberate movement enabled the CAB to train its personnel on multiple platforms and the challenges that come along with it. But our leaders want us to deploy in an expeditionary manner and more importantly the "speed of assembly" of that deployed force is probably the most important factor once you arrive in country. Keys to success are early interaction with the forward deployed unit, anticipating needs for spare parts and tools, understanding what 10/20 standards mean in another country, and understanding how to move across numerous countries to your final destination.
Decentralized Ops
One of the key leadership opportunities while deployed to OAR is decentralized operations. Here junior leaders – officers, warrant officers, and NCOs – have the opportunity to execute mission command across multiple domains and countries. It's essential in this environment that commanders give junior leaders specific intent and guidance in order for them to thrive. Decentralized operations will allow our junior leaders to excel at building small teams from numerous fields, to solve complex problems, and to fight with what their MTOE provides them. The last point concerning your MTOE equipment is important; as an Army we cannot depend on Commercial off-the-Shelf items. If the Army expects us to fight in an expeditionary manner junior leaders have to fight their equipment and understand its limitations in all environments.
Numerous Training Environments
Probably the biggest opportunity that aviation units have while assigned to OAR is the numerous training environments. Working in small teams across the U.S. Army European Command provides ample training venues to progress both air and ground personnel. Working in small teams gives unit leaders concentrated and focused training iterations in which leaders can progress unit personnel so that they become highly proficient – not just trained, but proficient – in multiple tasks. It's here in this type of OE where individual and collective training build to accomplish a larger mission set. In this environment junior Soldiers start to anticipate what is needed before being told what to do, and when this happens, true teamwork is achieved. Key to success is knowing what you have before you leave, understanding what experience levels your personnel will have at each outstation, and having a solid training plan before you leave your home station. This is a lot more than just progressing air crews. You should tailor your training plan to every Soldier that will be assigned to any given out station, and the plan should tie into major exercises while deployed.
Challenges
Although an OAR deployment offers a great opportunity to train and become highly proficient the deployment will have challenges. I highly encourage deploying units to start interaction with the forward deployed units early. Interaction at the company level is important. Battalion and brigade commanders and staff will conduct their site surveys, but company commanders and first sergeants should be the leaders that make frequent contact with forward deployed leaders. Understand the "administrative" rules, procedures, and laws for all the countries you will work in; they are all different. Working in a field environment – not a base field, not a FOB, not what you are used to from OEF and OIF… but working in a field environment, think camouflage, aircraft dispersion, field maintenance, field feeding, and convoy operations for long periods of time. Most significant of all, you will be working with partner nations. They expect you to be the best, so carry yourselves as professional Soldiers.
In closing, the OAR mission is a strategic mission that offers an extremely awesome opportunity to build partner nation capacity, to build sustained readiness, and more importantly to build proficient well-trained Soldiers and leaders; so, be prepared before you step off.
Above the Best!
CSM Chambers
This email address is being protected from spambots. You need JavaScript enabled to view it.
CSM Gregory M. Chambers is the command sergeant major of the Aviation Branch and the U.S. Army Aviation Center of Excellence, Fort Rucker, AL.