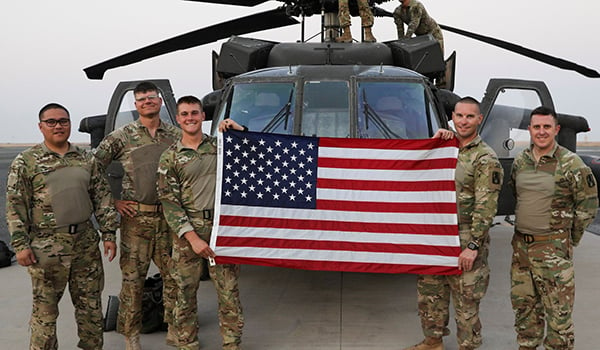 Reserve Components / By BG Jami C. Shawley, COL Andrew D. Cecil, CW5 Michael G. Siedler, and CSM Juddiah G. Mooso: Readiness is Number One. There is no other Number One. A key driver of readiness in Army Reserve Aviation is Non-Rated Crewmembers (NRCM).
SFC Mark Judd (second from right), an aircraft components repair supervisor and platoon sergeant with D Co, 8th Battalion, 229th Aviation Regiment, 244th Expeditionary Combat Aviation Brigade, poses for a photo with the UH-60 Black Hawk helicopter crew who flew the aircraft for his in-flight reenlistment ceremony near Camp Buehring, Kuwait, June 18, 2019. / U.S. ARMY RESERVE PHOTO
The Assistant Chief of Army Reserve (ACAR) requested an Army Audit Agency (AAA) audit of Aviation Incentive Pay (AvIP) and Hazardous Duty Incentive Pay (HDIP). AAA found that Army Reserve (AR) strength in NRCM was less than 48% of authorized levels. They suggested that the prorated hazardous duty incentive pay is insufficient for readiness requirements. As an Army, we must add NRCM HDIP to the priority of ending prorated pay under House Resolution (H.R.) 2953 – titled "Aviation Incentive Pay Parity Act."
The limiting factor for Army Reserve (AR) Aviation in launching aircraft is NRCM availability. This is not the same as a lack of 15T or 15U Soldiers. In most cases, the number of Soldiers is adequate. It is the number that pursue flight status and the rewards and challenges that come with it. Required flight minimums for an AR NRCM are two hours per month. For their Active Component (AC) counterpart it is four hours per month. The standards of proficiency and knowledge are the same for both. For purposes of comparison, the NRCM in this paper is an E-4 over 4 years. Both of our NRCMs fly four times during the month.
The AC NRCM rightfully receives $165 for a month of flight duty. The AR NRCM receives $5.50 per pay period. The AR NRCM attended unit Battle Assembly (sometimes still referred to as "drill") and flew two other times for a total of six pay periods. The AR NRCM receives $33. Both NRCMs upheld the same standard. Both did the exact same work required for HDIP. But the pay disparity is glaring.
An E-4 over four years makes $340.72 in base pay during a typical Battle Assembly weekend. Full HDIP for an E-4 is $165 a month. Full HDIP could represent 48% of their base pay for a normal month. The incentive value of implementing full HDIP for enlisted flight crewmembers who maintain proficiency and readiness would be a real, material, and positive effect on Army
Reserve enlisted flight crewmember personnel strength.
AR Soldiers are not 1/30th the Soldier. AR Soldiers are not 1/30th the NRCM. AR Soldiers do not have the option of only knowing 1/30th of the information required of an NRCM. The standard is the standard – period. The Army must rise to the occasion and ensure our NRCM's incentive pay is unchained from the 1/30th rule in the same manner as our rated crewmembers. Our readiness could depend on it.
BG Jami C. Shawley is the commanding general of the U.S. Army Reserve Aviation Command at Fort Knox, KY; COL Andrew D. Cecil is the deputy commander, CW5 Michael G. Siedler is the command chief warrant officer, and CSM Juddiah G. Mooso is the command sergeant major.