President's Cockpit / By BG E.J. Sinclair, Ret.: I hope everybody had a Merry Christmas and Happy New Year. It is amazing to think we are already in 2017. No doubt 2017 is going to be a year of changes in many ways.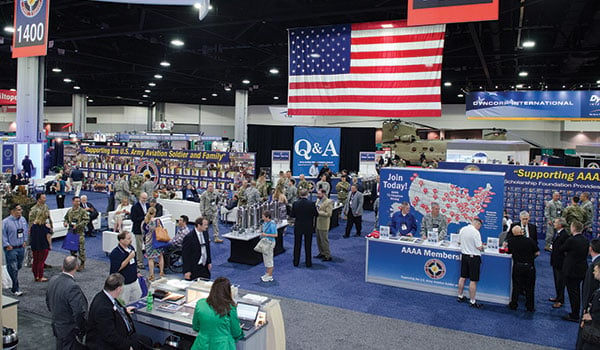 Celebrating the U.S. Army Aviation Soldier and Family at the Army Aviation Association of America display on the exhibit hall floor during the 2016 Army Aviation Mission Solutions Summit in Atlanta, GA. Join us in Nashville 26-28 Apr. 2017!
We will have a new President and Administration by the time you read this. The Army's end-strength drawdown appears to be over and possible increases are on the way. GEN Jack Keane, the Chairman of the AAAA Senior Executive Associates for the past several years handed the gavel over to GEN Scott Wallace this week during our meeting at the Army Navy Club in Washington DC. Congresswoman Rosa DeLauro of Connecticut accepted the Democrat Co-Chair position for the AAAA sponsored Army Aviation Caucus. The Army Aviation Caucus also met this week focusing on the future of Army Aviation. Lastly, AAAA leadership will change at the end of April at our Summit in Nashville.
2017 is also the occasion to look back and celebrate the 75 years since the founding of Army Land Forces aviation on June 6, 1942 in the midst of WWII. The actual first aviation school class, the famed "Class Before One," actually graduated earlier that year at Fort Sill, OK. They were completely separate and distinct from Army Air Forces and were trained as aerial Field Artillery observers flying Piper Cub L-4 aircraft.
We are honored that those great veterans who still remain from the WWII and Korean eras join us each year at the AAAA Annual Summit as "The Originals" or "Cub Club." We all stand on their shoulders. As I mentioned last month each issue this year of ARMY AVIATION Magazine will feature some aspect of this history. Please see page 46 in this issue.
CW5 Dave Cooper, our National VP Membership, is working a number of initiatives focused on our enlisted ranks. One of the first things you will notice is that we will highlight one of our NCO and Enlisted National Award winners in every issue. Please see page 15 for that initial recognition as well.
The Summit is shaping up to be the biggest in years. We do have overflow hotels available so come join us in Nashville. See the website www.quad-a.org for details. Tickets for the Hall of Fame and the Josh Turner concert will NOT be available on site so get your tickets now through the website. The cutoff for remaining tickets is Friday, March 31. Again… no tickets will be sold after that date for the Hall of Fame Banquet, Scholarship Lunch, and dinner/concert.
2017 is going to be a great year. All of us at AAAA wish all of you, our 17,300 members and your families, a Happy and Safe New Year.
BG E.J. Sinclair, Ret.
32nd President, AAAA
This email address is being protected from spambots. You need JavaScript enabled to view it.