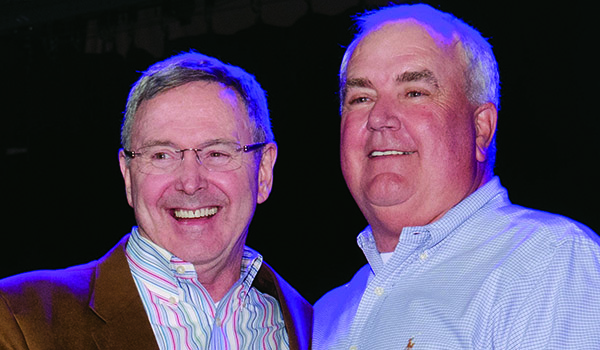 President's Cockpit / BG Steve Mundt, Ret.: Wow! It is so hard to believe that two years have come and gone since I took the controls from BG (Ret.) EJ Sinclair. I want to thank all of you who over the years have been there to support me but more importantly our Soldiers and their families.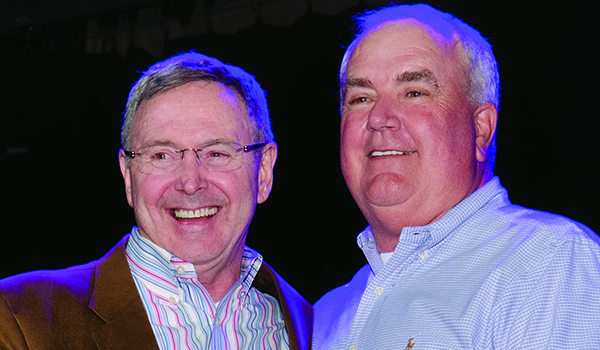 BGs (Ret.) Steve Mundt (left) and EJ Sinclair pass the AAAA gavel during the annual meeting/dinner/concert April 28, 2017 at the AAAA Army Aviation Mission Solutions Summit, Gaylord Opryland Hotel, Nashville, TN. / AAPI PHOTO BY RENÉ BIDEZ
A little over eight years ago you first elected me to serve on the National Executive Group as the treasurer, then secretary, senior vice president and finally president. It was my goal to build on the successes of my predecessors and to hand the controls of AAAA over to our incoming president, MG (Ret.) Jeff Schloesser, better than I found it supporting our Aviation Soldiers and Families through our four pillars of Network, Recognition, Voice, and Support. When you have time to reflect on the past two years, I hope you find me worthy of your trust.
The progress we made is based upon the "TEAM" starting with our members and the chapters – you are the lifeblood of our organization – this coupled with an all-volunteer National Executive Board and a National Executive Group who work so hard just to make life better for our Soldiers and their families. The bedrock of AAAA is without a doubt our National Office where each and every employee sees it as so much more than a job; it is a vocation, a way of life.
I want to give a special thanks to our SVP, MG Jeff Schloesser; our Secretary, MG Tim Crosby; and our Treasurer, MG (Ret.) Walt Davis, for all their help and assistance. Additionally I want to recognize my appointed VPs whose terms run concurrent with mine: CW4 Becki Chambers, Membership; LTC (Ret.) Jan Drabczuk, Chapters; and MG (Ret.) Les Eisner, Guard/Reserve Relations who have done a marvelous job making sure their areas of responsibility and constituency are well represented within the NEG/NEB.
From initiating new programs like the A&P support, and new membership benefit package, to standing up new chapters, and raising our membership – it has been a team effort through and though.
I am proud to say we are at recent records in membership, absolute records in corporate support of the Summit in terms of exhibits and sponsorships, financial strength, and number of AAAA chapters. This event, the 2019 AAAA Army Aviation Mission Solutions Summit, has set all kinds of new records of success as we gather for the only truly comprehensive Army Aviation Enterprise meeting of the year to grow professionally, see old friends and make new ones.
As we proceed down the path of more member engagement to deliver what you want when you want it, I know Jeff and his team will enjoy the same great support from you all that I have received.
Unless you have the privilege to be President of AAAA you cannot experience the breadth and depth of what AAAA really accomplishes from Congress to family support and classified and unclassified professional events to social media, database management, and on and on. AAAA is an amazing enterprise started and built by Army Aviators for Army Aviators and their Families. Everything we do is measured by that standard… what are we doing for the U.S. Army Aviation Soldier and Family?
Unlike many other associations, none of your leadership is paid, we volunteer for the love of our profession and to give back a little for all that we have received from our great Branch, our Army and our Nation.
I suppose all good things must come to an end, but I have to say it is hard to believe that my first eight years are almost complete and I will transition to the nominating committee chair; please send me your nominations for future AAAA National leaders and rest assured if there is any other way I can help feel free to contact me.
P.S. Send in those Hall of Fame nomination packets for enlisted and reserve component folks by June 1 and help the new team with Recognition of our deserving Soldiers, units, functional areas and industry members! Jeff, you have the controls – AAAA6 out of here!
BG Steve Mundt, Ret.
33rd President, AAAA
This email address is being protected from spambots. You need JavaScript enabled to view it.