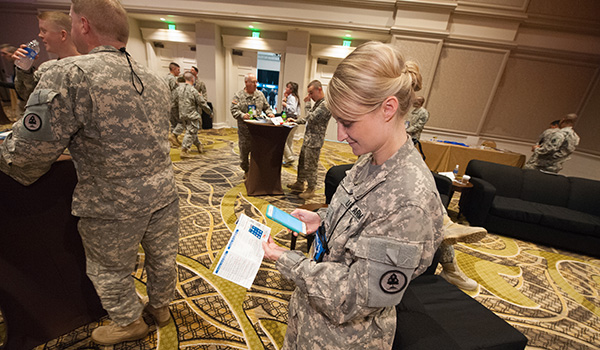 President's Cockpit / By BG E.J. Sinclair, Ret.: As many of you know, MG Bill Gayler was recently announced as the next commanding general of the U.S. Army Aviation Center of Excellence – congratulations to Bill! As MG Mike Lundy moves on to another assignment, we thank him for the great leadership he has provided over the past two years for the branch.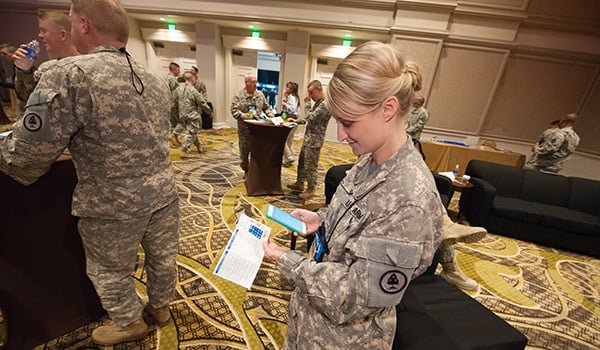 Active duty, Guard, and Reserve Soldiers can relax and get reduced cost meals at The Soldier Café again this year. / AAPI PHOTO BY RENÉ BIDEZ
Mike has navigated Army Aviation during some very fiscally challenging times and provided a clear path into the future. Congratulations to Mike as he hands over command to Bill!
We also say farewell and "Job Well Done" to our Branch CSM Eric Thom who has provided unfailing advice on enlisted matters to MG Lundy; and welcome to CSM Greg Chambers as he takes over from Eric. Congratulations to them both!
The 2016 Summit in Atlanta, April 28-30, 2016 is rapidly approaching. Hopefully you have plans to attend and have made reservations. It looks to be a great event.
Things are coming together very nicely. U.S. Training and Doctrine Command commanding general, GEN David G. Perkins will be our Keynote Speaker and help us present our National Awards; The Honorable Katrina McFarland, Army Acquisition Executive, will speak to our modernization; and Governor Nathan Deal will welcome us to his great state. The Professional program includes everything from international panels, to Special Operations, and sustainment. We are especially fortunate to have a Spouse Professional session with Michele Gayler, Paula Lundy, and Maria McConville on Saturday morning (see page 51 for more info).
Exhibit sales that support all our AAAA Soldier activities during the year have exceeded both 2014 and 2015. The Hall of Fame sponsor tables are almost sold out, and we have had to contract for numerous additional hotels as all the original ones are sold out.
Not only are we looking forward to the professional development and networking opportunities, but also recognition of our best and brightest with the aforementioned National Awards for outstanding individuals and units on Friday morning, April 29 and the "Oscar Night of Army Aviation" later that night at the formal Hall of Fame Induction Banquet. The final informal Soldier Appreciation Dinner Concert on Saturday night, April 30, with Kellie Pickler and Trace Adkins promises to be a great send off and we already have almost a thousand folks signed up. We will be hosting some of our local Wounded Warriors at that event as well.
We also have a new focus on the "Warriors To The Workforce Hiring Event" which will run both days in the exhibit hall. If you are in transition make sure to stop by and interview with some of our outstanding industry partners. Attend OR Hire! www.warriorstotheworkforceatl.net Get on quad-a.org and get your tickets now. For the latest info download the 16Summit app which is also on the website.
Finally, I want to recognize our AAAA Chapters who are having very successful Life Membership drives at their special once a year reduced rate Life Membership drive events. Prairie Soldier had theirs Jan 9th and signed up 21 new Life members; Mohawk Chapter's event was Jan 29th and they signed up 23; Thunderbird Chapter had theirs Feb 19th and signed up 19 new members and Corpus Christi Chapter had theirs Feb 12th and locked in 40 new Life Members! Flying Tigers, Aviation Center, MacArthur chapters are holding theirs in the next couple weeks and we look forward to seeing how they do.
All in all, things are going very well indeed. Stay connected through the app and website. We look forward to seeing you in Atlanta!
BG E.J. Sinclair, Ret.
32nd President, AAAA
This email address is being protected from spambots. You need JavaScript enabled to view it.