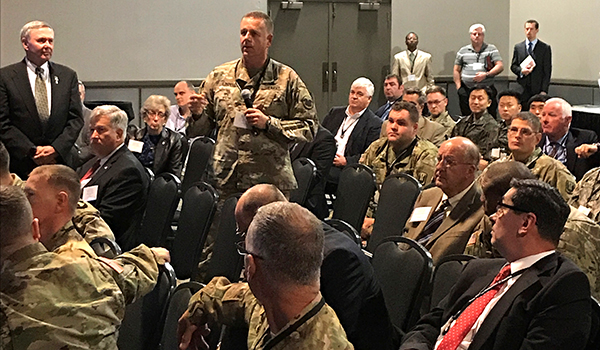 President's Cockpit / By BG Steve Mundt, Ret.: What a special time of year this is, with the close of 2017 coming in the midst of a joyful holiday season, carrying us through the final days to 2018.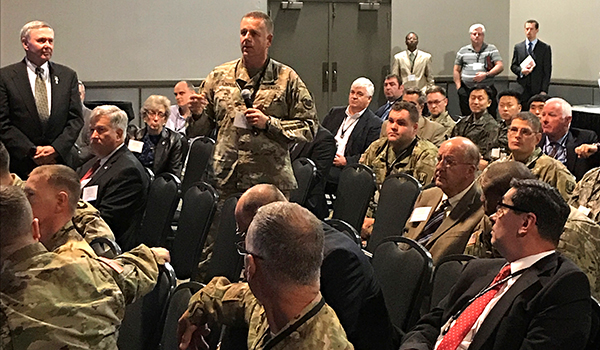 AAAA National President, BG (Ret.) Steve Mundt (standing left), listens as attendees ask questions of the speakers during the AAAA Aircraft Survivability Equipment Symposium Nov. 13, 2017 at the Von Braun Center, Huntsville, AL .
Just as we started with Thanksgiving where we all took time to recognize how much we each had to be thankful for, AAAA clearly recognizes that we as a nation and an organization are so thankful for our Army Aviation Soldiers and families. You are truly an inspiration to us in your leadership, perseverance, can-do attitude, and mission accomplishment around the world.
This was really brought home to me on stage during the awards ceremonies at the Aircraft Survivability Equipment and Joseph P. Cribbins symposia in Huntsville last month in two ways.
First, from the acceptance remarks by our Soldier award winners, reminding me again why we all put on the uniform. Once again it was all about humility, teamwork, technical expertise, outcomes, taking care of Soldiers, and support from our families. The work that you do every day on the flight line – turning wrenches, maintaining equipment, and developing the TTPs that keep each other alive – makes us proud. It is an honor to help recognize some of your many accomplishments through these awards.
Second, was the fact that some of our award winners could not be present as they were deployed with their units doing the bidding of the nation. We never missed a beat as the Aviation leadership stepped forward to accept on their behalf and will present the award at a future date.
That said, there were many issues raised over the four days of those two events that provided some daunting challenges ranging from cyber, to supervised autonomy and optionally manned platforms, open software architecture, and even the incredible value of your human intuition and judgement. Technology is evolving rapidly, our peer competitors are ahead of us in some areas, and we are working through constrained budgets to meet these threats.
Earlier this month I also had the privilege of visiting two of our outstanding chapters. The North Texas Chapter, Fort Worth had a wonderful Holiday gathering where everyone enjoyed the opportunity to share good cheer. The very next day I was with the Central Florida Chapter in Orlando as they showed the spirit of the season with a chapter event to support "Toys for Tots." Two completely different events but equally rewarding!
Speaking of chapters, one of my initiatives is all about your AAAA chapter experience. We will really be putting a lot of effort over the next year on chapter development as this is where the value to members is most tangible through the local AAAA experience. Our chapters provide professionally rewarding, exciting opportunities. They are most immediately responsive to your needs. We at the National level are going to work together with your local AAAA leadership to make sure this happens. One logistical initiative is the roll out of a new chapter identity kit which includes: podium seals, pull-up large self-standing chapter logo banners, and chapter logo table throws which will help brand each chapter around the four lanes of Networking, Recognition, Voice, and Support. Others are the chapter workshops at the annual Summit as well as the chapter telecons with like chapters that are being hosted by our VP for Chapters, Jan Drabczuk.
Remember – January 8th we open event ticket sales for the 2018 AAAA Army Aviation Mission Solutions Summit in Nashville, TN, April 25-27. You won't want to miss the one time of the year where our entire Army Aviation Community gathers to seek solutions to solve/mitigate the challenges/capability gaps faced by our Aviation Soldiers and families with a focus on those of you deployed around the world.
As our Branch Chief often reminds us, we are unique in our unequivocal support and bond to the Ground Force. As he commented during the ASE Symposium, if U.S. Army Aviation were to be an "Air Force" it would be the largest in the world in terms of aircraft and aviators. Taken together with the full Army Aviation team of crew chiefs, mechanics, air traffic services, support personnel and our great industry team, Army Aviation is a uniquely American force on the battlefield.
AAAA is your Voice. AAAA provides you Networking opportunities. AAAA Recognizes your achievements. AAAA Supports you and your families. Let me know what we can do to serve you our members even better.
Please be safe, have a peaceful holiday season and remember our friends and families down range who will not be home this year to celebrate the season with their loved ones and families.
On behalf of AAAA, Happy Holidays and Happy New Year everyone and from me and my family Merry Christmas and Happy New Year to all!
Above the Best!
BG Steve Mundt, U.S. Army Retired
33rd President, AAAA
This email address is being protected from spambots. You need JavaScript enabled to view it.