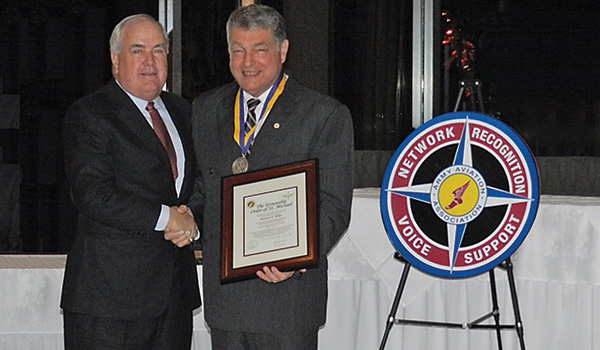 President's Cockpit / By BG E.J. Sinclair, Ret.: We are now only a few months away from the 2016 AAAA Annual Mission Solutions Summit and I will give you a brief situation report in a minute but first I want to review what we accomplished last month.
CW5 (Ret.) Dave Cooper, our VP Membership; LTC (Ret.) Jan Drabczuk, VP Chapters; and COL (Ret.) Mark Weiss, VP Reserve Component Affairs were able to visit the AAAA National HQ in Connecticut, December 16-17, 2015, meet the staff, and solidify plans for 2016. A full day of intense meetings covered everything from chapter support and membership to the database, marketing and communications, and event/meeting planning. Individual staff members briefed on their areas of responsibility and worked with the VPs to identify opportunities for the AAAA to do an even better job of meeting our mission to "Support the U.S. Army Aviation Soldier and Family."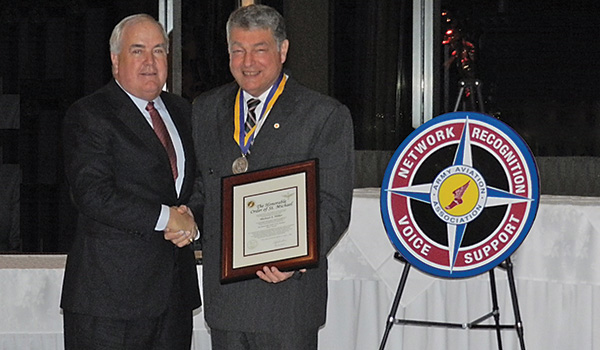 North Texas Chapter President, COL (Ret.) Mike Miller (right) is inducted into the Silver Honorable Order of St. Michael by AAAA President, BG (Ret.) E.J. Sinclair during the chapter Holiday Party, Dec. 10th in Fort Worth, TX. / NORTH TEXAS CHAPTER COURTESY PHOTO
One of the major takeaways was that the greatest number of AAAA chapters are actually ARNG and USAR based in terms of their populations with 34 out of 70 chapters being RC centric. Twenty-nine chapters are Active Component based with the remainder being split up among industry, DAC, retired, and student based chapters. There is obviously a huge opportunity here for us to serve the needs of our RC members.
Another opportunity in 2016 is the once a year Life Member Flat Rate campaign that each chapter can host at a local event. For $250, regardless of your age, your chapter can now sign you up for life on one day a year. The only caveat, you have to be present at the local chapter meeting to take advantage of this program. In a beta test, the Keystone chapter signed up over 50 new Life members in a single day with this brand new program.
Finally, the VPs focused on AAAA outreach at non-AAAA events like National Guard Association of the US, (NGAUS); Women in Aviation International, (WAI); Vietnam Helicopter Pilots Assn, (VHPA); etc., to spread the word on all the great things AAAA does through its Networking, Recognition, Voice and Support programs.
Also in December, I had the honor of attending the North Texas Chapter Holiday Party and Meeting at the Fort Worth Petroleum Club. This is a very strong and dynamic chapter that really takes care of its members through scholarships, professional meetings, and social gatherings each year. Numerous awards were presented but I especially want to highlight one. COL (Ret.) Mike Miller was inducted into the Silver Honorable Order of St. Michael for his years of service to Army Aviation and AAAA. Mike has been the chapter president for the past several years and has always been there whenever AAAA has asked for his support. Thanks Mike and congratulations!
A quick update on the Annual Summit – April 28-30, 2016 in Atlanta. Timing for professional development could not be better with the National Commission on the Future of the Army reporting out in February. Their findings will be topic number one in Atlanta I am sure.
The Army-funded list of GOs and SESs, and AAAA proffer funded list of CAB command teams, PMs, and other key Army Aviation leaders is with G3/5/7, which has the functional lead. We expect the operational memo from SECARMY with the authorized organizations/personnel to be released shortly.
Most of the hotels are already sold out and we are adding overflow properties. Over 7,000 room nights are already booked. We have now exceeded the 2014 and 2015 exhibit sales. It doesn't hurt to have talent like Trace Adkins and Kellie Pickler headlining the closing informal Soldier Appreciation Concert on Saturday night. And the Oscar Night of Army Aviation at the formal Hall of Fame Induction Banquet on Friday is selling out fast. All Platinum level tables have already sold out and most of the Gold are gone as well.
So, 2016 is starting off strong indeed. Hope to see many of you over the next few months at chapter events and especially at the Summit in April. Above the Best!
BG E.J. Sinclair, Ret.
32nd President, AAAA
This email address is being protected from spambots. You need JavaScript enabled to view it.