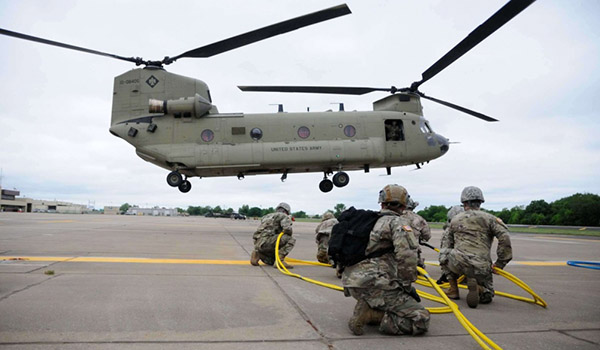 TULSA, Okla.–It's a quiet and cloudy day in Tulsa, Oklahoma. An abundance of dark clouds hang low in the sky, but no rain is forecasted. The breeze is cooler than you would expect for a day in May. In the distance, a small dot slowly approaches. As it gets closer, you begin to hear the faint chopping of fan blades. When the CH-47 Chinook helicopter arrives overhead, you can feel the beat of the whirling propellers in your chest. Tiny particles that have been washed onto the flight line by last week's storms shoot into the sky. The Soldiers of Company B, 834th Aviation Support Battalion, 2-245th Aviation Battalion crouch with their heads down to deflect the debris.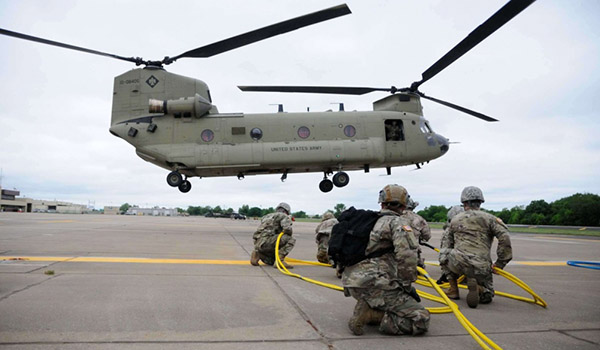 Photo By Sgt. Bradley Cooney | Members of the Down Aircraft Recovery Team (DART) with Company B, 834th Aviation Support Battalion watch together as a UH-47 Chinook Helicopter lifts the body of another Chinook May 4, 2019 at the Army Aviation Support Facility #2 in Tulsa, Oklahoma. The exercise in sling loading another helicopter is to train Soldiers in the recovery of downed aircrafts in combat. (U.S. Army National Guard photo by Sgt. Bradley 
With the Army Aviation Support Facility #2 located directly next to Highway 169, it gives passersby a front row seat to the exercise, so much so that cars and trucks pull over to the side of the highway to watch. 
Today, these Oklahoma Army Guardsmen are participating in a unique training experience. They're going to lift a helicopter with another helicopter. 
There are numerous scenarios to consider when it comes to military operations. One of which is "what happens when an aircraft goes down in a combat zone?" When that happens, Soldiers expertly trained to assess and repair military air assets are called upon to either fix the aircraft or recover it. These groups of Soldiers are known as Downed Aircraft Recovery Teams or DARTs.
"When we are overseas, you never know what could happen," said Spc. Robert Hill, a UH-60 (Black Hawk) helicopter repairer and Broken Arrow, Oklahoma native with Company B and a member of their DART. "Say an aircraft goes down. They'll call up the DART and send some people out to do recon to see if it can be repaired on site or if it needs to be extracted."
The DART consists of specially trained mechanics of different professional backgrounds that encompass every aspect and moving piece of military aircrafts. Each Soldier is an integral part of the team, providing expert technical capabilities to repair or recover downed air assets. 
"As a general mechanic, we do anything that we can to support the other guys who might be doing sheet metal repair, hydraulics or anything else. We take care of the general mechanic practices," Hill said.
Having a well-trained recovery team is vital to mission success and operations as a whole. 
"The Army invests a lot in aviation assets," said Chief Warrant Officer 2 Joe Keyes, the officer in charge of the DART and Norman, Oklahoma native. "They're a critical item to the ground forces. If an aircraft has a mechanical problem or any kind of situation that would prevent it from returning to home base, the ground commander might call upon the DART to execute a recovery mission of that aircraft – to bring it back to home station to be repaired and brought back to the fight."
Training exercises like this are important to maintaining proficiency in a Soldier's respective field. It keeps the mechanics and overseers moving smoothly and effectively.
"This kind of training is good for morale and good for recruiting," Keyes said. "And quite frankly, it's doctrinal, because we train as we fight when we're doing this kind of stuff. Being able to have hands-on training like this is huge for the Soldiers and it's huge for the mission. We feel confident after doing this that we can go down range and do this for real."
The training that is being done today is to practice rigging the body of a decommissioned Chinook to an operational Chinook. The hollow body of the helicopter is then hoisted up into the air. This exercise tests not only the Soldiers' capabilities of hooking up the recovery cables to the operational helicopter, but also tests the recovery equipment itself. 
"It was a first time for most of us," said Sgt. Cody Reeves, an aircraft mechanic and noncommissioned officer in charge of the DART. But we enjoyed the training and we are now experienced in what we are supposed to be."
In order to work harmoniously during air operations, Soldiers need to be familiar with who they are working with. They need to trust each other. It's a well-known fact through the ranks that members of aviation units are very close to one another. 
"Aviation itself is such a tight-knit community," Hill said. "Everyone seems to be a family."
This rigorous training is just a small part of their day-to-day exercises to keep their skills sharp. The deliberate and almost mathematical movements displayed during the training event demonstrated the hard work and dedication invested by these Soldiers.
This level of professionalism is not lost on the Guardsmen. On the contrary, it is celebrated. 
"We pride ourselves on by-the-book maintenance," Reeves said. "We exercise the same principles when we are slinging an aircraft. I kind of see us as superheroes because we can be called at a moments notice to recover an aircraft."