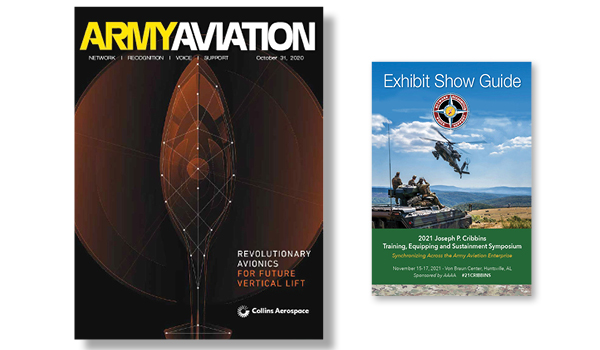 Reserve Your October Ad in ARMY AVIATION Magazine  Today!
2 for 1 – Get your ad printed in the magazine and reprinted in the Cribbins Exhibit Show Guide – handed to all attendees.
1. EXHIBIT SHOW GUIDE: Automatic reprint of your ad in the 2021 Exhibit Show Guide. If you are unable to exhibit, you can still have a presence!
2. BONUS DISTRIBUTION at the 2021 Joseph P. Cribbins, Training, Equipping and Sustainment Sysmposium – The event attracts aviation operators, logisticians, project managers, research & development and key decision makers.
More "2 for 1" Information – Click Here
-OCTOBER SPECIAL FOCUS TOPICS-
Aviation Leadership Briefs 6 Months after the Summit
Thousands gather for the second largest gathering of the community each year at the newly expanded Cribbins Symposium at the home of Acquisition and Sustainment.
Aviation Sustainment & Acquisition
Aviation Support
AMCOM Commanding General updates maintenance, supply, resources, operations. PEO Aviation on acquisition.
Aviation Support
Project Manager Aviation Mission Systems & Architecture, Modular Open Systems Architecture (MOSA) updates. Ground support and mission equipment, tugs, stands, aviation ground power unit (AGPU), cranes, tool sets, carts, ground handling equipment.
Aviation Soldier Support
Developments in aircrew clothing, body armor, integrated helmet systems, survival kits, microclimate cooling systems, oxygen delivery systems, EDM, laser eye protection.
Aviation Survivability
Aircraft Survivability Equipment, countermeasures, sensors, Electro-optical (EO) and Infrared (IR), radars; missile warning systems, radar warning receivers & tactics, Aviation Life Support Equipment (ALSE).
Exhibitors who have print advertising in place will receive preferential placement over non-advertisers at all AAAA Events.
Insertion Order Deadline: September 1, 2021
Materials Deadline: September 15, 2021
Advertising Sales Team
AAAA Main Number – 203-268-2450
• Bob Lachowski – Ext. 131
• Erika Burgess – Ext. 125
This email address is being protected from spambots. You need JavaScript enabled to view it.