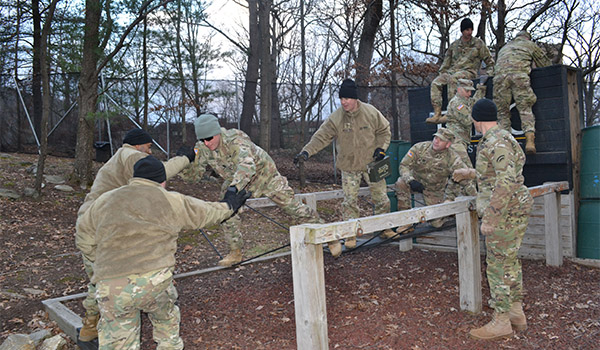 WEST POINT, N.Y. / By by Eric Durr – Sixteen Officers and NCOs from the New York National Guard's 642nd Aviation Support Battalion spent their December drill weekend honing their teamwork and problem solving skills at the United States Military Academy's Leadership Reaction Course.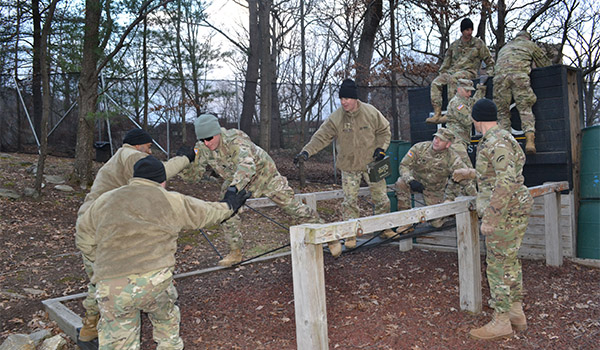 The goal according to Lt. Col. Shawn Hatch, the battalion's commander, was to get to know his battalion staff and leadership while also practicing skills to lead high performing teams.
"Coming in as the new BC (Battalion Commander), I wanted a way to get to know my commanders and staff, develop a team and camaraderie between all individuals, and have a venue to teach and reinforce some leadership skills," Hatch said.
The leadership reaction course, which is located behind the Thayer Hotel West Point, consists of 5 obstacles with a scenario, a designated leader and a time limit of 14 minutes to accomplish the mission.
The group was broken up into 2 teams of 8 which comprised of 642nd company commanders, first sergeants and battalion staff members.
Hatch, in civilian life a representative for a local ministry at West Point and his wife, Marie Lou Hatch (a West Point Alumnus) coordinated and oversaw the exercise.
Each obstacle required the team to get from point A to point B but differed on how to accomplish the mission.
Three of the obstacles required planks that were used to get the team across a raging river or to deliver ammo cans to a depleted platoon. Some of the planks were different sizes which required the designated leader to plan and adjust as team members were climbing across.
"It definitely exceeded my expectations." Said Master Sgt.Joel Beardsley, the 642nd battalion operations NCO.
Beardsley recognized that each obstacle was unique. "Just because you try and complete an obstacle one way, doesn't mean you try to solve it the same way on a similar obstacle," he said.
One of the harder obstacles involved climbing over a wall during a "jail break" in which the scenario required noise discipline. Hatch would even freeze the team in mid-air as a "guard" walked by and required only whispering to communicate the plan.
According to 1st Lt. Jessica Persoon, the battalion safety officer, the most challenging part was leading her peers.
"This is the first time being in a leadership position in front of some of my peers, so it's natural to fear looking incompetent," she said
At the start of each obstacle the team would appoint a new leader to develop a plan and execute.
Persoon said the course overall was fun and had some teachable moments.
"On the last obstacle the goal was to get everyone across and we ended up taking an ammo can with us when we weren't supposed to, so that was a good teaching point, make sure you actually understand the commander's intent…so take the time and pay attention to details," she explained
Once the 14 minutes were up at each exercise Hatch and his wife would conduct an after action review (AAR).
"The whole exercise's success was demonstrated by the discussion and learning that occurred during and after the AAR's," Hatch said.
Hatch said the best moments were watching the light bulb come on when the team worked through the obstacle.
"I could see the teams develop in the short time we were on the obstacles. It is a great feeling to see the 'light come on' when a leadership theory becomes practical and applicable through the exercise," he said.
Story by Sgt. Mathew Kratts, 642nd Aviation Support Battalion, New York Army National Guard.
12/8/18