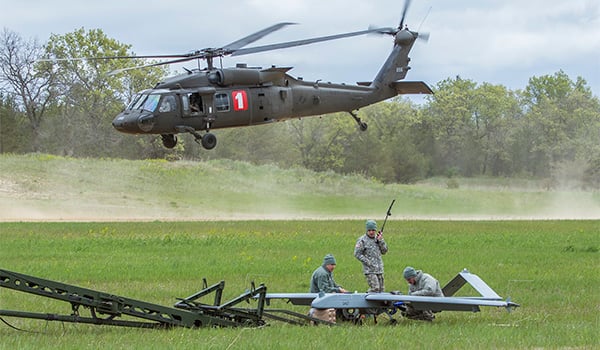 Reserve Component Aviation / By CW2 Jonathan Olson: Winning matters, and people are my number one priority… We win through our people, and people will drive success in our readiness, modernization and reform priorities. We must take care of our people…" – General James McConville, 40th Army Chief of Staff
It's easy to see the evolution of military forces across the timeline of technological advancement. A conversation often sidelined by technology is the human element, the training, the chess match of keeping talent within an organization.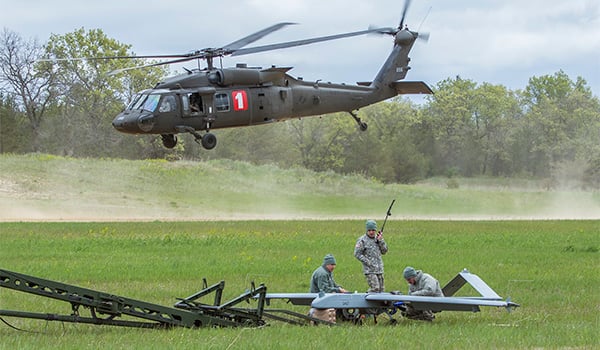 SGT Mills, SGT Soule and PFC Brandsoy, unmanned aircraft crewmembers in Wisconsin Army National Guard's 173rd Brigade Engineer Battalion conducting RQ-7B prefight operational checks during a training exercise in support of the 1-147th Aviation Regiment at Ft. McCoy, WI./ U.S. ARMY PHOTO BY JOE OLIVIA
Understand what the Army almost LOST in this one example: WO1 Aleksander's ambitions led him from the 1st Cavalry Division as an Unmanned Aircraft Standardization Operator to the Wisconsin Army National Guard (WIARNG) 32nd Infantry Brigade Combat Team (IBCT), TUAS Detachment.
His education at the University of North Dakota and Embry Riddle, made him a highly sought Aviation commodity. WO1 Aleksander is an Adjunct Professor at the University of St. Thomas in St. Paul, MN and he also teaches FAA Ground School.
From 2011 to 2014 WO1 Aleksander was a textbook example of talent lost to the private sector. He left the service before re-enlisting with WIARNG. CW3 Lucas Gordon the TUAS operating facility commander, recognized skilled labor and set about re-acquiring the skill of an individual whose military skill sets were only benefiting the private sector, bringing him back to the WIANG.
Future talent management software using algorithms eventually may have identified his qualifications and characteristics then recruited him in accordance with Army strategy. However, advanced as the system may be, leaders will always augment technology and in this case the collective awareness of Army strategies resulted in a total force benefit through a single advantageous point of retention.
The Bigger Picture
How many highly skilled Soldiers are seeking opportunities outside Army Aviation, specifically TUAS platoons because Unmanned Aviation lacks upward, and internal mobility coupled with insufficient incentives that parallel the private sector incentives? The Unmanned Aircraft Operator is an excellent force pool to feed manned Aviation because of the skill sets an Unmanned Aircraft Operator has in common with manned Aviation. How do we create growth within our force structure so that we are not taking talent from one career field to feed another; losing our talent to lucrative private sector occupations?
Two recommendations; Implement a force structure that supports enlisted mobility to E8 within the BCT Brigade Aviation Element; implement upward mobility through a transition Aircraft Qualification Course (AQC) to Gray Eagle from Shadow.
CW2 Jonathan Olson is the Army National Guard Unmanned Aircraft Systems Operations and Training Officer in the Aviation and Safety Division, located in Arlington, VA.