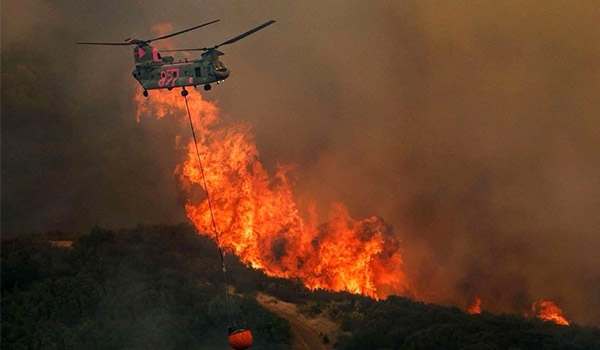 Reserve Component / By MAJ Sean Summerall: The California Army National Guard's 40th Expeditionary Combat Aviation Brigade (ECAB) (TF Phoenix) is no stranger to wildland firefighting. After a light season in 2019, all appeared well going into the 2020 season until COVID struck and hampered some of the normal preparation.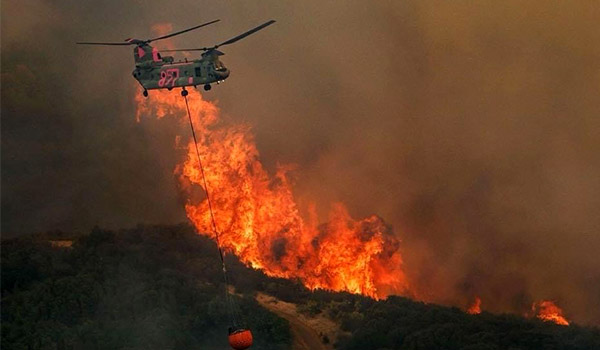 CH-47F aircrews from the California Army National Guard conducting water bucket operations during recent wildfire support./ LOS ANGELES TIMES PHOTO BY MARCUS YAM – BY PERMISSION
The California Military Department along with California Department of Forestry and Fire Protection (CAL FIRE), United States Forest Service (USFS) Region 5, and the National Park Service (NPS) have an Interagency Operating Cooperative Agreement that has matured over the course of decades. It supplements the Military Use Handbook and the interagency standards for helicopter operations by codifying specific procedures that have been perfected over decades of use. It goes into great details on various topics such as: color and paint schemes for the helicopters to support "see and avoid" and allow CAL FIRE airborne aviation manager (called Air Attack) to see the military helicopters from above that would normally blend in with the terrain; personnel, equipment, training, and logistical considerations for employment across the large State. The training that normally occurs over a 2-3 day period includes CAL FIRE, USFS, NPS, Soldiers from the Army National Guard, and Airmen from the Air National Guard. The training contains an almost exhaustive list of topics: Incident Command System, Activation / Deactivation procedures, Performance planning, Wildland Firefighting Techniques, Fire Behavior, Multi-Band Radio Procedures, Fire Shelter Operations, operating in a Fire Traffic Area, and Helibase operations to name a few. The culmination of this training includes water bucket operations with CAL FIRE Military Helicopter Managers on board the aircraft and a simulated incident to help ensure multi-echelon training occurs for military interagency liaisons, as well as fire service personnel. Due to COVID, in 2020, training occurred in a decentralized and reduced fashion in order to mitigate the spread of the virus.
As the 40th ECAB entered into the fire season, there were issues of major concern. First, the entire Western Region's aircraft availability was severely degraded due to multiple deployments across the Western States. Second, was the 40th ECAB's preparations for a future mobilization.
Disrupting the normal routine of the 40th ECAB's fire season was a full activation of the 40th ECAB in California in support of Civil Unrest, which saw every Soldier in the ECAB activated to support various missions, from aviation and maintenance operations to security missions normally reserved for ground crews. A large operational tempo in June and July resulted in California asking for mutual support through the Emergency Management Assistance Compact during the months of August and September.
The 40th ECAB garnered national attention during the Mammoth Pools Reservoir Incident when two fire tornadoes caused the Creek Fire to rapidly advance inside of the Sierra National Forest. On the afternoon of September 5th, campers and boaters found themselves surrounded by incoming fire with no escape routes. The Madera County Sheriff made a request for support to the California Office of Emergency Services for helicopter resources. With less than three hours from notification, a CH-47F crew from Stockton and a UH-60M crew from Fresno would assemble, preflight, obtain minimal mission information and launch on a dramatic night vision goggle rescue of 263 personnel from Mammoth Pools. The crews ultimately made three trips into the mountainous terrain with visibility decreasing to less than ½ mile in order to accomplish the rescue.
Two nights later, these same crews were joined by two other California Army National Guard crews and a Navy Crew from Naval Air Station Lemoore to conduct additional rescues throughout the forest.
Crews, aircraft, maintenance, and operations personnel from Arizona, Idaho, Illinois, Nevada, Oklahoma, Utah, West Virginia, Wisconsin, and Wyoming joined personnel from California to provide support on six of the largest fire complexes within the State: five of which were the largest fires in State history. As a team, the aircrews flew 1,345 hours, dropped 2,562 buckets of water totaling more than 3.0 million gallons and rescued, saved or evacuated 545 personnel.
Always Ready, Always There!
MAJ Sean Summerall is the S-3, 1-140th Assault Helicopter Battalion and the Operations/Civil Support Coordinator for Directorate of Aviation and Safety, California Army National Guard, Fresno.