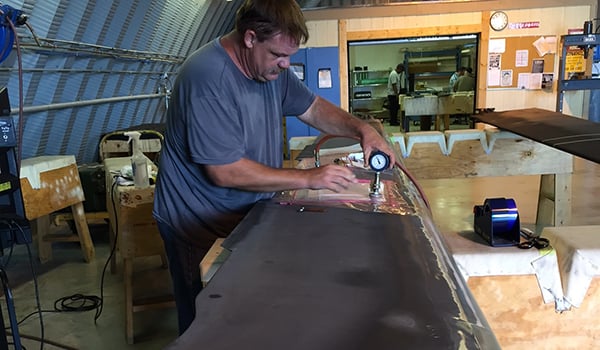 Tech Talk / By Mr. Kevin Rees: The Aviation Branch is in the midst of a major upgrade cycle for our aircraft systems. Current fielding efforts are underway for the UH-60M, CH-47F, and AH-64E. And additional upgrades are planned with the UH-60V and CH-47F block II.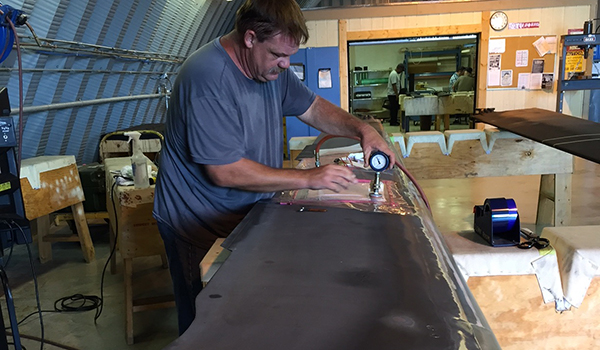 A technician works on a UH-60M blade at Corpus Christi Army Depot, TX. / AMRDEC AED PHOTO
These aircraft, and their associated components, are often significantly different than their predecessors when it comes to the details of their design. They may have higher power engines, higher torque transmissions, wider chord blades, and/or single piece (monolithic) structural elements or frames. These new aircraft designs often present new or unique challenges when it comes to depot maintenance. The overhaul manuals, known as Depot Maintenance Work Requirements (DMWRs), have to be updated or rewritten before they can support depot maintenance of these new aircraft and their associated components.
The various aircraft program management offices (PMOs) are responsible for arranging for and funding the DMWRs required to support these new designs. In recent years they have often turned to the engineers at the Aviation Engineering Directorate (AED) for help in developing the needed DMWRs. These AED engineers are co-located with Corpus Christi Army Depot (CCAD). They utilize their previous experience with aircraft overhaul, data gleaned from failed components returned to the depot, and engineering data (drawings, test specifications, etc.) to develop the depot repairs for these new systems.
AED is ultimately responsible for the technical content of all Army aviation DMWRs as well as other maintenance procedures. This is how AED assures the continued airworthiness of all Army aircraft throughout the weapon system life cycle. If the DMWR is purchased from an outside vendor, then AED performs an independent validation of the DMWR to ensure that the content is accurate, resulting in an airworthy product. When engineers within AED are actually developing the new DMWR, it is necessary to designate a separate engineer to serve as the independent validation authority. The engineer designated to perform the independent validation cannot have been involved in creating the draft DMWR content in any way.
The continuing airworthiness assurance mission relies in part on the Critical Safety Item (CSI) program. CSIs are parts whose failure would result in loss or serious damage to the aircraft, or an unacceptable risk of personal injury or loss of life. Part of the effort to develop new depot level technical data is the identification of all CSIs with depot-level critical characteristics. Once the critical characteristics have been identified, these CSIs are then annotated in the DMWRs, with appropriate cautions and warnings. The development of a mature CSI program and insertion of related information into the DMWRs is a cornerstone of the continuing airworthiness mission.
AED is currently working on a number of technical data development efforts for the various PMOs. Validation of the DMWR for the AH-64E aircraft has just been completed and it will be formally published in 2016. AED is also writing new DMWRs for a wide variety of CH-47F components to include the aft landing gear swivel housing, the electric pump for the utility system, and the multi-function control unit. The overhaul procedures for the CH-47F cargo ramp were validated in early 2016.
Future efforts currently being planned include a new aircraft DMWR for the UH-60M as well as a variety of component DMWRs supporting the UH-60M system. AED is also beginning an effort to write a variety of maintenance procedures for the RQ-7 Shadow, to include the oil system, the fuel system, airframe bond repairs, electrical wiring repair, as well as paint and general composites repairs.
Army aviation is fielding a wide variety of new and enhanced aircraft systems. AED engineers are working with the aircraft PMOs to ensure that current and accurate DMWRs are in place to support these systems for years to come.
Mr. Kevin Rees is chief of the Maintenance Engineering Division of the Aviation Engineering Directorate. Located in Corpus Christi, Texas, he is a registered Professional Engineer, a Lean Six Sigma Black Belt, and a Life Member of AAAA.
CAE