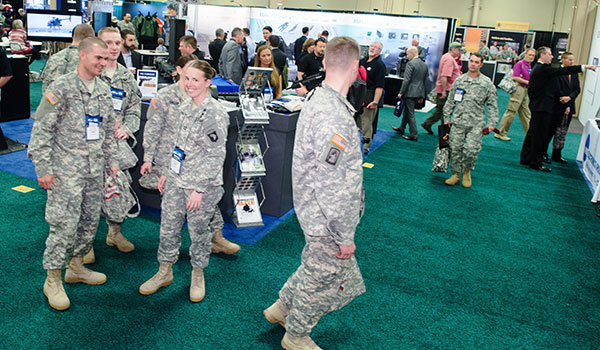 President's Cockpit / By BG E.J. Sinclair, Ret.: Have to say, change is the name of the game as we open the Army Aviation Mission Solutions Summit in
Atlanta April 28-30, 2016. There have been several changes in the senior leadership of Army Aviation.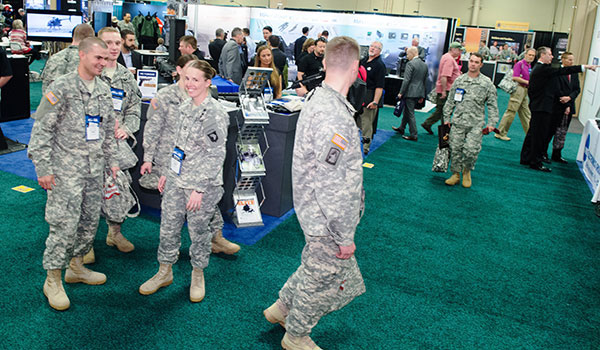 Attendees at the 2015 Army Aviation Mission Solutions Summit in Nashville, TN networking on the exhibit hall floor. / AAPI PHOTO BY RENÉ BIDEZ
MG Mike Lundy just changed command at Fort Rucker three weeks ago with MG Bill Gayler, and MG Jim Richardson passed the baton at AMCOM to BG Doug Gabram in February! In addition, Ms. Heidi Shyu retired as the Army's Acquisition Executive, and Ms. Katrina McFarland takes over the reins as the Acting ASAALT. As a result, we will be receiving many new perspectives right here at the 2016 Summit for the first time.
In many ways this is the culminating event of our AAAA year even though it happens barely a third of the way into the year. This event is the only annual gathering of the entire Army Aviation Community in one place at one time to seek solutions for our Brothers and Sisters on battlefields around the world. It is the only event where Army Aviation training and doctrine, acquisition, R&D, special operators, active duty, national guard, reserves, our department of the army civilians, and our industry partners all come together. Hopefully you can get your issues answered here in our various venues from the general sessions, to our question and answer sessions in the exhibit hall, to the Deep Dives. This is the one time and place that you have access to all the senior decision makers of Army Aviation.
Thank you to all our industry members who support AAAA all year long and especially here. This is a banner year with the amount of space used by industry for displays. And thank you to all our 8,000-plus attendees who have made the effort to join us. I want to particularly recognize our Soldiers and Veterans who have joined us this year ranging from WWII Cub Club, through Korea and Vietnam, to the Global War on Terror. You are truly what we are all about, "Supporting the U.S. Army Aviation Soldier and Family."
As we work our way through the challenges and changes ahead, know that AAAA will always be there for you. With our four tenets of Networking, Recognition, Voice, and Support making that mission statement real, we look forward to this Summit and the information exchanges, awards ceremonies, and family and spouse support events.
On behalf of the AAAA board, welcome to all present as well as our 18,000 readers throughout the world. Let's make a difference for our Soldiers and Families not only here at the Summit but throughout this year of change and opportunity.
BG E.J. Sinclair, Ret.
32nd President, AAAA
This email address is being protected from spambots. You need JavaScript enabled to view it.