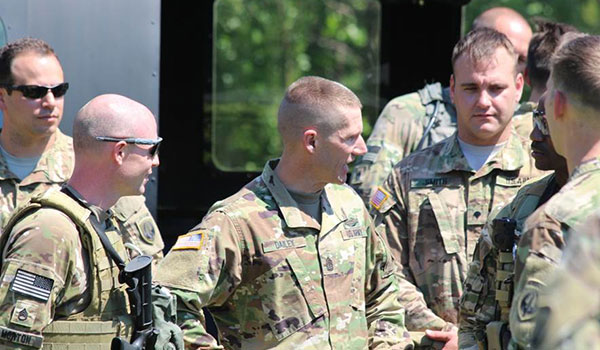 ARSOAC Command Sergeant Major / By CSM Stephen H. Helton: Future conflict is characterized in current Army doctrine as unknown and unknowable. It is the ambiguous, complex nature of current and future warfare that mandates agile, adaptive, and capable leaders who can exercise disciplined initiative in a fluid situation.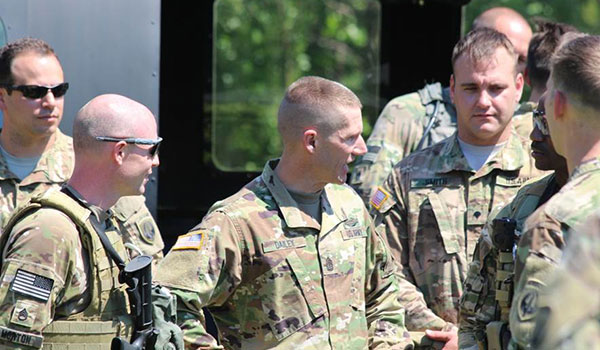 Sergeant Major of the Army Daniel A. Dailey talks to 3/160th SOAR(A) Soldiers after an exercise at Hunter Army Airfield, Savannah, Georgia./ ARSOAC COURTESY PHOTO
The empowered ARSOA NCO is the critical link to mission command under these conditions. Physical fitness, technical expertise, tactical acumen, creative problem solving, exceptional teamwork, and warrior ethos are key characteristics identified in the ARSOA NCO that enable mission success. NCOs at all levels must be capable of executing decentralized operations for extended periods with little or no direct oversight. They must possess the talent and skill to lead across the full spectrum of operations in a joint, inter-agency, and multi-national environment. ARSOA NCOs are trained and empowered to take on these challenges on a daily basis. (An example of NCO leader empowerment is in First Sergeant Dennis K. McCoy Jr's article in this issue, Competence and Empowerment: Building effective Leaders in Army Aviation Maintenance).
Special Operations non-commissioned officers begin their ARSOA assignment with Green Platoon at Fort Campbell, Kentucky. The Special Operations Aviation Training Battalion provides expert, foundational instruction to all new Soldiers and inculcates the appropriate ethos and teamwork. It is during this time that the foundational disciplines of the professional NCO are cultivated and stimulated. Every Soldier is expected to lead, follow, and embrace a culture of teamwork, empowerment and problem solving. Following Green Platoon, most Soldiers are provided specialized technical instruction designed to ensure a basic technical capability that can be developed and sharpened over time. Effective ARSOA leadership is founded in credibility, respect and trust. This foundation of values-based leadership and credible technical skill prepares the NCO for service in the operational force. Positions of increased responsibility in the operational force are earned through dedicated commitment to teamwork, leadership, and demonstrated proficiency.
Special operations missions are typically executed through decentralized control in complex, demanding environments. ARSOA NCOs are relied on to make decisions and take charge to accomplish any mission. From individual, collective, and unit level training to challenging Joint, inter-agency, and multinational missions worldwide, ARSOA NCOs provide exceptional mission support for Special Operations Forces. ARSOA NCOs are trained, developed, and continuously assessed to ensure their success within the organization. The ARSOA NCO development structure blends internal unit training and evaluation with institutional Professional Military Education (PME) in order to produce a multi-faceted, interoperable aviation leader who is trusted and empowered by Commanders and officers.
The United States Army Special Operation Aviation Command (Airborne) would not be able to accomplish this mission without the institutional training and leader development provided by the U.S. Army and the Army Aviation NCO Academies. NCO professional military education (PME) ensures that ARSOA NCOs continue to enhance their leadership, knowledge, and professional networks. It is crucial that ARSOA NCOs understand their own and their counterparts' capabilities within the conventional force as they must seamlessly integrate into the greater enterprise. Additionally, relationships established during PME enhance effective execution of complex missions and exponentially improve interoperability. It is imperative that we continue to develop adaptive NCO leaders, who think critically, can operate without direct supervision, and make sound decisions under pressure; NCOs who are stewards of our profession and exemplify the core values of our Army.
The future cannot be predicted, however, it can be prepared for through focused development of leaders. ADP 6-0 describes the Mission Command Philosophy as: the exercise of authority and direction by the commander using mission orders to enable disciplined initiative within the commander's intent to empower agile and adaptive leaders in the conduct of unified land operations. ARSOA NCOs are essential to this philosophy as trusted and empowered leaders who take charge in the absence of orders to accomplish the mission. They build cohesive teams, enable shared understanding, recognize and convey clear commander's intent to subordinates. Additionally, ARSOA NCOs exercise disciplined initiative, understand and exercise mission orders, as well as anticipate and mitigate prudent risk. In a complex, ever-changing, and uncertain operational environment, these characteristics facilitate the accomplishment of any mission and substantiate the exceptional level of empowerment given to them by commanders and officers.
CSM Stephen H. Helton is the command sergeant major of the United States Army Special Operations Aviation Command, Fort Bragg, NC.