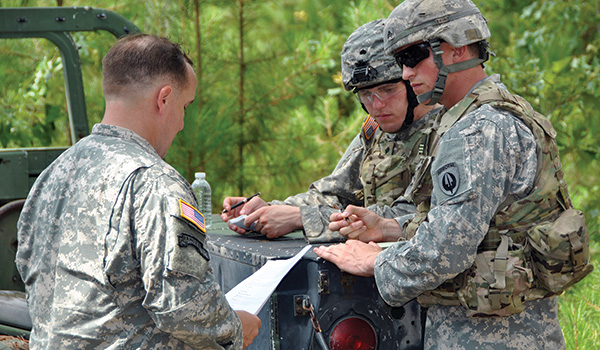 ARSOAC CSM / By CSM Stephen H. Helton: I recently completed battlefield circulation of our Army Special Operations Aviation (ARSOA) deployed elements. I wanted to take this opportunity to share my thoughts and provide assessments with regard to aviation NCO leadership currently and in the future.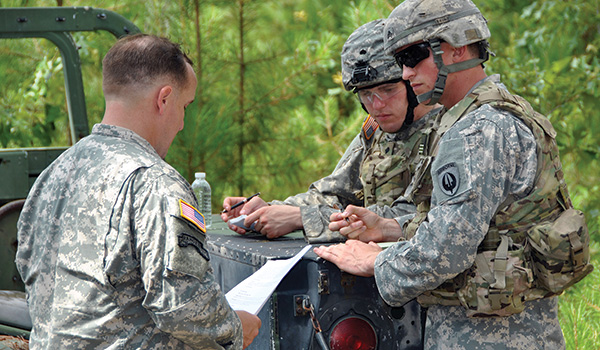 Soldiers in the USASOAC take notes as they are instructed on the next training event. / ARSOAC COURTESY PHOTO
ARSOA elements are deployed to numerous locations around the globe. They operate in relatively small teams for limited duration in support of specific, tailored mission sets. I was struck with the diversity of mission requirements and our NCOs ability to adapt, execute, and produce tangible effects. In most cases, these NCOs are not Sergeants Major. First Sergeants and Sergeants First Class provide the majority of senior NCO leadership in our deployed elements. Whether they support direct action insertion of our ground force, advise and train our multi-national counterparts, or integrate with interagency partners, ARSOA NCOs lead successful efforts in multiple theaters and provide matchless capability to commanders.
Empowerment
My observation is that ARSOA NCOs are empowered to perform their duties and are held accountable for that expertise. A relevant example is our unmanned aircraft systems (UAS) operations around the world. Young NCOs are at the forefront of UAS operations and demonstrate unique operational understanding and skill as they describe targeting, payload employment, and precision strike tactics. Sergeants are developing tactics, techniques, and procedures that are shared across the Army Aviation enterprise providing both a tactical and strategic effect. They integrate seamlessly with contract logistic civilians and build a unique team that provides incredible capability to the ground force commander.
NCO leadership remains the cornerstone of aviation maintenance. The deployed environment offers numerous challenges to maintenance and logistics. Austere facilities, harsh environments, and limited access to robust logistical support require NCOs to anticipate and plan maintenance contingencies. They integrate with adjacent units and invest in mutually beneficial efforts to build relationships and interoperability. They share facilities, parts, and expertise to improve capability and enable mission success. My observation of deployed ARSOA maintenance elements is that it is a microcosm of the broader aviation enterprise. Maintenance leaders integrate with contract logistics, base support resources, conventional aviation maintenance, and other logistic enablers, to maximize efficiency and ensure that the ground force have the aviation support they need.
ARSOA senior enlisted leaders are critical to the overall life support, force protection, and welfare of their deployed task forces. Many of the areas that they occupy require constant engagement with multi-national forces, interagency managers, sister service leaders, and corporate entities. Senior enlisted leaders are mentally agile and adaptive, allowing them to navigate disparate cultures in order to provide vital resources to their team. Convoluted command relationships require persistent reporting and information flow across multiple lines of communication and chains of command. I observed, firsthand, senior NCOs expertly accomplish this while maintaining seamless continuity of assigned, complex missions.
Maintain an Adaptive Mindset
Conditions change, missions change, and environments change. We often say that the more things change, the more they stay the same. I would offer that regardless of the ambiguity of future operating environments, we must maintain an adaptive mindset. Although our forces are currently operating out of relatively mature bases, their ability to project combat power is limited by available resources in the theater. The FOBs and COPs of previous years no longer exist, driving an expeditionary mindset. NCO leaders must think creatively about how to provide maintenance and logistics without hardstand resources. They must continue to understand the importance of SOF/conventional force interoperability and how to provide and leverage resources. Hard-earned skills and processes developed over the previous 15 years must be maintained and adapted to remain relevant in future operating environments. Army Aviation NCOs must be empowered to make decisions and solve complex problems. They must continue to train individuals, crews, and teams to standard while building readiness in any environment. Finally, I believe that we must be willing to constantly reassess the efficacy of our systems and processes to find creative solutions to change those things that need to be changed.
CSM Stephen H. Helton is the command sergeant major of the United States Army Special Operations Aviation Command, Fort Bragg, NC.