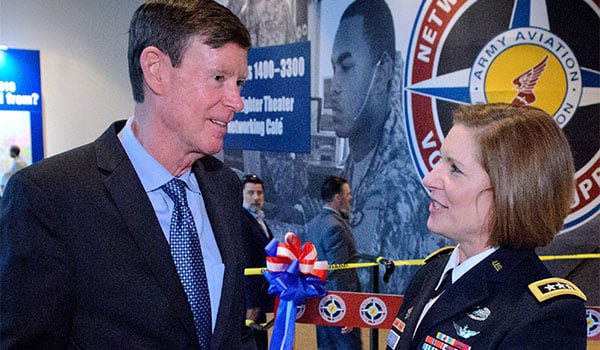 President's Cockpit / By MG Jeff Schloesser, U.S. Army, Retired: Summer is often a time of change in our Army, as families move and Soldiers report to new positions and new duty stations. Our Army Aviation leadership is no exception.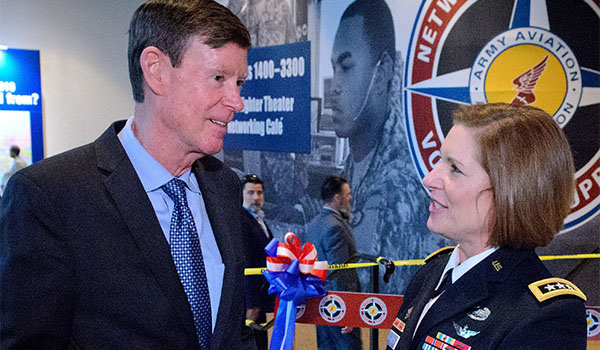 AAAA National President, MG (Ret.) Jeff Schloesser talks with incoming commanding general of U.S. Army North/5th United States Army, LTG Laura Richardson, while at the 2019 Summit in Nashville, TN. / AAPI PHOTO BY RENÉ BIDEZ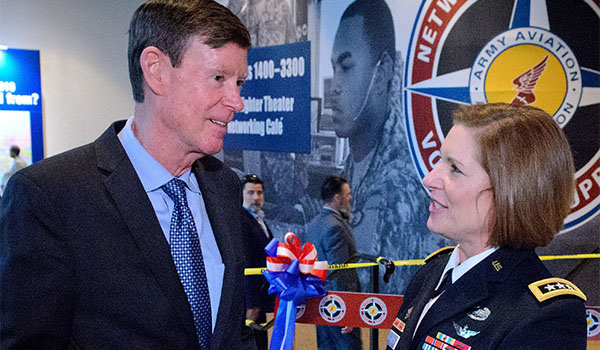 MG Dave Francis assumed command of the Army Aviation Center of Excellence at Fort Rucker on 17 June. Dave is no stranger to Fort Rucker, having served as the commanding general of the Combat Readiness Center and before that as deputy commander at Fort Rucker. We welcome him and his wife Jodie back!
In Huntsville, MG Todd Royar assumed command of AMCOM on 10 June after serving as the 101st Airborne Division (Air Assault) DCG-Support. Todd previously served at AMCOM as the chief of staff. Again, we welcome Todd and his wife Mary Lou back to Huntsville.
Another key member of the Army Aviation leadership, BG "Mac" Mike McCurry took over as the director, Army Aviation in the Army G3/5/7 office as the backfill to MG Francis on 17 June. Mac is very familiar with the Pentagon, where he served as chief, DAMO-FDV prior to becoming DCG at 2ID, ROK. It will be great for Army Aviation to have Mac back in the Pentagon!
There is also a flurry of movements in the most senior civilian positions of the Pentagon as nominations for Secretary of Defense and Secretary of the Army are solidified for the Honorable Mark Esper and the Honorable Ryan McCarthy, respectively. Both are strong supporters of Army Aviation, and we wish them our best in their new positions.
In Washington, the budget has taken on critical importance as our elected officials seek to balance our defense needs with domestic requirements, and as they also seek to support Army readiness efforts while seeking to make investments in the modernization of our force. Kevin Cochie's article in this issue on page 54 gives great insights into how this process unfolds in our nation's capital.
As Army Aviation continues to build readiness with our current fleets and Soldiers, our leaders are also seeking to invest in the future through Future Vertical Lift (FVL) programs. Our focus this month, Training and Simulation, is incredibly important to both our current fleets and readiness and our future, and so I draw your attention to MG Dave Francis' To the Field article on page 10.
Our chapters continue to do their role to support Army Aviation, our soldiers and their families. In June, our National Senior Vice President and former PEO Aviation, MG Tim Crosby and I attended a superb dinner meeting with the North Texas Chapter, hosted by Chapter President Steve Mathias. The guest of honor was the Army's current PEO-Aviation, MG Thomas Todd, who gave a heartfelt and substantive update on everything his team of teams is doing to maintain our current "top of the line" helicopter fleets while setting the stage for FVL. It was a great night, and we sincerely thank General Todd for taking the time out of an incredibly busy schedule to be with us.
Within the National Executive Board, we are finalizing nominations for Emeritus status as well as adding board members to the National Members at Large team. Al Roberson and Bill Morris have graciously accepted our request to join the board. We are also very pleased to welcome SGT Ashley M. Sanchez to the National Executive Board as a representative of our junior enlisted Soldiers. We are in the process of identifying and bringing on to the board a junior warrant officer and a 1st lieutenant/captain to make sure those cohorts have a voice and direct input to AAAA leadership as well.
As a reminder, we have the Luther G. Jones Army Aviation Depot Forum in Corpus Christi, 20-21 August; our AAAA National Executive Board semi-annual meeting in Washington, DC, 13 October; and in Huntsville, our Aircraft Survivability Symposium, 18-19 November, followed by the Joseph P. Cribbins Army Aviation Product Sustainment Symposium on 20-21 Nov. It is a significant year of both change and continuity within Army Aviation, and I encourage you to get involved and stay engaged!
MG Jeff Schloesser, U.S. Army, Retired
34th President, AAAA
This email address is being protected from spambots. You need JavaScript enabled to view it.