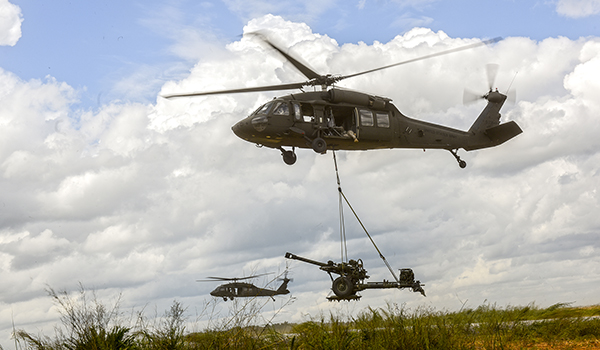 Reserve Component Aviation / By BG Scott R. Morcomb: In today's global environment, our nation relies most heavily on her Army to support our national and international interests. This call to action can only be achieved through an unshakeable commitment, on the part of our Army's leaders, to maintaining a combat ready posture at all times.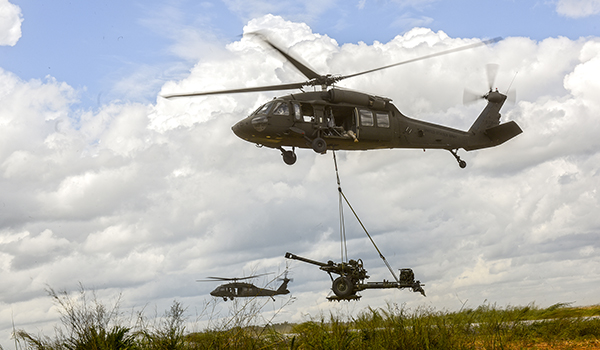 Flight crews from the 8-229th Assault Helicopter Battalion conduct sling load operations with elements from the 1-163rd Field Artillery Regiment of the Indiana National Guard. / U.S. ARMY PHOTO BY RENEE RHODES, FORT KNOX VISUAL INFORMATION
As an enduring operational force, The U.S. Army Reserve Aviation Command (ARAC) remains a highly professional, value-added partner in the Army's total force. The ARAC has taken this charge and reinvigorated our training model to include multicomponent and joint exercises that mirror the combat conditions our soldiers will inevitably face when their number is called.
Command Philosophy
The term "cohesion" is loosely used in commander's circles but for the ARAC it is more than a punchline. For this Command, it represents a vitally important characteristic of the ARAC's mission command philosophy. Traditional schools of thought have taught that unit cohesion must be practiced at the lowest level in order to ensure mission success. Over the course of my career, I have seen the gradual diminishment of this concept, and for this reason, I personally have adopted a macro-level command model of encouraging joint missions and joint training exercises with our sister services and multicomponent brethren. The only way to accomplish this feat is for my commanders to follow a "top-down" emphasis with a "bottom-up" execution model.
All my commanders have the latitude to operate within my provided intent, while emphasizing key task execution to achieve the desired end state. Multicomponent and Joint Training is one of the most viable methods we can utilize within Army Reserve Aviation to execute mission essential task list (METL) based training. Since the Army Reserve is without ground maneuver units, and ground maneuver partners are best paired with Army Aviation, I've encouraged both my company and battalion commanders to seek out local opportunities for multi-component and joint training. First line commanders who foster these partnerships gain invaluable experience in relationship building, mission planning and mission command tasks. Stretching our Soldiers to think beyond the simple "mission execution" mindset is critical for the grooming of our leaders. Leaders who will be able to consistently add tremendous value to the army reserve aviation for years to come.
Multicomponent Training
In any given year, our general support aviation battalions (GSAB) and assault helicopter battalions (AHB) conduct several multicomponent exercises with other Active Component and National Guard units. Our newly converted assault battalion, 8-229th AHB, continues to service outside elements such as the Indiana and Kentucky National Guard, 101st Airborne Division (Air Assault) as well as various active component engineer battalions on an annual basis. By exercising the mission planning and execution phases with the other components, the benefits will be seen in the execution of their wartime mission. A tangible result of 8-229th's partnership with the 101st is a memorandum of understanding (MOU) that provides valuable life and logistics support from 101st to 8-229th. Not only is this a significant money saver to the Reserves, it extends time spent training as opposed to coordinating administrative activities. The ARAC believes this MOU is the first example of its kind and establishes a template for future multi-component partnerships. Furthermore, it is in direct accordance with recent FORSCOM guidance on the Total Force Partnership Program (TFPP) that fosters collaborative approaches to increase collective readiness.
Joint and SOF Training
While less formalized, all of the ARAC's flight battalions conduct some form of training and mission support with Joint and Special Operations Forces. In the past five years, multiple units have participated in: the Emerald Warrior Exercise, hosted by USAF Special Operations; Angel Thunder, a USAF Personnel Recovery exercise; Trident Warrior, hosted by Navy SOF, and multiple local missions with units in close proximity to each Army Reserve Aviation Facility. They have conducted a multitude of missions to include normal troop movement, aeromedical and casualty evacuation training exercises. Joint and SOF training add a unique aspect to Company and Battalion level training, as it encompasses unconventional tasks such as Special Purpose Insertion Extraction (SPIES) training, Fast Rope Insertion/Extraction (FRIES) training and Maritime External Air Transportation System (MEATS) training. The benefits of these strategic training partnerships has been seen in our crews performance and it has proven to be instrumental for the improvement of our flight crews overall combat readiness.
I am confident that our reenergizing of an old concept of training while focused on the new paradigm of readiness will continue to produce great benefits for the aviation community and our Army in general. Placing the ownership on the lowest level of command is one way of nurturing our leaders to become forward and unconventional thinkers. Our enemy will continue to advance and grow more sophisticated. The only way to ensure army reserve aviation provides an answer of overwhelming force, begins with the company level tasks. My vision is to empower our leaders to think outside the box and continuously look for new and better ways to improve combat readiness. Freedom of movement is not only a benefit in the battlefield, but is also invaluable as we provide critical and challenging multicomponent training at home station across the entire Army Reserve Aviation Command.
BG Scott R. Morcomb is the commanding general of the U.S. Army Reserve Aviation Command located at Fort Knox, KY.