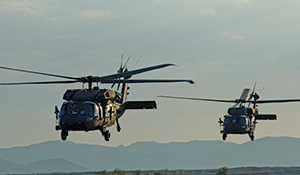 Aviation Leadership Update / BG Robert L. Marion: After more than 13 years of war, we all thought and hoped that we would wind down in peace time. The reality however is that the world has changed and we are required to remain globally engaged while operating with a smaller budget and force structure.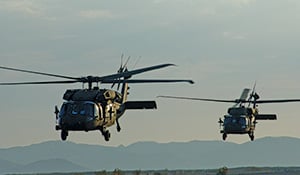 UH-60M Black Hawks from the 25th Combat Aviation Brigade, 25th Infantry Division, fly at Wheeler Army Airfield in Hawaii. The Army is currently working on program development for the UH-60V (formerly known as UH-60L Digitization), which will upgrade the analog cockpits of the UH-60L with new digital avionics. One of the primary objectives of the program will be to make the L-model upgrade look and feel like an M-model from inside the cockpit. U.S. ARMY PHOTO BY 25TH ID PUBLIC AFFAIRS OFFICEThe drawdown and budget challenge forced the Army to relook at its entire aviation fleet and strategy, and instead of taking the 'salami slice' approach to cutting active and reserve aviation components, the Army decided on a proposed alternative, which became the Aviation Restructure Initiative (ARI).
It is the optimal way forward in order to maximize the capability and capacity of our total force and protect our critical modernization programs such as the Improved Turbine Engine Program (ITEP), UH-60V Black Hawk, AH-64E Apache, CH-47F and Block II Chinook, and the Joint Multi-Role (JMR) effort which will feed into a Future Vertical Lift (FVL) system.
In addition, ARI leverages the advances we've made and continue to make in manned and unmanned teaming, which will increase combat effectiveness, reduce risk to our Soldiers and aviators, and expand our terrain coverage.
An important thing to consider about ARI is that it is an integrated plan, so the ability to do certain things within ARI such as downsizing aviation formations, modernizing aviation platforms, and divesting equipment are related to one another. The ARI is a holistic plan that takes into account all of those things that are reflected in our short-term and long-term modernization plan.
As we continue to deliver Echo-model Apaches, M-model Black Hawks and F-model Chinooks, and maintain a focus on the modernization programs that bridge us to FVL, it is important to keep in mind that those efforts are embedded and inter-related into the Army's overall aviation restructure. It is very hard to take pieces out of that plan without causing any adverse impacts in other places – second- and third-order impacts – within the formations and impacts to the Army.
Army Aviation has proven its viability and reliability in supporting our ground Soldiers in combat. Army Aviation is the critical enabler for our ground commanders, and we continue to maintain their strong support. This is a testament to the excellence and commitment of our aviators, maintainers and our workforce who continue to exceed expectations on and off the battlefield.
Our current budget is reflective of Army Aviation's importance in ensuring success in any combat terrain. In order to continue to stay ahead of our ever-evolving mission and in the face of fiscal austerity, we must act deliberately and be smarter in how we execute our acquisition strategy to continue to meet the needs of our Soldiers. We must take a look at our long range plans and make prudent decisions today that will positively impact our future. We must scope our efforts in the future to ensure that the investments and trade-offs we make will keep Army Aviation relevant and ready at any time. Supporting our Soldiers and our combat commanders is our top priority.
Critical Modernization Programs
Modernization and manned-unmanned teaming (MUM-T) are the way forward for Army aviation as we continue our efforts to develop the next generation of rotary wing capability. Our modernization strategy must enable us to counter threats in any environment, and we are making progress in several of those areas.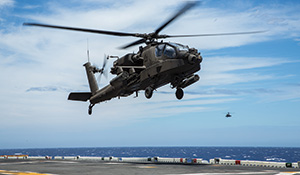 A Task Force Lightning Horse AH-64E Apache from 1st Battalion, 25th Aviation Regiment, 25th Combat Aviation Brigade, conducts deck landing qualifications, a historical first for the E-model Apache, on the flight deck of amphibious assault ship USS Peleliu (LHA 5) while underway for Rim of the Pacific (RIMPAC) Exercise 2014. The 1-25 from Fort Carson, Colo. was the second unit equipped with the E-model Apache. U.S. ARMY PHOTO BY CW3 MARK LEUNG, 25TH CABWe are on track with the ITEP and tailoring the program to mitigate any adjustments to our modernization plans. The ITEP remains a top Army Aviation priority to modernize the Black Hawk and Apache fleets. Our current strategy maintains competition with two vendors through completion of a Preliminary Design Review (PDR) followed by a Milestone (MS) B in FY18.
Through a very successful science & technology effort, the critical technologies have matured, and conducting a PDR prior helps better inform the MS B decision. We've begun conversations with the Office of the Secretary of Defense (OSD) on how we are going to move forward. We plan on conducting a full and open competition when the time comes.
The UH-60V Black Hawk program has made significant strides in program development. The Utility Helicopters Project Office awarded a contract for the Engineering and Manufacturing Development Phase in July 2014. The H-60V program has been underway with requirements decomposition and held a Systems Requirement Review in November 2014 and a Systems Functional Review in January 2015. With these successful reviews, the program remains on schedule to hold a PDR in late April with a Critical Design Review (CDR) later this year.
The first three aircraft have already arrived at the modification facility and are receiving enduring modifications for configuration standardization prior to H-60V upgrade. This aircraft's digital cockpit build phase is scheduled to begin shortly after CDR, and we will have aircraft ready for flight test in early 2017.
Upgrading the CH-47 Chinook helicopter fleet in order to address obsolescence is critical in our modernization strategy. The Chinook is the Army's only heavy-lift cargo helicopter and is expected to remain in service through 2060. We have proposed a blocking strategy designed to insert incremental technology upgrades into the Chinook fleet and to maintain the platform's relevance and affordability over time while meeting warfighter requirements. The CH-47 Block II is the first increment of this potential multi-block strategy. The Block II upgrade seeks to buy-back performance that has eroded over time due to the addition of mission equipment packages since system fielding in 2007.
Block II implements targeted engineering changes that increase system performance (rotor blade, rotor hub, drive train, fuel system), reduce sub-system weight (fuel system) and increases the system gross weight from 50,000 to 54,000 pounds (airframe). Additional engineering changes included in Block II target reliability, obsolescence, safety, and maintainability. We continue to field F-model Chinooks and have fielded 309 of 473. The active component is completely trained and fielded, and training and fielding to the Army National Guard and Reserve continues. NET will complete in 2017 and fielding in 2020.
We are continuing to invest in the modernization and sustainment of the AH-64 Apache as one of the Army's most capable and survivable combat proven aircraft. The Project Office for Apache Helicopters is gearing up to begin fielding and training the 3-101st, the fourth unit to receive AH-64Es later in 2015.
The next step in modernization is the completion of the version 6 capability set, which will close out the complete program of record for the Echo model Apache. The last capability version will address and add an Improved Modernized Radiofrequency Interferometer (MRFI), an Improved Fire Control Radar (FCR), a maritime mode for the FCR, update the day side assembly and add color to the cockpit, and add an eye safe laser to the targeting sensor.
As you know, the ARI calls for the increased emphasis on MUMT by teaming Apaches and Shadows to support the Armed Scout mission. The enduring Armed Aerial Scout requirement will be met through a teaming of existing AH-64s and unmanned aircraft systems redistributed from divested structure.
The UAS Project Office recently completed equipping the 1/501st Aviation Battalion, 1st Armored Division's Combat Aviation Brigade (CAB) out of Fort Bliss, Texas with the RQ-7Bv2 (TCDL) system. The Shadow UAS becomes part of, not only the brigade combat teams, but will now be a key combat multiplier in the CAB in support of ARI.
The unit operators, maintainers, and leadership are currently undergoing training on the new system with training projected to be completed by the end of May 2015. New capabilities gained with the enhanced Shadow system include the incorporation of encryption protection on the video and control data links, software enhancements that allow interoperability between Army UAS platforms, the ability for a Shadow operator to control a Gray Eagle UAS and vice versa, integration of a common control station and control terminal for all Army UAS platforms, standardization of the Shadow fleet to a single configuration which reduces life cycle costs, and increased endurance of the Shadow aircraft from six hours to nine hours.
Investments in Science & Technology and the Future Vertical Lift
Science and technology investments enable us to develop the Army of the future. As we project presence around the globe, it's important to remember that future aviation innovation enables greater range, greater fuel efficiency and greater reliability in order to reduce logistics demand and allow aircraft to operate from austere locations alongside our ground forces. It is crucial that we continue the science and technology investments to produce the next-generation, breakthrough technologies that will define the future of Army Aviation.
A key technology investment that will provide breakthrough capabilities in our aviation portfolio includes the joint multi-role technology demonstrator (JMR-TD), which will feed into the FVL technology. We are pursuing the next-generation aircraft with the ability for increased speed, range, survivability, and the ability to operate in all environments.
The JMR-TD will explore rotor systems, drives, propulsion systems, structures, mission systems architectures and other associated technologies to support this future capability. This S&T effort will mature technologies and reduce risk toward an anticipated program of record. JMR-TD will develop two flight demonstrators with the goal of lowering risk for a program of record. The first flight is anticipated in FY17.
Stewards of the Future
While our investments are constrained now, there are things we can do if we prioritize that will accomplish our goal in general. In all our programs, we must execute on schedule and on budget to give us the best chance of maintaining the funding we have. This needs to be a team effort supported by all members of the aviation enterprise, both government and industry.
We are always seeking innovations from academia and industry to enable the next-generation capabilities in improvements to survivability, mobility, fuel-efficiency, reliability, maintainability and affordability. We must maintain a strong dialogue with our industry partners and be able to tell them more clearly what has value to Army Aviation. The environment that we are in is one of collaboration.
Our job is to be prepared for the future, and we are committed to succeeding against challenges across the spectrum. Some of the things I have learned in the past year since becoming PEO are that the collaboration across the Aviation Enterprise is strong, integration of aviation into ground processes is effective, and that there is an enduring recognition across the service that Army Aviation is a critical enabler.
To this end and within the challenges of our fiscal limitations, we must never exhaust the possibilities for improvement, and we must always strive to deliver the finest aviation weapon systems that meet our warfighters' needs and deliver value to the American taxpayer.
BG Robert L. Marion is the U.S. Army Program Executive Officer, Aviation located at Redstone Arsenal, AL.