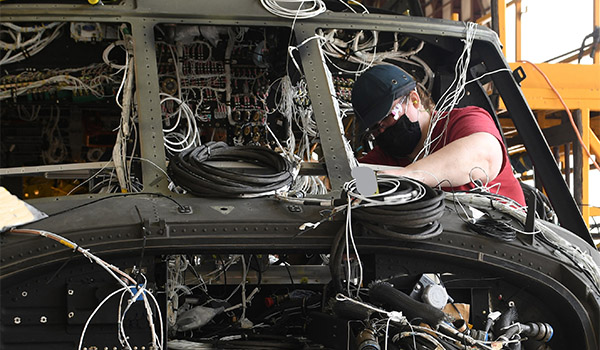 Aviation Maintenance/Sustainment / By Mr. Kevin Besser: The Army Vision, a transformational path to Multi-Domain Operations (MDO) 2028/2035, is distilled by the Secretary of the Army into three key priorities: People, Readiness, and Modernization. It heralds unprecedented introduction of technologically-advanced weapon systems and Warfighter capabilities, undergirded by a materiel enterprise that is critical to sustainment and repair of these systems during peacetime, surge, and large-scale contingencies. The U.S. Army Aviation & Missile Life Cycle Management Command (AMCOM), headquartered at Redstone Arsenal, Alabama, is operationalizing MDO 2028/2035 priorities across our diverse workforce and portfolio of Aviation and Missile weapon systems, as well as at our organic industrial base (OIB) activities. AMCOM's OIB activities include Corpus Christi Army Depot (CCAD), Letterkenny Army Depot (LEAD), U.S. Army Test, Measurement, and Diagnostic Equipment (TMDE) Activity (USATA), National Maintenance Program (NMP) sites, and a lean cadre of Logisticians, Analysts, and OIB Workload and Modernization Planners at the AMCOM Logistics Center (ALC). This team is essential to executing today's sustainment mission and posturing the OIBs for three of the Army's six modernization priorities: air and missile defense, future vertical lift, and long range precision fires.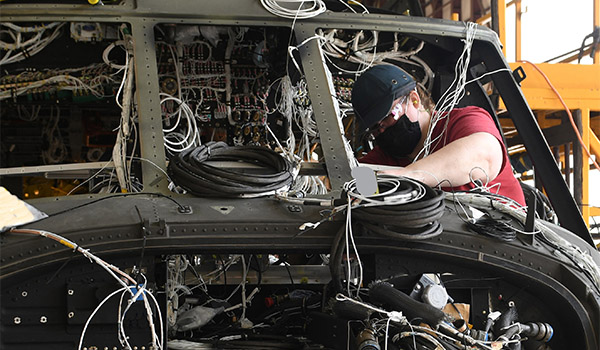 Mary King, aircraft electrician in the avionics/electrical branch at the Corpus Christi Army Depot, Texas, installs the instrument panel wiring harness as part of the assembly and repair of the UH-60L to UH-60V upgrade./ U.S. ARMY CORPUS CHRISTI ARMY DEPOT PHOTO
One of the Army's most recognizable weapons is actually a fleet of rotary wing aircraft representing three general configurations: attack, cargo, and utility. The unmistakable silhouettes of the AH-64 "Apache", CH-47 "Chinook, and UH-60 "Black Hawk" across domestic and international skies has been heard, felt, and seen by multiple generations since the 1960s and 70s. They are testaments to aerospace engineers who developed these battle-tested aircraft well before the introduction of iPhones and explosive growth in computerized weapons and sustainment. Today, modernized versions of these Army helicopters bear witness to a uniformed and civilian cadre of Army Aviation Maintenance crews in the field and OIB. Critical flight systems—turbine engines, rotary blades, transmissions, and powertrain components that operate in perfect symphony—are overhauled and/or recapitalized to "like new" condition at CCAD on a near-daily basis. Despite the destabilizing effects of the COVID-19 pandemic, our Army Aviation maintainers are not only maintaining the fleet but playing a key role in modernization and Black Hawk service life extension. CCAD recorded a significant milestone in 2020: completion of their first UH-60V aircraft. The "Victor" suffix distinguishes each UH-60V as having been modernized with an all-new digital cockpit and recapitalized to "zero hours" condition. It was the automotive equivalent of taking a worn out 1997 vehicle and modernizing it to "better than new" condition with the latest powertrain components and a giant high-definition television in the dashboard replacing analog gauges and instrumentation. People and modernization delivering Army readiness.
The Future
Modernization is driving key changes across the Army OIBs and at AMCOM. The status quo is changing, and pace is intensifying to meet the Army Vision. At the AMCOM HQ level, an OIB Modernization Integrated Product Team (IPT) was created in 2020 with the charter to posture the OIBs collaboratively and cross-functionally for MDO 2028/2035 and beyond. The IPT Champion, Major General K. Todd Royar, AMCOM Commanding General, is actively participating to ensure materiel developers, materiel sustainers, maintenance planners, and the acquisition, facilities, supply chain, and futures communities are strategically aligned in support of OIB Readiness. Our objective is clear: we will not have a 20th Century OIB for the 21st Century Army.
So, what does the 21st Century AMCOM OIB look like? First, it will continue to be rooted in the workload and OPTEMPO requirements of our Army and Inter-Service DoD customers. AMCOM closely collaborates with our customer and support organizations using the Sales & Operations Planning (S&OP) framework to ensure capacity, parts, and production capabilities are in place to meet over $1B in annual Class VII and Class IX sustainment workload. The AMCOM OIB strives to earn standing as a preferred source of repair based on our responsiveness, quality, competitive costs, and agility to sustain a broad spectrum of sustainment requirements.
Second, Aviation maintenance will become increasingly-reliant on computerized and digital technologies. CCAD is working closely with the Combat Capabilities Development Center's Aviation and Missile Center (CCDC AvMC) and Academia to pioneer "digital twin" capabilities that utilize automated structured blue light scanning during pre-repair inspection and quality control inspections. This digital scanning capability is a cornerstone and gateway to future digitally-enabled Advanced Manufacturing and Remanufacturing capabilities such as 3D blueprints, virtual reassembly, additive manufacturing, big data analytics, and automated/robotic repair. Additive manufacturing technologies are being utilized today to facilitate rapid prototyping, "digitally print" custom tooling and fixtures, and augment local remanufacturing capabilities. Additionally, CCAD is working closely with the CCDC AvMC and via Public-Private Partnerships to implement new plating and anodizing capabilities that significantly reduce personnel and environmental risks, particularly exposure to hexavalent chromium and toxic heavy metals, while continuing to support the production quality and anti-corrosive properties necessary for critical safety items.
Third, CCAD will be capable of sustaining the most technologically advanced aircraft in the fleet and their secondary components. AMCOM is working closely with the U.S. Army Program Executive Office – Aviation to prepare for the sustainment of new Future Vertical Life (FVL) aircraft, the Improved Turbine Engine Program (ITEP), and Unmanned Aircraft Systems (UAS). New systems will not only bring new combat capabilities to the Warfighter, but also new sustainment capabilities to the Aviation Maintenance community.
Fourth, the 21st Century OIB will have new and modernized facilities and infrastructure that are inherently flexible with multi-functional shop floor production capacity. CCAD's Building 1700, currently under construction, is a seven-phase military construction project designed to eliminate single points of failure and support elastic Class IX component sustainment for both legacy and future weapon systems. Moreover, given CCAD's proximity to the Gulf of Mexico, it will be rated for hurricane-force winds and provide essential climate and corrosion controls. Following completion of Building 1700, the vision for CCAD is to construct a new Aircraft Remanufacturing Facility that can accommodate all legacy and future aircraft under a single roof also with hurricane, climate, and corrosion safeguards.
Fifth, but foremost, people will always be the bedrock of the Army OIB and its ability to meet the dynamic requirements of a MDO 2028/2035-capable Army. From mobile Depot Field Teams to skilled artisans, and parts planners to supporting analysts, the 21st Century OIB is driven by a resilient team grounded in diversity and inclusion. The Army and AMCOM are committed to reinforcing our focus on People, and ensuring workplaces maximize their safety and provide a Quality Work Environment. We will implement a gold standard of training to build and maintain personnel readiness, resilience, and empowerment to always serve Army Strong!
Mr. Kevin Besser is a logistics management specialist in the Industrial Operations Directorate of the U.S. Army Aviation and Missile Command Logistics Center (ALC) at Redstone Arsenal, AL.