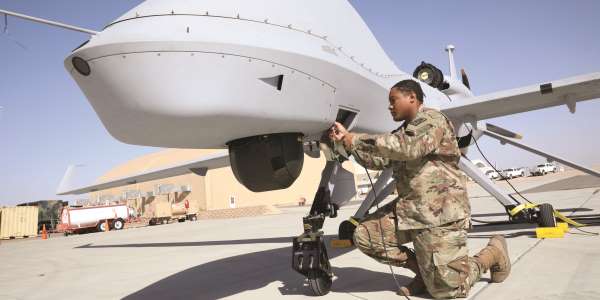 Branch Chief's Corner / By MG David J. Francis:
The next version of FM 3.0, to be published next summer, identifies the Division as the unit of action in Large Scale Combat Operations (LSCO). The Combat Aviation Brigade is one of the most lethal and flexible tools the Division Commander has to shape the deep fight, synchronize the close fight and manage transition. Army Aviation will play a significant role in synchronizing the execution of reconnaissance and security for combined arms forces. The ability to gain and maintain enemy contact, report rapidly and accurately, and provide reaction time and maneuver space to the Division Commander is vital. Unmanned aircraft systems (UAS) have a major contribution to the reconnaissance and security effort, and with our manned/un-manned, and manned to unmanned teaming.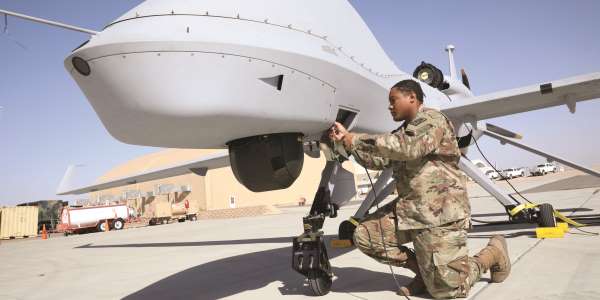 U.S. Army Photo by SGT Marita Schwab – U.S. Army PFC Terry Hollywood, assigned to 224th Military Intelligence Battalion, conducts maintenance on a Grey Eagle in preparation for Project Convergence at Yuma Proving Ground, AZ.
As an integral component of Army Aviation, our UAS capabilities are quickly evolving to maintain operational parity with our enduring and future fleets. Like our manned aircraft, we can expect our UAS to operate in an ever-expanding diverse set of conditions, against near-peer adversaries in contested airspace supporting Multi-Domain Operations (MDO). Our UAS are able to provide the same fundamental capabilities required of our air and ground maneuver forces – the capabilities that enable us to See, Move, and Strike.
The Future Tactical Unmanned Aircraft Systems (FTUAS) provides the brigade combat team (BCT) an organic, runway independent, airborne R&S capability with real-time situational awareness (SA) information vital to cross-domain maneuver at the speed required in MDO. This capability allows commanders to posture FTUAS in austere conditions and positions of advantage to support integrated R&S operations at extended ranges throughout the BCT battlespace. When integrated with Scalable Control Interface (SCI), commanders will have the flexibility to conduct battle handoffs of FTUAS air vehicles and sensor data providing command and control on the move. During armed conflict FTUAS will provide critical screening, early warning, and force protection for ground maneuver forces in an anti-access aerial denial (A2/AD) environment. Similar to our FVL manned aircraft, FTUAS's Modular Open Systems Approach (MOSA) and architecture enable future growth and the rapid insertion of technology to deliver effective and relevant threat‑based capabilities.
Integrating UAS capabilities will be more extensive in an MDO environment. Modernization efforts will allow our aviators and Soldiers the opportunity to leverage both on-board and off-board Army and Joint intelligence, fires, and communications. FVL aircraft will act as the central node of the eco-system with the air launched effects (ALE) and FTUAS in a 'constellation' around the FVL. The ALE and FTUAS will operate both close-in and at distance from the FVL aircraft, providing an array of sensors, fires, effects, and countermeasures that will enable the reach and stand-off of the advanced team. This FTUAS and ALE integration will enable and compliment air-ground maneuver teams as they conduct combinations of mounted, dismounted, and air operations providing reconnaissance and security helping the maneuver forces win the counter reconnaissance fight and close with and destroy the enemy. Along with our enduring and FVL aircraft, UAS will play a central role in the penetration and disintegration of enemy IADS and A2/AD.
Modernizing our UAS involves new acquisition strategies to ensure we field the best system for our Soldiers. The acquisition strategy for our FTUAS is prototyping through a "Buy, Try, Inform" methodology which affords risk reduction and an in-depth demonstration by the customer, our Soldiers. Through this process, we are learning the FTUAS will have a reduction in the operational footprint with the introduction of Vertical Takeoff and Landing (VTOL) and an expeditionary Ground Control Station (GCS) enabling movement on the battlefield with Army organic ground vehicle and rotary wing support.
Our Doctrine, Organization, Training, Materiel, Leadership, Personnel, Facilities and Policy (DOTMLPF-P) review for UAS requires this evolutionary change in the platforms, employment, and capabilities driving real-time updates to our doctrine and what our organizations will look like for LSCO. Our leaders will have to develop the tactical and technical skills to employ these systems riding on a network that provides enormous amounts of information to inform decisions that will impact the maneuver force. The challenge for the branch is to ensure that we modernize and continue to fully integrate UAS in all forms with Army Aviation providing reliable reconnaissance and surveillance in a multi-domain environment. Our Army and our ground commanders need all of the capabilities of Army Aviation to fight and win in large scale combat operations.
Above the Best!