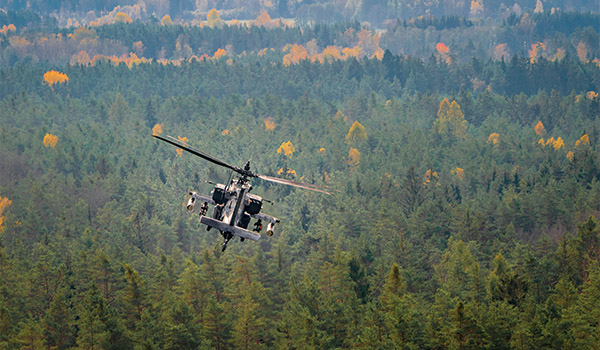 Branch Chief's Corner / By MG David J. Francis: It was a dark night in Iraq and, like many locations throughout the world, Aviation Soldiers were deployed conducting operations. But this night Iran decided to fire more than a dozen missiles at U.S. bases in Irbil and al-Asad.
The first volley of theater ballistic missile (TBM) strikes destroyed UAS maintenance and ground control station (GCS) facilities and secondary fires severed fiber optic cables that caused lost link with multiple airframes already scattered in the skies over Iraq. As enemy combatants were attempting to breach the perimeter, over 60 Soldiers from the Gray Eagle company that were hunkered in bunkers were suffering the immediate effects of TBM. But the company commander, first sergeant, and maintenance technician rallied a group of volunteers and they ran hasty fiber cables over 100 meters and worked for what seemed like an eternity to reestablish link and recover all Gray Eagles without damage. Our company grade leaders took their brigade and battalion commanders' intent and quickly translated that to action that not only protected our most precious asset – our Soldiers – but also accomplished their assigned missions.
An AH-64 from Charlie Company, 1-3rd Attack Reconnaissance Battalion makes turns to engage targets during live fire training on Grafenwoehr Training Area during Dragoon Ready 20. / U.S. ARMY PHOTO BY MAJ ROBERT FELLINGHAM
Their success was influenced by a combination of variables – the world class equipment they operated with and their depth of knowledge of its capabilities and limitations; the training they received at both home station and combat training center rotations; the leadership development they received at institutional training centers; the daily interactions of superiors and subordinates in their cohesive units; the grit and determination resident in their character; and their grasp of the assigned mission from which they understood their environment and purpose. It was a team effort to get them to their point of action that night.
This is one example of the exceptional performance that our Aviation branch leaders and Soldiers exhibit on a daily basis around the globe. I couldn't be more proud of what each of you do every day to train, deploy, fight, and WIN! I'm also impressed with what our Aviation Enterprise does to support our warfighters while also setting the conditions for our future force to continue as the aerial arm of the combined arms team of our Army and Joint force.
Aviation is unlike other branches in the Army that distinguish fielded force from the future force. We have unique challenges and we must tackle modernization in-stride while continuing to execute our high OPTEMPO. The synchronized and coordinated efforts across the Aviation Enterprise lend themselves well to the teamwork and focused efforts that are fundamentally needed to modernize our Aviation branch while we continue to support operations with a global demand.
OPTEMPO
OPTEMPO is our most significant challenge with 83% of our Aviation force globally committed on any given day. For example, we are on a steady nine-month rotation of combat aviation brigades (CAB) to Operation Freedom Sentinel, Operation Inherent Resolve, and Operation Spartan Shield while also supporting Atlantic Resolve and a FORSCOM heavy attack and reconnaissance squadron (H-ARS) rotation to Korea. We support the Immediate Response Force (IRF), two battalions to the Defense CBRNE Response Force (DCRF), and two battalions to Special Operations Force support. Enduring theater requirements include Kosovo Forces (KFOR), Joint Task Force-Bravo (JTF-B), Multi-National Force and Observers (MFO), and Pacific Pathways. We support combat training center (CTC) rotations plus the Joint Multinational Readiness Center (JMRC) and home station training for CABs and 58 brigade combat teams. On top of these commitments, ongoing fielding, modification and reset (FM&R) affect over 20 battalions each day.
External variables add to the challenge as they are all interrelated to OPTEMPO. For example, high OPTEMPO challenges retention. Our CABs constantly attempt to balance training for Large Scale Combat Operations (LSCO) versus counterinsurgency or other missions, which often is not feasible. And through this, every combatant commander wants more Army aviation because we are a critical capability and we are professionals. But despite these sometimes-monumental challenges, many leaders continue to creatively solve problems at their level and accomplish the missions.
These challenges do not go unnoticed. Our Aviation enterprise team works every day to mitigate the effects of high OPTEMPO and provide solutions to get us to Multi-Domain Operations (MDO) capable by 2028. Our Branch and our Army are moving out on these initiatives and concepts. It's inspiring to be a part of it. We are developing requirements, integrating capabilities, setting conditions for MDO and the on-ramp of Future Vertical Lift (FVL), and – most importantly – developing combat aviation leaders and Soldiers.
Leader Development
The vignette shared in the beginning of this article is why we focus time, effort, and money into our branch. Our Soldiers are our most capable and critical weapon system. The story could easily be about an attack mission, an air assault, or any number of exceptional leaders we have across our branch performing at an unparalleled level each and every day. Leader development and education is my #1 priority – we must assess, train, and build combat aviation leaders for our future. Growing leaders that will operate via mission command in dispersed formations across great distances while fighting and winning is paramount to the future success of our Army.
Petroleum Supply Specialists assigned to Echo Co., 2nd Bn. and 3rd Bn., 25th Avn. Regt., work together to refuel three Black Hawks and an Apache attack helicopter from 2-6th Cavalry Squadron, 25th Combat Aviation Brigade during training in Forward Arming and Refueling Point (FARP) procedures at Schofield Barracks, Hawaii Feb. 5, 2020./ U.S. ARMY PHOTO BY SGT SARAH D. SANGSTER
In this light, we continue to attack how we assess personnel into our branch and how we develop them long-term over the course of their careers. Currently there is a significant focus on the accession and retention of our warrant officers. We revised the Aviation Leader Development Strategy and continue to refine assessment models to identify desired knowledge, skills, and behaviors in current and future Army Aviation professionals. Leader development does not begin and end at the gates of a schoolhouse on Fort Rucker, Joint Base Langley-Eustis, Fort Leavenworth, or anywhere else with Professional Military Education. It is a daily endeavor at the unit level and will be the key to successful battalion mission capability now and in the future. Good leaders develop subordinates, and good leadership is the #1 reason Soldiers remain in our Army.
Doctrine
How we fight is just as important as the equipment we fight with. The Army's transition to focus on LSCO is a distinct departure from the counterinsurgency focused doctrine of the past 19 years. We allowed Tactics, Techniques and Procedures (TTP), combined with 'local' best practices across various theaters of operations, to define how we fight. This will not prove successful in the future. True fundamental change requires us to think, train and operate differently.
Our foundation is doctrine and leaders across the Aviation branch must return to these fundamentals. Army doctrine is not designed to be prescriptive, but instead, to establish a common baseline from which leaders are expected to be flexible and adaptive, in order to make timely decisions. We continue to refine our doctrine to better articulate how we will fight in LSCO, across multiple domains, against a peer or near-peer threat. The revised FM 3-04 (Army Aviation) is our Branch capstone manual, which now includes updates focused on LSCO such as airspace integration, planning considerations in contested airspace, and considerations for expeditionary sustainment. Other publications across the FM 3-04 series will follow to support training and employment.
Training
The threat we will encounter during LSCO will drive us to operate at lower altitudes in order to survive against Integrated Air Defense Systems (IADS). The employment of aviation assets at lower altitudes and greater speeds requires an effective individual and collective training program and a better understanding of radar frequency (RF) threats to ensure we can operate effectively in the LSCO environment. This focus topic provides an excellent example of teamwork across the Enterprise. Aircraft survivability equipment (ASE) that's being developed is combined with how we will employ it, how we train our aircrews, and how we will sustain it. Two training support packages (TSP) are already in circulation in our force – The Terrain Flight TSP and Radar Threat TSP. In addition to these TSPs, we are addressing emergency procedures at lower altitudes and greater speeds. We will distribute and train the Emergency Response Methodology, which includes a revised approach to managing emergencies, once development is complete. This will also include rewriting all -10 chapter 9s and a focused training strategy to react to emergencies at terrain flight altitudes in order to save lives.
On the Institutional side, we are increasing throughput at Fort Rucker to meet the demand of the Operating force. This includes garnering additional aircraft and maintenance personnel and is a fantastic, on-going team effort. We are also taking a holistic look at Flight School to determine the best way to implement changes to Programs of Instruction required to increase rigor and proficiency in base tasks. Our goal is to produce a more tactically competent aviator that will be an asset and reduce risk, as well as workload when they arrive in the Operating force.
Thank you for all you do every day as dedicated professionals. Your efforts make a difference. I'm honored to continue to serve with you in our Aviation Branch and our Army.
Above the Best!
MG David J. Francis is the Army Aviation branch chief and commanding general of the U.S. Army Aviation Center of Excellence and Fort Rucker, AL.