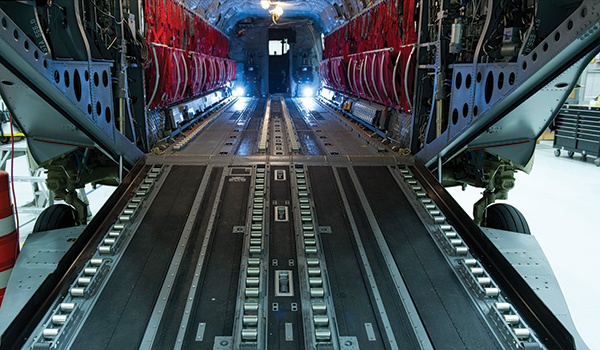 Industry Support and Challenges / By COL (Ret.) Robert W. Kenneally and COL (Ret.) Edward B. McKee: As one of the world's largest, most diverse suppliers of technologically advanced aerospace and defense products, UTC Aerospace Systems has a long history of improving safety, operational cost, reliability and functionality for the U.S. Army. Its diverse products and systems protect and support modern Warfighters with capabilities ranging from airborne systems aboard fighters, helicopters and UAVs to land vehicle, handheld and soldier-mounted systems. UTC Aerospace Systems supports every branch of the U.S. military and is committed to investing in and developing new technology and solutions for the future of Army Aviation.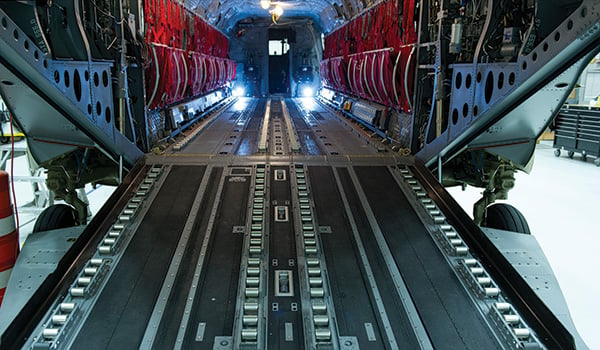 The CH-47F Cargo On/Off loading system (COOLS) increases operational effectiveness on the battlefield while reducing the Soldier's workload./ UTC AEROSPACE COURTESY PHOTO
Proven
UTC Aerospace Systems' broad portfolio of service-proven products are onboard key frontline military helicopters such as the Sikorsky UH-60M, Boeing AH-64E and CH-47F, Bell-Boeing V-22 Osprey, Airbus Helicopter UH-72 Lakota and NH Industries NH90. UTC Aerospace Systems also has a strong and vital presence on key military fixed wing aircraft in service today such as the Airbus A400M, Boeing C-17, Eurofighter Typhoon, Lockheed Martin F-35, and the Northrop Grumman Global Hawk.
Diverse flight-critical airframe systems include the following:
Cargo on/off loading systems (COOLS)
Main & tail rotor drive shafts/ couplings
Fly-by-wire flight control computers
Electric power generation
Electric power distribution
Flight control actuators
Engine and control systems
Full authority digital engine control (FADEC)
Power transmission shafts
Multi-function air data probes
SmartProbe® air data system
LED/NVG lighting systems
Reliability enhanced stabilator actuator (RESA)
Light-weight flexible drive systems
Digital fuel systems
Environmental control systems
Ice detection and protection systems
Landing gear
Wheels and brakes
Fire protection systems
Light-weight crashworthy seats
Fuel tank inerting systems
Mission Ready
UTC Aerospace Systems also provides a variety of systems to enhance flight crew situational awareness and threat detection capabilities, as well as equipment to ensure the safe and efficient operation and maintenance of aircraft. Feedback from the field on the Apache drive system highlights an example of these capabilities where the drive system performed in combat while sustaining ballistic damage. Below are additional products and capabilities that UTC Aerospace Systems provides to military aircraft programs.
Laser detection and warning systems
Structural health management (SHM) systems
TASE 400 sensor gimbal family
Terrain warning and avoidance systems (TERPROM® digital terrain system)
Vehicle management computers
Rescue hoists
WINSLOW™ life rafts and floats
Mission data recorders
Stabilized imaging systems
Tablet electronic flight bags (EFB)
In addition to delivering systems for helicopters and fixed wing aircraft, UTC Aerospace Systems provides vehicle laser detection and warning systems, chemical agent detection systems, electric power generation, management and distribution systems, and fire protection systems for land vehicles and shortwave infrared (SWIR) imaging systems for handheld, weapon and helmet (HWH) applications.
Advanced
With innovation as its hallmark, UTC Aerospace Systems is dedicated to advancing mission-critical aerospace and defense technology for the latest platforms and future models. UTC Aerospace Systems is working on the Joint Multi-Role Technology Demonstrator (JMR TD) teams and developing next generation technology that is intended to support the Future Vertical Lift development program. UTC Aerospace Systems is also working on engine technology to support the improved turbine engine program (ITEP) for the UH-60M and AH-64E fleets. Examples of current Army modernization programs UTC Aerospace Systems provides are CH-47F cargo on/off loading system (COOLS), the cargo platform health environment (CPHE) systems, the UH-60L/M reliability enhanced stabilator actuator (RESA) and the AH-64E high performance shock strut.
The cargo on/off loading system (COOLS) provides a capability upgrade to the Boeing CH-47F Chinook helicopter to significantly improve the primary mission of moving troops, equipment and life-saving supplies on the battlefield. The system allows quick load and unload of the aircraft while providing a way to rapidly reconfigure in-flight within 15 minutes, allowing uninterrupted mission capabilities. COOLS includes a ballistic protection system underneath the floor that significantly improves Soldier protection. In addition, because COOLS is quickly reconfigured, it significantly reduces the workload on Soldiers and provides more flexibility and capability between missions which can reduce Soldier injuries.
UTC Aerospace Systems is also a supplier of health and usage management system (HUMS) components to the Boeing cargo platform health environment (CPHE) for the CH-47F platform. HUMS has implemented a distributed monitoring and diagnostic health evaluation system for this platform. The system consists of vibration measurement and analysis of drivetrain components, as well as rotor track and balance (RTB), with each installation comprised of about 26 accelerometers, 7 remote sensor interface modules (RSIM), and high-level processing and control software hosted on the Boeing mass memory server (MMS) controller.
The UH-60L/M reliability enhanced stabilator actuator (RESA) is an upgrade to the flight control system on the UH-60L/M Black Hawk. The RESA benefits include an electro-mechanical linear actuator with integrated electronics, a brushless DC motor and the capability to automatically self-configure to the UH-60M or UH-60L aircraft.
The AH-64E high performance shock strut with nitrogen/oil is an upgrade to the landing gear on the AH-64E. The product provides greater crash protection, increases capability of the shock strut to handle the heavier AH-64D/E's weight and improves the deployment capability by allowing the landing gear to be kneeled (lowered) for transportability.
The company's SmartProbe® air data system, fly-by-wire flight control computers, electronic propeller controls, drive system components, propeller gearbox and other critical components were selected for the Sikorsky S-97 Raider. UTC Aerospace Systems is also providing the fly-by-wire flight control system for Sikorsky's Black Hawk Matrix™ Technology demonstrator, an important step in the development of autonomous aircraft. On the AH-64E, advanced lightweight supercritical tail rotor shafts, input shafts and one-piece flexible couplings transmit power safely and reliably to ensure the AH-64E is mission ready and can operate safely in all environments.
UTC Aerospace Systems is proud to provide the latest mission-critical technology for the U.S. Army, and the company's experience, technology and evolving product lines ensure it continually develops to provide new technology and solutions for the future of Army Aviation.
To learn more about UTC Aerospace Systems, visit the website at www.utcaerospacesystems.com or follow the company on Twitter: @utcaerosystems.
COL (Ret.) Bob Kenneally is director of Army Programs at UTC Aerospace in Arlington, VA; and COL (Ret.) Edward B. McKee is Director of Redstone Arsenal Programs at UTC Aerospace in Huntsville, AL.