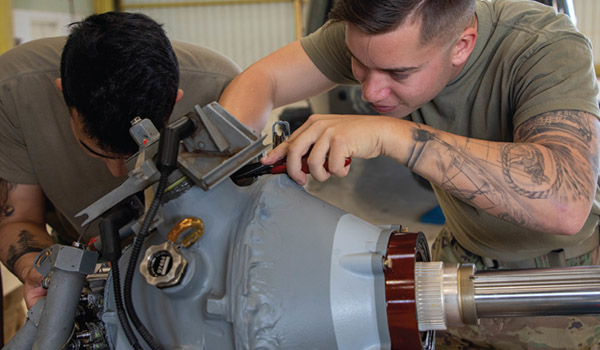 AMCOM Commander Update / By MG K. Todd Royar: Army Aviation has been, and will continue to be, critical to how we as an Army fight. The branch provides a fundamental advantage in the combined arms fight that adversaries cannot match.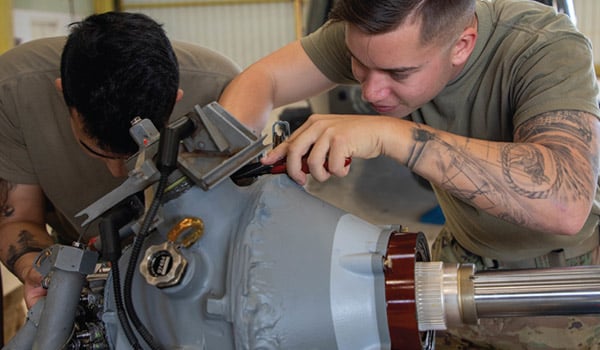 SPC Coleton Clavijo, a 15T Black Hawk repairer assigned to 3rd Battalion, 25th Aviation Regiment, 25th Combat Aviation Brigade, is working daily to make sure maintenance gets done on the UH-60 Black Hawks. Every member of the team enables 25th Combat Aviation Brigade to remain ready at all times./ U.S. ARMY PHOTO SGT SARAH D. SANGSTER
In order to maintain that advantage, Future Vertical Lift programs, along with targeted modernization of enduring platforms, must come to fruition. However, as we all recognize, our programs are expensive to not only procure, but also sustain. In fact, historically nearly 70% of a program's cost is sustaining it after procurement. Consequently, if we want to ensure the realization of Future Vertical Lift platforms, it is incumbent upon us as an aviation enterprise to take action to minimize the cost of sustainment for both our enduring and future platforms while also achieving increased readiness.
Our sustainment systems have worked well over the years. However, if left on auto-pilot, we will have those same systems over the next several decades. We cannot afford this. We must take decisive action now to change our sustainment paradigm in several areas including: Predictive and Prognostic Maintenance (PPMx); digital designs and advanced manufacturing techniques; adapting our training of Soldiers; and updating our organic industrial base.
Army Aviation led the way with the implementation of Condition Based Maintenance (CBM). Over 95% of our airframes are outfitted with sensors that have enabled some success in identifying components before they fail or changing the Time Between Overhaul. Unfortunately, I believe we have yet to realize the gains possible. Our systems are proprietary by airframe and we are slow to make changes to our maintenance schedules based on the data already collected. We can do better. Changing from CBM to PPMx is more than a difference in name; it is a shift from being reactive to proactive. If we want to save resources and enable readiness, then we need to conceptually embrace PPMx to only do the maintenance necessary.
Virtually all of our current platforms are based on two dimensional architectural drawings. While these provide the necessary data to safely make spare parts, there are limitations. Too often we are faced with parts having exceptionally long lead times (i.e., two years or more) in order for a supplier to analyze the drawings, make the appropriate tooling and then qualify the part. Additionally, because this process is laborious and time consuming, there are hundreds of parts that we cannot get suppliers to bid on because the limited quantity we need does not meet their threshold for return on investment. Three dimensional Computer Aided Design files will help reduce both the time and cost to make these parts through both traditional and advanced manufacturing techniques. Future Vertical Lift competitors are incorporating digital designs now and we are likewise currently creating a digital twin for the UH-60L.
Our Soldiers and civilian artisans are well trained, but we will need to expand their skill sets to accommodate new systems. Everything from electrical to composites may have significant changes. If we want to have the option of repairing forward on the battlefield and being able to do the work organically at our depots, we will need to ensure our people are appropriately trained.
Finally, we will need to modernize our organic industrial base (i.e., depots). To take advantage of PPMx and advanced manufacturing, we must invest in the tooling and capability at Corpus Christi and our other depots. We are in the process of doing that now. For example, within the next year we will automate analysis and repair of UH-60L blades reducing the repair time from over three weeks to just several days. This however is just one specific component; we need the entire depot to be operating in the 21st Century for all repair programs on both enduring and future systems.
There is no single panacea answer in reducing the sustainment burden for our enduring and future systems. In order to make significant progress, it will take change across multiple fronts. Change of course is never easy. But if we fail to change how we sustain, we may price ourselves out of the very systems we need in the future.
MG K. Todd Royar is the commanding general of the U.S. Army Aviation and Missile Life Cycle Management Command at Redstone Arsenal, AL.