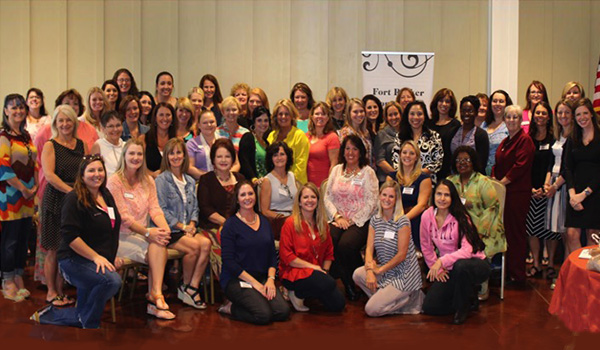 Family Forum / By Allison Higgins, MPA: A recent luncheon with the Fort Rucker Community Spouses' Club in Fort Rucker, Alabama, reminded me of the value of the Army Spousehood and the meaningful role we play in one another's lives when we physically and genuinely connect.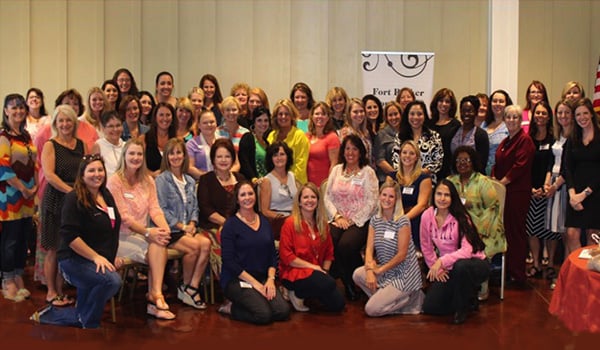 Spouses from the Fort Rucker Community Spouses' Club met for a luncheon at the Enterprise Farmer's Market last October. Allison Higgins (author) is pictured (kneeling left) and Paula Lundy, spouse of LTG Mike Lundy, immediate past commanding general of the U.S. Army Aviation Center of Excellence and Fort Rucker is seated 3rd from left. / FORT RUCKER COMMUNITY SPOUSES' CLUB PHOTO
Today, we mistake chatting through hurried posts on social media as socially connecting. Certainly, social media eases networking and social introductions, but that's just it, it's only introductory. To find a trusted network of friends and create meaningful relationships – most especially in military life – we have to physically connect with one another. Decades ago, military spouses quickly realized this when moving from the safety of their hometowns to unfamiliar communities across the country and overseas.
A natural way to bring spouses together for fun, camaraderie, and to commiserate (let's keep it real), was to establish spouses' clubs. Spouses clubs, coffee groups, and precursors to them, were formed to alleviate the stressors of military life like transition, separation, and loneliness. It's during these gatherings we make deeper connections, create memories, serve our community, and gain lifelong friends. From there, we come together in more intimate settings, gathering new friends around the dinner table for good food and drinks on a Saturday night. This is how the military family takes shape to resemble our real families back home. And like a family, we laugh, cry, and mourn together. We celebrate weddings, births, graduations, promotions, and retirements. We support each other through illness and loss. We raise our families together.
Keeping it real, sometimes we doubt this network. We grow tired of it. We need an escape and choose to take a break from it. We've all felt like that once or twice. No worries, because when we find ourselves in need of the unique support only our military family can provide, they will be there. I know this because I'm rediscovering how much I value my Army family working alongside the amazing spouses of the Fort Rucker Community Spouses' Club. And to these smart, compassionate, and resilient women, I say, "thank you."
Additional Musings
So, what does this mean? At the risk of painting the wrong picture, it means we should not fear but rather embrace certain aspects of past Army Spouse Values. Why? Because, they work. And before I continue, I want to make clear that I am not proposing we dial back the clock to the Army Wife Life of yesteryear – quite the contrary. I wholeheartedly agree and advocate that: spouses deserve higher education opportunities; spouses deserve a career (not just a job); spouses deserve a voice in this community; spouses deserve a choice in the size of the role they play in their Army life. I want these things for myself. What I'm sharing with you is a personal realization that when the core values of Army Spouse Life are applied to today's aforementioned advantages, it increases the potential for an improved quality of life for spouses and for the communities they serve (both inside and outside post gates).
Admittedly, over the last few years, I lost sight of the importance of engaging in my own Army Life. The last decade+ left me (and others) disenchanted. As an Army spouse, raised old school* followed by years of exacerbating multiple deployments and their heart-wrenching consequences; the withstanding of coffee groups/family support groups becoming less fun when transformed into business-like family readiness groups (FRGs); the introduction and impact of social media on our military community; the head-spinning and inconsistent implementation and dissolution of family readiness support assistants (FRSAs); punctuated by the increasing public bullying of military spouses on social media, the discontent was justified. But, we endured.
We respect why many spouses entering into the life during this time chose not to engage. Let's face it, at the height of the war years, the mentoring was not what it had been as a result of the challenges listed above. We were (many still) trying to keep heads above water.
Yep. The compounding stressors of the past 15 years caused some to forget what a group of dedicated, diverse, and inclusive spouses (from across generations) can achieve when they work together – not to mention how much fun they can have along the way in service to others. I encourage you to get involved with your spouses' club.
Don't let past experiences affect your decision to become a participant in your Army Life. They are no longer relevant since it depends on the people who are with you at this moment. If you've been doing the Army Thing a long time and you feel you don't need support – we could really use your expertise right now. We need you! Come back. It's still fun!
Pssst. One, last friendly reminder – on behalf of spouses past, present, and future, one thing that will never change – always remember to R.S.V.P. <wink, wink>*In this context, old school refers to the way in which an Army spouse was "raised" and influenced by fellow spouses and senior spouses, pre 9-11-2001.
Allison Higgins, MPA, is the spouse of LTC Joshua P. Higgins. They departed Fort Rucker, AL for Washington, DC in June where they will be attending the National War College.
Judy Konitzer is the family forum editor for ARMY AVIATION; questions and suggestions can be directed to her at This email address is being protected from spambots. You need JavaScript enabled to view it..">This email address is being protected from spambots. You need JavaScript enabled to view it..