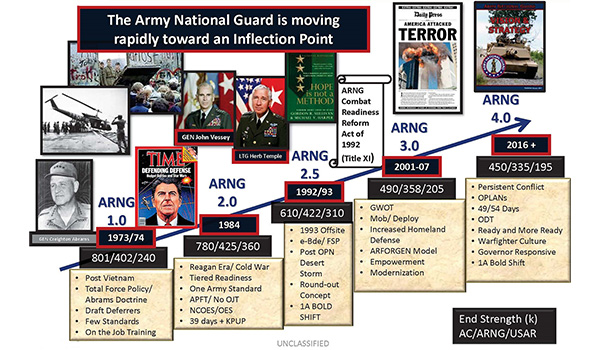 USAACE / By BG Timothy E. Gowen: The U.S. Army has been fighting hard since 2001. And while the ARNG and USAR have been engaged right there alongside our active component brethren every step of the way, today our Nation's Army depends on the Reserve Components like never before.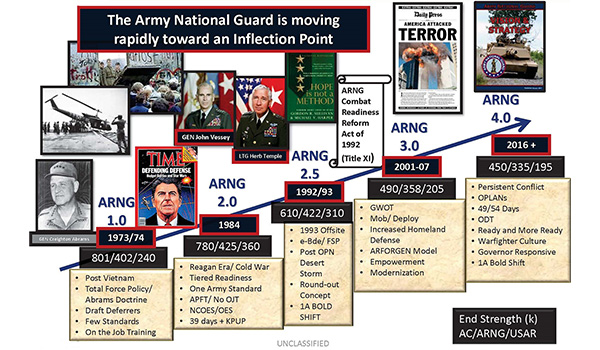 Evolution of the Army National Guard from post-Vietnam to the future / U.S. ARMY NATIONAL GUARD GRAPHIC
Today, the global environment is changing and the threats to our security are ever increasing. To combat these modern challenges our Nation's Army will need the specific capabilities that the National Guard can provide much sooner than ever before.
Recently, LTG Kadavy, the Director of the Army National Guard, introduced Army National Guard 4.0. ARNG 4.0 is an initiative designed to prepare our force to meet the challenges of the 21st Century.
From an historical perspective, the National Guard has evolved significantly over the past fifty years. In the post-Vietnam era the Army utilized General Creighton Abrams' Total Force Policy. Abrams Doctrine, as it was known, depended on the National Guard only to be a National Reserve to be utilized solely in the event of total war. We'll call this ARNG 1.0.
In the eighties, during the height of the Cold War, the Army National Guard began to serve with increased relevance. Through tiered readiness, One Army Standards, and well-defined training expectations, the Army National Guard became a reliable fighting partner. This was ARNG 2.0.
In the nineties, following an examination of National Guard readiness for Operation Desert Storm, the Army National Guard leadership made significant adjustments to readiness practices. We introduced the round-out concept and identified First United States Army's role in post-mobilization preparation. This was ARNG 2.5 – an adjustment in readiness methodologies to ARNG 2.0.
Finally, since 2001, the Army National Guard has been called upon in the role of Operational Reserve, mobilizing and deploying in support of a multitude of operations. This current model for utilization of the Army National Guard, ARNG 3.0, includes an increased role in homeland defense, greater empowerment, force modernization, and the ARFORGEN model, which has enabled us to predict when and where we were to deploy.
ARNG 4.0 is the Army National Guard of the future. It will add changes to our methods of institutional training, manning, and organization. Under this comprehensive initiative, we will enhance total readiness by focusing limited resources in order to provide more rapid support to the Nation's Army and Governors.
In today's complex global environment, we no longer have the luxury of being able to predict when and where our National Guard forces will be required. We need to create a sustained, higher level of readiness across the entire force that will enable us to deploy with significantly less post-mobilization training. The processes contained within ARNG 4.0 are designed to provide enhanced capabilities more quickly to the Army. Once implemented, all units will have a higher level of readiness and certain units will exhibit an especially high level of readiness, all designed to reduce post mobilization training requirements.
The Director of the ARNG's strategy is to implement ARNG 4.0 in two phases. In the first phase, ARNG will focus on building enhanced capability and response time in selected units. These selected units include Early Response Enablers, Armor and Stryker brigades, selected Infantry brigades, and Attack Reconnaissance Battalions (ARB). Phase two will focus on increasing readiness and modernization of the remaining force. Specific initiatives under 4.0 include re-organization of units to achieve higher efficiency, focused training standards (Objective-T), high performing leader development, additional combat training center rotations, and increased manning, resources, and training days for selected units.
So what does this mean for Army Aviation? It means that we are going to ask more of our National Guard Aviators, particularly those lucky enough to be assigned to an attack reconnaissance battalion. In order to meet the readiness rates that our nation requires, we are going to have to train more days, train more efficiently, and train to higher standards. It means that we are going to partner more across all components. National Guard Aviation will be allocated many more combat training center rotations than ever before, requiring greater numbers of training days above and beyond annual training days. In summary, the Nation is going to ask more of their time, devotion, and sacrifice and just as importantly, the Nation is going to ask more of their families and more of their employers.
More than ever, America is asking our reserve components to play a significant role in the near term response to threats to our national defense. Will our Total Force be prepared?
Above the Best!
MG William K. Gayler is the Army Aviation branch chief and commanding general of the U.S. Army Aviation Center of Excellence and Fort Rucker, AL; BG Timothy E. Gowen is the USAACE deputy commanding general for Army National Guard.